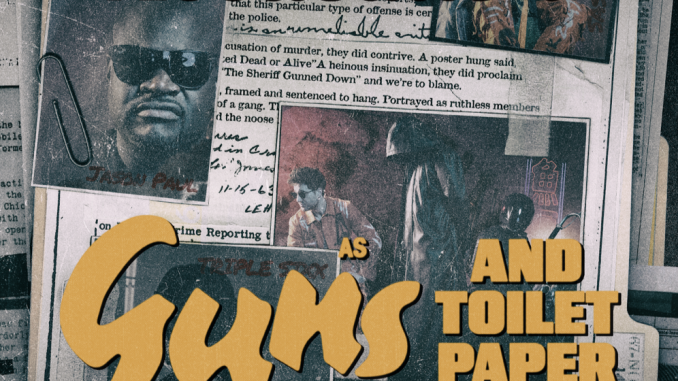 CHECK OUT PREVIOUSLY RELEASED "CONTRABAND" MUSIC VIDEO FEAT. TOMMY LEE (MÖTLEY CRÜE)
"The combo of Jason Paul, Sasha Sirota, Triple Sixx and iconic Mötley Crüe drummer Tommy Lee is just fun." — Forbes
"Paul's infectious pop-writing has been whipped into a rock and roll banger for 'Contraband…'" — V Magazine
While the nation fought and scrambled for supplies upon the news of the devastating COVID outbreak in 2020, three artists came together to create. Made up of Jason Paul, Sasha Sirota, and Triple Sixx, GXTP formed to not only provide us with unparalleled writing and musicianship, but to be an almost reflection of society unto itself. GXTP are an abbreviation for what the news and communities placed the most importance on: guns and toilet paper.
Take a listen to their latest single "Accusation" here.
The gripping new single boasts powerful lyrics and an adrenaline-fueled sound. The song takes listeners on an exhilarating journey of redemption and defiance.
After the debut single "Foresight," and then exploding onto the scene with the single "Contraband," which featured one of the world's most beloved drummers in Mötley Crüe's Tommy Lee, it became clear that GXTP are a band with a cinematic vision, keeping one foot in ironic hilarity and the other firmly planted in conceiving a seriously unique brand of rock and roll. Currently spinning regularly on nearly all active rock stations, "Contraband" continues to climb the radio charts, impressing with the single's undeniable appeal. Melodies and synthesizers pair masterfully alongside GXTP's scraps of pop and punk, culminating in what can only be described as a full-bodied rock experience.
No stranger to unlocking the combination to perfect song structure, member Jason Paul lends his multi-platinum songwriting mastery to GXTP. Having written and produced some of Justin Bieber's biggest radio hits, including "Despacito (Remix)" and "What Do You Mean?," in addition to co-writing "Caught Up," one of the top singles off of Usher's Confessions LP in 2004, Paul simply has that golden ear. Applying the same rules and quality standards for his own project.
Aptly named, do not be surprised when GXTP take over the conversation.