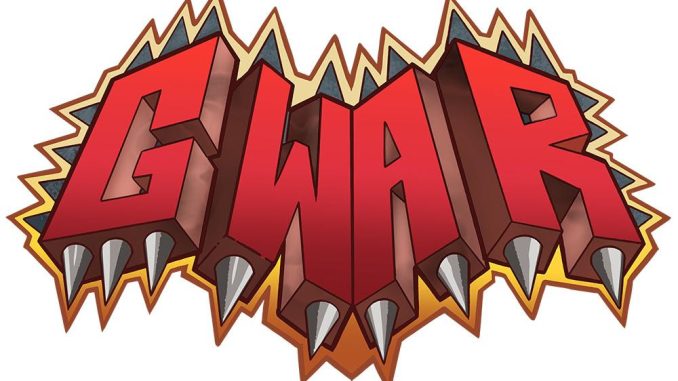 Listen HERE
Tenth Anniversary Edition Of 'Battle Maximus'
Out Today on Pit Records
Order HERE
Lil' Raspy Plush Toy Available Now
Order HERE
Ten years have passed since the release of GWAR's masterwork known as 'Battle Maximus.' The record is a tribute to fallen Scumdog Warrior Flattus Maximus (AKA Corey Smoot) and was the last album recorded with vocalist Oderus Urungus (AKA Dave Brockie) before he departed the planet Earth in 2014.

Today, in celebration of this momentous occasion GWAR have released a 10th Anniversary Edition of 'Battle Maximus.' In addition to being completely remixed and remastered, this edition features the final recorded vocal performance of Oderus Urungus on the previously unreleased and never-before heard song "Tammy, The Swine Queen." Listen to it HERE

Checking in from the road, vocalist Blothar the Berserker commented:

"Musically, 'Battle Maximus' is a great debut work by Pustulus Maximus, and lyrically, it is the final word of lead singer and band founder Oderus Urungus, The record is run through with the desperate, dangerous, and fully bananas imagination of Oderus. In fact, this re-release includes a song so nutty we named it twice, and then promptly forgot to put it on the record the first time around. 'Tammy, Queen of Dirt,' or, 'Tammy the Swine Queen' is the final performance of the maestro of mayhem, Oderus Urungus, and for our fans, it does not disappoint,"

Listen to "Tammy, The Swine Queen HERE
Your Lords and Masters are also pleased to announce that you can finally buy your very own plush "Lil' Raspy" doll. This fuzzy neon green platypus of despair is our first official GWAR plushy, and it is simply the cutest thing you will ever see on this or any other planet. Raspy may be a murderous Artificial Intelligence come to life, but he is also the coolest toy on the shelves this year! Order yours HERE.
Finally, this fall, GWAR are declaring war on humanity (AGAIN!) for their upcoming "Age of Imbeciles" Tour! The infamous Lords and Masters of Shock Rock will return to the road wreaking havoc, and laying waste to audiences across the US and Canada this Fall.

The tour features support from Negative Approach, X-Cops and Cancer Christ on select dates. A complete list of dates can be found below.
Current GWAR Tour Dates
9/1: San Antonio, TX @ Vibes Event Center +^
9/2: Pryor, OK @ Rocklahoma
9/3: Cookeville, TN @ Muddy Roots Festival
+ – w/ Crobot
^ – w/ 200 Stab Wounds
Age of Imbeciles Tour
10/11: Hampton Beach, NH @ Wally's*
10/12: S. Burlington, VT @ Higher Ground*
10/13: New York, NY @ Palladium Times Square*
10/14: Reading, PA @ Reverb*
10/15: Niagara Falls, NY @ The Rapids Theatre*
10/17: Toronto, ON @ The Phoenix#
10/18: Cincinnati, OH @ Bogarts
10/19: Milwaukee, WI @ The Rave
10/20: Columbia, MO @ The Blue Note
10/21: Louisville, KY @ Mercury Ballroom
10/22: Huntsville, AL @ Mars Music Hall
10/24: Richmond, VA @ The National
10/25: Raleigh, NC @ The Ritz
10/26: Asheville, NC @ The Orange Peel
10/27: Gainesville, FL @ The Fest, Bo Diddley Plaza
10/28: Pensacola, FL @ Vinyl Music Hall
10/29: Atlanta, GA @ The Masquerade (Heaven)
10/30: Orlando, FL @The Beacham
10/31 – 11/4: Lamb of God's Headbangers Boat – Sold Out
11/5: San Mateo Otzacatipan, MX @ Hell & Heaven Festival
*No X-Cops
#No Negative Approach