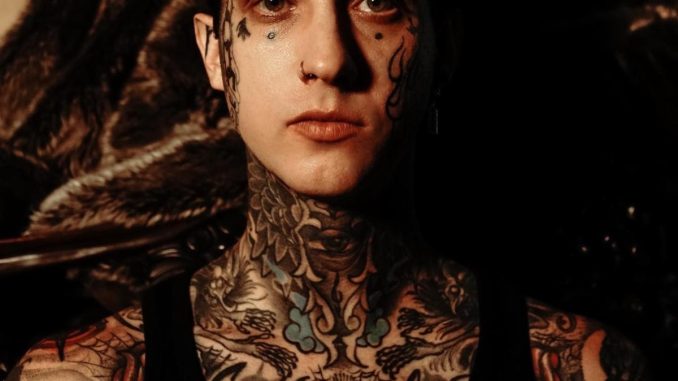 Gvllow
Drops New Darkwave Banger
"IT'S SO COLD"
Gvllow Promo Shot | Download HERE
WEDNESDAY, AUGUST 23, 2023 – Gvllow has released brand new single, "It's So Cold", today. The new track channels the very best of 80s goth and darkwave, offering a spooky, etheral vibe that perfectly offsets the track's lyrical theme. Stream the new track HERE and watch the accompanying music video HERE or by clicking below.

Speaking on the release of his new track, Gvllow shares

"I wrote this song back in the beginning of 2023 when it was consistently cold every single day in Southern California.

I was recording in a weird space that I had rented out for a little bit in between moving and it made me realize how much of a home body I am. I love being home, it was freezing outside, and I was having all kinds of weird dreams from melatonin and out came the lyrics for this instrumental I had written for weeks. Dreams about ghosts from my past, being too far away from home, and being cold everyday. Sometimes it takes me weeks to write lyrics to my songs but I've just learned to let them come to me, I don't force it anymore"
WATCH: Official Music Video For "It's So Cold"
Gvllow "It's So Cold" Single Art | Download HERE
GVLLOW released his acclaimed 'Spiritwalker' EP in the Spring of 2021, the release saw his stylistic expansion into post-punk and dark wave. Heavily influenced by by the likes of Drab Majesty, Sisters Of Mercy and Bauhaus, the transition began with highly acclaimed single "Last Dance" from his previous, eponymous full-length and continued with the 'Spiritwalker' EP and his 2022 releases – "Die By Your Hand", "Falling Down", "Not Sorry" and the 'Suffer' EP.

Look out for more coming from Gvllow soon.
What The Press Say About Gvllow
"A fascinating solo artist bringing together elements of goth, darkwave, punk and rap."
– Kerrang!
"SoCal's Gvllow…pulls elements of Eighties goth, post-punk and death-rock into his eerie, dance-floor-ready brand of heavy hip-hop."
– Revolver
"truly a must-listen for anybody who values variety and intrigue in their playlists."
– Alternative Press
"From gritty hip hop to cold dark wave, the emerging prospect goes beyond genre to assert an identity all his own."
– Knotfest.com
About Gvllow

GVLLOW blends the sonic and visual aesthetics of 80s new wave and southern California punk rock mixed with the beach sounds of Dick Dale and The Beach Boys to create a sound that is fresh, diverse and completely unique. Born and raised in Riverside, California, he grew up in the SoCal Punk scene. He started playing drums at age nine and would go to The Showcase Theatre in Corona every weekend to watch bands such as Dr Know, TSOL and Narcoleptic Youth.

In 2015, he became involved in the bludgeoning underground rap scene, DJing for the likes of Ghostemane and Lil Peep in Schemaposse. Since then, he has gone on to perform as touring DJ for the likes of City Morgue, as well as release two solo albums; 2018's "Waste Away" and "Gvllow" released in July of 2020, which features guest appearances from the likes of Travis Barker, Brennan Savage and Jack Grisham (TSOL) and has spawned singles "Fear", "Johnny Cash" and "Last Dance".

To date, GVLLOW has clocked up over 31 million career streams on Spotify, 242,000 monthly Spotify listeners, and 1.4 million YouTube views.