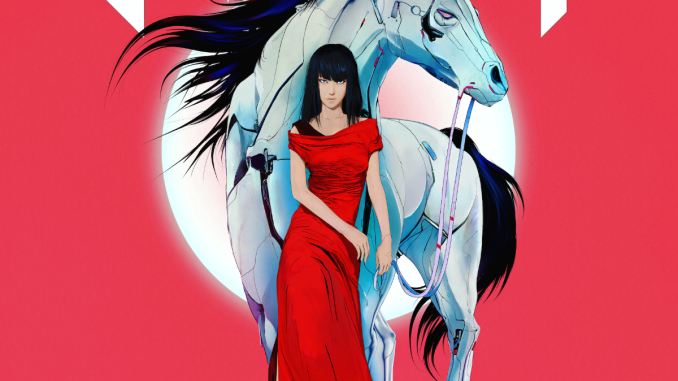 BAND UNLEASHES CINEMATIC DYSTOPIAN CYBERPUNK VISION WITH "MONSTER IN PARADISE" VIDEO — WATCH
Synthwave pioneers GUNSHIP — comprised of Dan Haigh, Alex Westaway, and Alex Gingell — invite listeners to celebrate the power of imagination on their new album Unicorn, out September 29. Pre-order it here.
Gunship invites their listeners to celebrate the power of imagination on Unicorn. Named after the international icon of fantasy and imagination, it's emblazoned with the tagline "Imagination Is A Weapon." The trio's trademark, synth-laden atmosphere and transportative soundscapes have continued to evolve to include more rock, industrial, and EDM influences, and allow the listener to revel in an alternative reality on a 14-track electric thrill ride.
Unicorn boasts a diverse array of special guests, who each bring something different to the project. Collaborators include John Carpenter, Gavin Rossdale (Bush), Dave Lombardo (Slayer), Carpenter Brut, Timmy Cappello (Lost Boys, Tina Turner, Ringo Starr), Health, Tyler Bates (John Wick, Guardians of the Galaxy etc), Lights, Power Glove, Charlie Simpson, Britta Philips (Jem), and Milkie Way (Wargasm).
Today, the band share the first song from the much-anticipated third album, cyberpunk track "Monster in Paradise," where they are joined by a host of hard-hitting collaborators including the saxman Tim Cappello, electro-punk artist Milkie Way, film composer and guitarist Tyler Bates and Slayer's legendary drummer Dave Lombardo. Here, Gunship continue to evolve the synthwave genre into exciting new directions.
Priding themselves in being accomplished audio-visual artists, the band also unleash the neon-lit music video for "Monster in Paradise." The visual sees the cinematic worlds of
Blade Runner
and
The Terminator
collide amidst a sprawling dystopian metropolis, and stars two of the song's collaborators, Milkie Way and Timmy Cappello. The dreamscape sees darkness converge with laser light in a vision of the not-so-far future, replete with towering skyscrapers, flying vehicles, and shimmering holographic displays which work together to create a vivid backdrop for the adrenaline-fueled cyberpunk rock spectacle.
Perhaps the star of the video, Milkie Way (the fiery frontwoman of Wargasm) pays homage to the indomitable Sarah Connor from The Terminator films. Driving Sarah's classic 1983 Jeep CJ-7 Renegade and providing a Terminator-style voiceover, Milkie initially appears to be giving a performance true to Sarah Connor's character, although perhaps things are not quite as they seem…
…Are the machines recruiting humans with a mind-altering silver liquid?
"Gunship, Timmy Capello, and Dave Lombardo is truly a match made in heaven and I'm so happy to be included in this beautiful maelstrom of synth-metal perfection," says Milkie Way.
What would it be like to attend a rock show in a dystopian cyberpunk world? Discover and watch the video here.
Prepare to be transported to a world where darkness collides with neon brilliance.
UNICORN TRACK LISTING:
"Monster In Paradise" (Feat. Milkie Way, Dave Lombardo, Tim Cappello, Tyler Bates)
"Taste Like Venom"
"Empress of the Damned" (Feat. Lights)
"Tech Noir 2" (Feat. John Carpenter, Charlie Simpson)
"DooM Dance" (Feat. Gavin Rossdale, Carpenter Brut)
"Blood for the Blood God" (Feat. Health)
"Weaponised Love"
"Ghost" (Feat. Power Glove)
"Darkness for Dreams"
"Holographic Heart" (Feat. Britta Philips)
"Nuclear Date Night"
"Run Like Hell"
"Lost Shadow"
"Postcard From the American Dream"
ABOUT GUNSHIP:
GUNSHIP are Dan Haigh, Alex Westaway, and Alex Gingell. The band's sound is created with vintage analogue synthesizers and other retro electronic gear from the 1980s. Driven and inspired by nostalgia for a bygone era, Gunship harness this retro approach to birth something fresh and new. Their sound is sonically diverse — blending sweeping fluorescent synth lines with fever pitched and adrenalizing electric bass arpeggios. Dan Haigh from Gunship describes their sound as "a neon-soaked, late night, sonic getaway drive, dripping with luscious analogue synthesizers, cinematic vocals and cyberpunk values, exploding from the front cover of a dusty plastic VHS case which has lain forgotten since 1984." Gunship was formed in 2014 as a new musical venture for Westaway and Haigh, also members of post-hardcore band Fightstar with Charlie Simpson (Busted) and Omar Abidi, going on hiatus in 2010. Unicorn follows their critically acclaimed self-titled debut (Gunship, 2015), and 2018 follow-up Dark All Day.