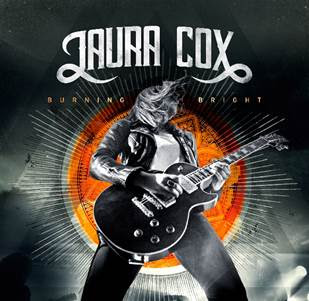 Are you ready to "burn bright?"

Laura Cox is a badass rock 'n' roller who makes her guitar produce sounds that shake the earth.
Cox is ascending the ranks and is on her way to becoming one of the great female guitarists of her time. She's cool like Nancy Wilson, Nita Strauss, The Runaways, and Joan Jett.

Even though this guitar-playing shooting star has only released one album thus far, her powerful solos, catchy choruses, and raw voice have already taken the internet by storm — she has amassed 380,000 YouTube subscribers and 90 million views to date.
Cox has also been playing sold-out headline shows for years.

Her debut album Hard Blues Shot arrived in 2017. The follow up Burning Bright is scheduled to drop on November 8 via earMUSIC. It's high voltage rock 'n' roll in the vein of AC/DC, Danko Jones, and Joan Jett, mixed with Southern and Blues influences. Cox defines her unique style as "Southern Hard Blues."
Burning Bright at the legendary ICP studios and mastered by the great Howie Weinberg (Aerosmith, Oasis, The White Stripes). The record is packed with 10 shots of rock influenced by everything from blues to classic rock to hard rock.

BURN BRIGHT TRACK LISTING:
1. "Fire, Fire"
2. "Bad Luck Blues"
3. "Last Breakdown"
4. "Looking Upside Down"
5. "Just Another Game"
6. "Here's To War"
7. "Freaking Out Loud"
8. "As I Am"
9. "River"
10. "Letters To The Other Side"