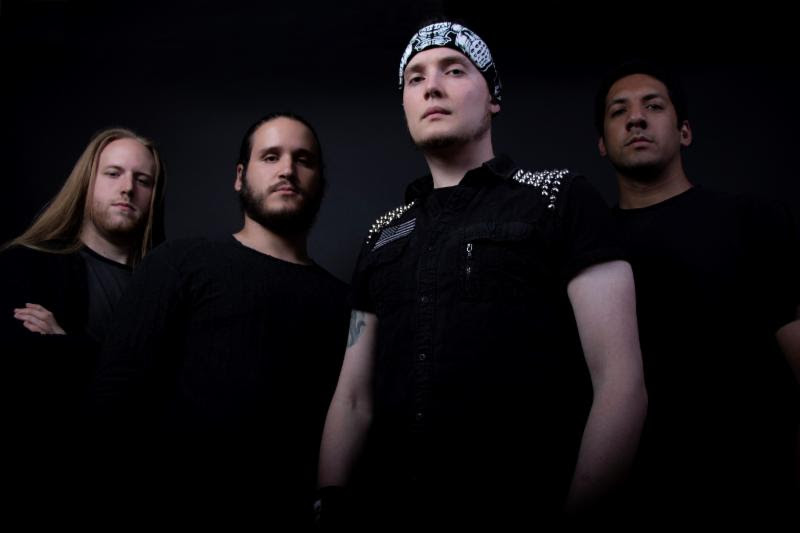 Listen to "Fear the Unknown" Here
Order The Living Dead via iTunes
The Living Dead Album Art
Brazilian-born, NYC-based heavy metal guitar guru and vocalist Gus Sinaro is back with his eponymous project 
SINARO
! This Friday, March 29, Gus Sinaro will release his latest album, 
The Living Dead
, which can be ordered now via iTunes.
The Living Dead 
was produced by Gus Sinaro, with mixing and mastering duties handled by renowned producer Chris "Zeuss" Harris (
Rob Zombie, Queensryche, Crowbar
).
"Fear the Unknown", explores paranormal activities that Gun Sinaro claims he has experienced in the past. "I experienced some paranormal activities a few times. When I was 15 years old, I was obsessed with horror movies and I watched them almost every day. I started having the worst nightmares, and a few nights I experienced a heavy energy around me and felt spirits trying to suffocate me. It reoccurred again in my mid 20's which led me to write the song "Fear the Unknown"."
The album's previously released single, "Break the Paradigm", which features late 
All That Remains
 guitarist Oli Herbert, is also available to stream now. The track is about having a personal awakening and discovering life's purpose. Watch the stunning official music video here: https://youtu.be/KwmIn4y9LBg
| | |
| --- | --- |
| | |
| | "Fear the Unknown" Single Art |
The Living Dead
 track listing:
2. The Living Dead (Feat. Andy James)
4. Break The Paradigm (Feat. Oli Herbert)
Chris Cannella of 
Deicide
 says about the new track, "'Fear the Unknown' is a passive aggressive journey of musical melodies that are familiar, yet fresh and exciting!"
In a staff quote, 
SINARO
 endorser Hughes & Kettner adds, "With its crushing riffs and catchy melodies, "Fear the Unknown" is the best 
SINARO
 track we've heard to date! And best of all, Gus Sinaro's TriAmp Mark 3 sounds massive throughout! This truly is modern metal at its finest."
Recognized as the frontman of heavy hitting metallic thrash act 
Symphony of Malice
, Gus Sinaro and his band are creating palpable buzz within the heavy music landscape. Gus has again assembled a top-notch current lineup, featuring Jon Perkins on Guitars, Jeff Hinz on Bass and Zaki Ali on drums.
| | |
| --- | --- |
| | |
| SINARO's Gus Sinaro by Danielle Santagata | |
SINARO
 infuses thrash and other heavy metal elements with an even more melodic and anthemic sheen as showcased on their debut release, 
No Salvation
, a hard rock album with heavy guitar riffs, tons of melodies and relatable lyrics. The EP, 
Ruins of the Empire
, showcases a heavier side of 
SINARO 
and features 
Andy James
 on solos (James also handled mixing on the release). With the band's new album, 
The Living Dead
, mastermind Gus Sinaro kicks it up a notch and delivers his best work to date.
Praised by the likes of Revolver Magazine, Guitar World, Metal Injection and beyond, 
SINARO 
is quickly gaining the reputation as a must see live act. 
SINARO
 has shared the stage with artists such as 
All That Remains, Flotsam & Jetsam, Saving Abel, Angel Vivaldi, Revocation, Rhapsody, Primal Fear, Gus G. (Ozzy Osbourne/Firewind) 
and more. 
SINARO 
is currently playing select regional dates and prepping for a busy year and new album on the horizon. Catch the band live and discover what the others already know!
SINARO
 is proudly endorsed by ESP Guitars, EMG Pickups, Ernie Ball, Hughes & Kettner and KHDK pedals.
To learn more about SINARO, please visit these websites: