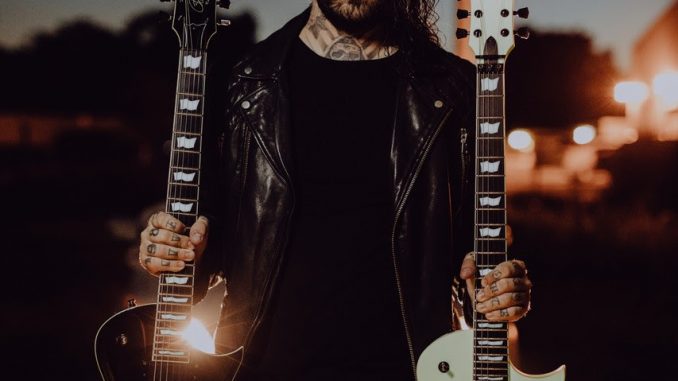 Guitarist BOBBY KELLER has been tapped by NEW DILEMMA to join the alt-metal/hard rock band for an American tour with Cold this fall.
KELLER, who was recently honored with an official BOBBY KELLER preset in renowned German record producer and connoisseur of guitar tone Lasse Lammert's new Tonality Suite, will offer a BOBBY KELLER VIP Experience and Guitar Lesson bundle throughout the tour.
The pre-show BOBBY KELLER VIP Experience and Guitar Lesson will include one on one scheduled guitar lessons and demos featuring his ESP Guitars, EMG Pickups and the STL Lasse Lammert Tonality Suite on each date of the tour.
"I am so excited to be hitting the road this September with my NEW DILEMMA family and getting the opportunity to tour with Cold," says KELLER. "Just the thought of getting back out there excites me to no end. It has been way too long! So, with this tour, I wanted to try to give people the opportunity to come hang pre-show and get some personalized guitar lessons unlike anything they may have ever had before, and some amazing goodies to go with! Plus, I wanted to try and showcase my new settings on the Lasse Lammert STL Tonality Suite and how good it f**king sounds. In addition, how easy it is to use and how a tool like this can help spark your guitar ideas and make them a reality!"
NEW DILEMMA tour dates with Cold:
9/15 – Albany, NY – Upstate Music Hall
9/16 – Laconia, NH – Granite St Music Hall
9/17 – Chicopee, MA – Geraldine's
9/18 – Norwalk, CT – Wall Street Theater
9/19 – Providence, RI – Fete Music Hall
9/22 – Teaneck, NJ – Debonair Music Hall
9/23 – Hopewell, VA – Beacon Theater
9/24 – Spartanburg, SC – Ground Zero
9/26 – Fort Myers, FL – Buddha Rock Club
9/27 – Destin, FL – Club LA
9/29 – Atlanta, GA – Masquerade
9/30 – Charleston, WV – Rock City Cake Company
10/1 – Louisville, KY – Diamond Pub
10/2 – Harrison, OH – Blue Note
10/3 – Harrisburg, PA – HMAC
10/6 – Lakewood, OH – Winchester
10/7 – Lombard, IL – Brauerhouse
10/8 – Iowa City, IA – Wildwood
10/9 – St Paul, MN – Turf Club
10/10 – Milwaukee, WI – Shank Hall
10/13 – Des Moines, IA – Lefty's
10/14 – Lincoln, NE – The Royal Grove
10/15 – Denver, CO – Herman's Hideaway
10/16 – Colorado Springs – Sunshine Studios
10/19 – Scottsdale, AZ – Pub Rock
10/21 – Austin, TX – Come and Take It
10/22 – Houston, TX – Scout Bar
10/23 – San Antonio, TX – Rock Box
10/24 – Dallas, TX – Trees
10/27 – St. Louis, MO – Red Flag
10/28 – Bloomington, IL – Castle Theater
10/29 – Flint, MI – Machine Shop
10/30 – Ft. Wayne, IN – Piere's
10/31 – Pittsburgh, PA – Crafthouse
11/06 – Jacksonville, NC – Hooligans
11/17 – Indianapolis, IN – Hi-Fi
11/19 – Columbus, OH – The King of Clubs
11/20 – Northampton, PA – The Gin Mill
About BOBBY KELLER:
Playthroughs for each of the tracks are also available:
KELLER's idea to start a solo project began with Ben Johnson, a talented producer, drummer and recording engineer currently working under Will Putney (Fit For An Autopsy/Thy Art is Murder) at Graphic Nature Audio in Belleville, NJ, producing and writing songs together. The team's take on instrumental guitar music is without a doubt a one-of-a-kind experience that will propel the genre even farther into the future.
A native of Orlando, KELLER has been setting the music industry ablaze with his unique style of guitar playing since 2009 and is considered one of the top guitar players in the United States. Inspired by guitarists such as Eddie Van Halen, Joe Satriani and Dimebag Darrell, he bases his playing in the blues, but also combines both incredible speed and euphonic rhythms into his technique to create a truly individual sound.
Having toured nationally with the band Avatar and playing alongside the likes of renowned artists such as Evanescence, Hellyeah, Mastodon, Gojira, Nonpoint, and Jonathan Davis (Korn), KELLER is currently endorsed by ESP Guitars, EMG Pickups, Richter Straps, Driftwood Amps, SIT Strings, WB Gear, Fortin Amplification, Neural DSP, Graph Tech Guitar Labs, FU-Tone, Klotz Cables, Quantum Industries Cases and JH Audio. In 2016, KELLER starred in the Theater Works Production of Rock of Ages as the lead guitar player for the "house band" of the Bourbon Room in Hollywood.
BOBBY KELLER online:
About NEW DILEMMA:
NEW DILEMMA is a four-piece hard rock/alternative metal band from Orlando, formed in 2017. NEW DILEMMA's debut EP, Is Your Story Over, was released last year via Pavement Entertainment. Is Your Story Over was produced and mixed by Ben Johnson and mastered by Machine The Producer (Lamb Of God, Clutch, Fallout Boy). The EP's first single, "Is Your Story Over," charted at #27 on the Billboard Mainstream Rock Radio Charts and #10 on Foundations Rock Radio charts alongside some of today's biggest bands.
NEW DILEMMA is:
Joey Factor – Vocals
Bobby Keller – Guitar
Clyde Clark – Bass
James Christopher Lane – Drums
NEW DILEMMA online: