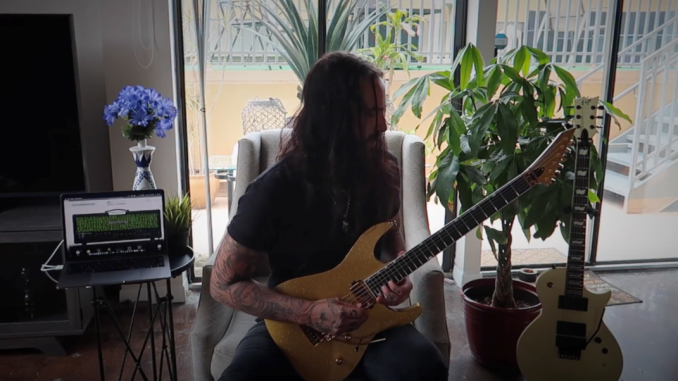 Highly Anticipated Debut, Reign in Fire, Slated for Release this Year
Guitarist BOBBY KELLER, whose singles "Reign in Fire," "Light Bearer" and "Perpetual Dreams" have enthralled fans of heavy instrumental guitar, has teamed up with renowned German record producer and connoisseur of guitar tone Lasse Lammert to include an official BOBBY KELLER
preset in Lammert's new Lasse Lammert Tonality Suite.
"Me and Lasse go back some years ago when I recorded an EP with an old band in Lubeck, Germany, and he was actually the reason I know about Driftwood Amplifiers," KELLER says. "He introduced it to me during the recording sessions and I instantly fell in love with it! Fast forward to today, and now being a Driftwood endorsed Artist, Lasse presented to opportunity the include two of my personal settings in the plugin. I am truly blown away by what Lasse and STL were able to do here, and I can honestly say it sounds just like my real amp! It's absolutely mind blowing, and I am forever grateful to Lasse and STL tones for including me in such a product!"
Lammert adds, "First time I met Bobby was when he recorded at my studio in 2017. Back then we used the Driftwood Purple Nightmare for the guitars and it was just the perfect fit for his playing. I even sent Bobby my second Driftwood amp because it goes so well with his playing. We were so happy with that sound that I included a Meka-Nism (Bobby's previous band) preset in my STL Tonehub pack, which is still one of the most well received presets from that preset pack. So when I was creating presets for my STL Tonality plugin, it was just natural to include a BFK preset for the plugin version of this amp as well."
Tonality is an all-in-one Guitar Plug-in Suite developed exclusively from the signature sounds of producer Lasse Lammert (Alestorm, Gloryhammer, Abigail Williams, Sigh). Lammert's go-to pedals, amplifiers and cabinet setups are all included in this plug-in. Designed by STL Tones and Lammert, the Lasse Lammert Plug-in has been developed to capture every sonic aspect of what makes his guitar tones so distinctive.
The Lasse Lammert Tonality Suite not only acts as a toolkit of Lammert's go to amplifiers, cabinets and pedals, but showcases his involvement in the development of the Driftwood Purple Nightmare amplifier, which is a part of this suite in collaboration with Driftwood, including Lammert;s very own Signature Liverkick Pedal.
One of the three amps included in the Tonality Suite is the Driftwood Purple Nightmare. Lammert and STL Tones teamed up with the folks at Driftwood to bring you the first officially licensed plugin model of the coveted Purple Nightmare. The Driftwood Purple Nightmare is a two channel, 6l6 powered, 100w guitar amplifier. Boasting a fully independent clean and 'burn' channel the Driftwood also includes its own green style overdrive pedal, mode and gain switches. The Purple Nightmare can do everything from driven rock to high gain metal tones.
KELLER's idea to start a solo project began with Ben Johnson, a talented producer, drummer and recording engineer currently working under Will Putney (Fit For An Autopsy/Thy Art is Murder) at Graphic Nature Audio in Belleville, NJ, producing and writing songs together. The team's take on instrumental guitar music is without a doubt a one-of-a-kind experience that will propel the genre even farther into the future.
A native of Orlando, KELLER has been setting the music industry ablaze with his unique style of guitar playing since 2009 and is considered one of the top guitar players in the United States. Inspired by guitarists such as Eddie Van Halen, Joe Satriani and Dimebag Darrell, he bases his playing in the blues, but also combines both incredible speed and euphonic rhythms into his technique to create a truly individual sound.
Having toured nationally with the band Avatar and playing alongside the likes of renowned artists such as Evanescence, Hellyeah, Mastodon, Gojira, Nonpoint, and Jonathan Davis (Korn), KELLER is currently endorsed by ESP Guitars, EMG Pickups, Richter Straps, Driftwood Amps, SIT Strings, WB Gear, Fortin Amplification, Neural DSP, Graph Tech Guitar Labs, FU-Tone, Klotz Cables, Quantum Industries Cases and JH Audio. In 2016, KELLER starred in the Theater Works Production of Rock of Ages as the lead guitar player for the "house band" of the Bourbon Room in Hollywood.
BOBBY KELLER online: