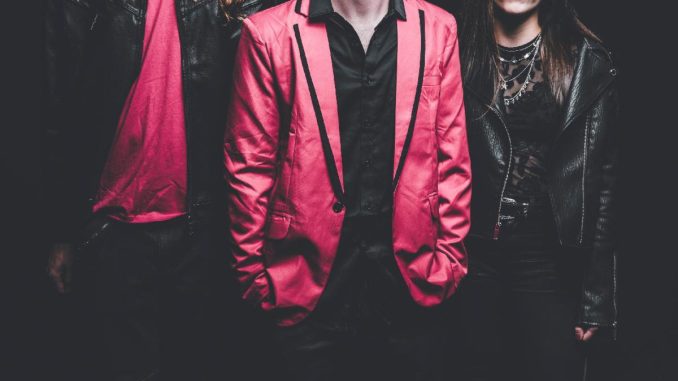 Watch The Music Video HERE
Hard rock band GROUNDLIFT has released a new single. The Boston-based trio partnered with highly acclaimed producer Steve Evetts (The Dillinger Escape Plan, The Wonder Years, etc.) on the track, titled "A Quick Fix". The heavy-hitting, swaggering new song boasts groove-leaning riffs and some 'old school-meets-new school' flare – mixing in elements of classic rock, funk, blues, progressive rock, and Brit-pop. The song is accompanied by a music video, which can be seen here.

Commenting on the new single, the band shares, "A Quick Fix is the merging of a catchy, flowy chorus with a funk rock, Chili Peppers-inspired riff and a Black Keys-influenced melody that is sure to hit you differently than most rock singles coming out today. This is our first single with Steve Evetts (Dillinger Escape Plan, The Wonder Years, Sepultura) as producer, and we're thrilled to showcase our potential as a modern rock trio!"
GROUNDLIFT – "A Quick Fix" (Official Video)
GROUNDLIFT Bio:

Frontman Ace McCormack and bassist Mike Dutko instantly became friends when they had their first rehearsal and discovered their palpable musical synergy. Leah Bluestein became the obvious choice for drums when they heard her play like a combination of Dave Grohl and Neil Peart.

The joining of their three varied and eclectic music tastes resulted in a fresh, unique sound where Ace's love of beautiful melodies, Dutko's adventurous Queen-like writing style, and Leah's unbridled technical prowess all shine through. They are three musicians obsessed with their craft, allowing each other to fire on all cylinders with no holds barred. Combining tasty and inventive licks with catchy melodic hooks, surreal lyrics, shredding guitar-drum-AND bass solos, and an unfathomable rhythmic tightness, Groundlift is truly a band unlike any other.

With their hard rock-inspired vibe, thick-pocketed grooves, and catchy tunes that will stick in your head for days, Groundlift is a band that can get the hardcore punks backflipping into the mosh pit, the indie fans singing along, and the fellow musicians nodding in approval all at the same time.
GROUNDLIFT Lineup:

Ace McCormack – Lead Vocals, Guitar

Leah Bluestein – Drums, Backing Vocals

Mike Dutko – Bass, Backing Vocals

Management – The Oracle Management (info@theoraclemgmt.com)