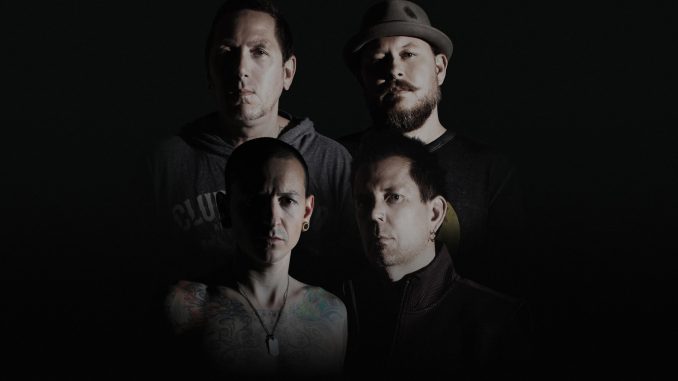 GREY DAZE SET JAN. 29 RELEASE DATE FOR AMENDS… STRIPPED

(LOMA VISTA RECORDINGS)

WATCH THE "SHOUTING OUT (STRIPPED)" VIDEO NOW
Dec. 11, 2020, Phoenix – Grey Daze, who won widespread praise for Amends, the stirring, full circle album that found the surviving band members fulfilling a promise made to singer Chester Bennington, return this January with a five-song EP, dubbed Amends… Stripped (Jan. 29, Loma Vista Recordings).

A preview of Amends… Stripped comes with the release of "Shouting Out (Stripped)" and its accompanying video: https://found.ee/GD_SOStrippedVideo.

"One of the more interesting things about working with such a great singer like Chester, is the more you take away from his surroundings, the more you get to appreciate and hear all of the subtle nuances of his voice," explains Grey Daze co-founder and drummer Sean Dowdell. "He was a very special vocalist with an amazing writing ability, and it was very meaningful for us to use these different vocal performances on the acoustic version of 'Shouting Out.'"

The band returned to the studio in October, working with producer Billy Bush (Garbage, Muse) and a selection of alternate vocal tracks from Bennington. The concept of an acoustic release was something Grey Daze had discussed prior to the release of Amends, knowing that the songs present an entirely new aspect to the material and spotlight Bennington's immense talent, something they'd only been able to witness in the studio.
Amends… Stripped EP cover
Amends… Stripped tracklist:

Shouting Out (Stripped)
Sometimes (Stripped)
Soul Song (Stripped)
What's In The Eye (Stripped)
The Syndrome (Stripped)

Amends… Stripped pre-orders are available now (https://found.ee/GD_AmendsStripped), with the vinyl variant of the EP set for an April 9 street date. The vinyl release includes a trio of '90s era interviews with the band from the new defunct Phoenix alternative radio station, KEDG. The release is also available digitally.
Grey Daze released Amends in June of 2020 with All Music calling it "a gift for those who loved Chester," Kerrang! proclaiming the collection "both celebratory and emotional, the record stands as a heartfelt echo of Chester Bennington's power," Rolling Stone describing the album "modern without sacrificing Bennington's inherent adolescent grit" and Billboard saying it "provides some grunge-laced light in an otherwise dark hour." Amends' arrival followed months of build-up for an album that serves as a tribute to Chester Bennington, the man "who was known for his piercing scream and free-flowing anguish"(New York Times) and "a human being with a huge heart and a caring soul" (Associated Press). The people surrounding the release, his Grey Daze bandmates: Sean Dowdell, Mace Beyers, Cristin Davis, as well as Chester's family members: Talinda Bennington, his parents, Susan and Lee, and his son Jaime all participated in the curation and storytelling that served as both catharsis and the completion of a promise to see the 11-song album through to completion. They shared stories and insight into how Amends became a reality via a documentary (https://youtu.be/Pf9JzJq912M), an eight-part, studio driven video series titled "Making Amends" (https://found.ee/GD_MakingAmendsSeries), and a Dave Navarro (Inked Master, Jane's Addiction) hosted roundtable discussion (https://found.ee/GD_InkedYT) featuring Dowdell with Amends contributors Brian "Head" Welch (Korn), Chris Traynor (Bush/Helmet), LP and producer Esjay Jones.

Amends is the origin story of one of modern rock's most recognizable voices and also a full circle moment among friends. Dowdell, Beyers and Davis selected the tracks from the band's mid-90s, but largely unknown, catalog and re-recorded the music in 2019 to accompany Chester's re-mastered vocals. Produced by Jay Baumgardner, several musicians leant their time and talent to the album, including Korn's Brian "Head" Welch and James "Munky" Shaffer, Page Hamilton (Helmet), Chris Traynor (Bush, Helmet, Orange 9MM), LP (Laura Pergolizzi), Jaime Bennington, Jasen Rauch (Breaking Benjamin), Marcos Curiel (P.O.D.) and Ryan Shuck (Orgy). The album is available in a variety of collectible formats with several iterations available exclusively via the band's website (https://found.ee/GD_AmendsStore). The CD comes as a 16-page case-bound book; a first pressing, ruby red vinyl variant exclusive to the band's webstore; and a numbered deluxe edition featuring both a CD and LP, which includes the first ever disc tray designed for vinyl, a 60-page book with never-before-seen photos, 180g red and white splattered vinyl, and a collectible set of band memorabilia dubbed the "Grey Daze Archive." Digital and other standard versions of the album are available here: https://found.ee/GD_Amends.
Grey Daze, photo credit: Anjella/Sakiphotography