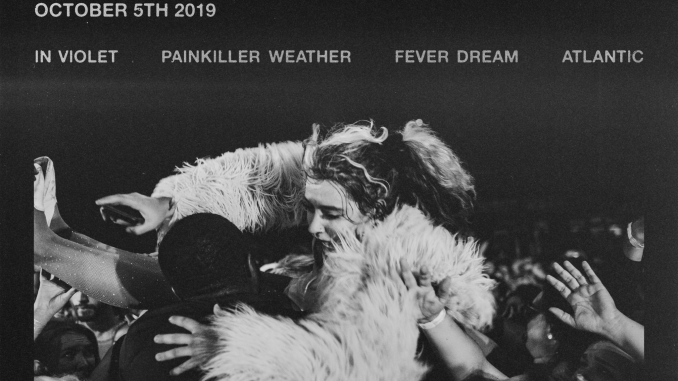 EP AVAILABLE AT ALL DSPS

BAND WORKING ON THIRD FULL-LENGTH
Philadelphia quintet GRAYSCALE have released the digital EP, Live From The TLA, today, June 11. It's available at all DSPs.
The EP was recorded in October 2019 at the famed Theater of Living Arts on South Street in the band's hometown. It features a mix of songs from 2019's sophomore album Nella Vita ("In Violet" and "Painkiller Weather") and their full-length debut, 2017's Adornment ("Fever Dream" and "Atlantic.")
"With the return of live music approaching, we went ahead and mixed four songs from our 2019 headlining live performance in our hometown of Philadelphia before the world shut down," the band shares. "This was our first-ever headlining tour and it is an important part of our band's history. We're ready to be everywhere this summer, fall, and beyond. Get ready."
LIVE FROM THE TLA TRACK LISTING:
"In Violet"
"Painkiller Weather"
"Fever Dream"
"Atlantic"
Late last year, the band shared the video for new song "Diamond." The band continues to work on its third full-length album.
Grayscale formed in 2011 and released several EPs. They made a splash with their debut full-length Adornment, which arrived in 2017 via Fearless Records. The band explored themes of sex, drugs, death, despair, and everything that embodies life through a lens that finds a lot of positivity in surviving the darkest of experiences on the critically acclaimed sophomore effort Nella Vita. The album displayed varied influences — from '90s rock to funk. The record was dubbed "captivating" by PopCrush, "brilliant" by Kerrang!, and "classic" by Alternative Addiction, while Alternative Press declared that the band "captured candid vulnerability." Cryptic Rock labeled the album "eloquent and honest," as The Honey Pop called it "a journey of emotions." Nella Vita was a true watershed moment for the band and set the stage for what's to come. The only thing that's certain is there is no ceiling for Grayscale, who were christened "young and talented" by Forbes for their handling of their merchandising business.
GRAYSCALE ARE:
Collin Walsh — Vocals
Dallas Molster — Guitar
Andrew Kyne — Guitar
Nick Ventimiglia — Bass
Nick Veno — Drums