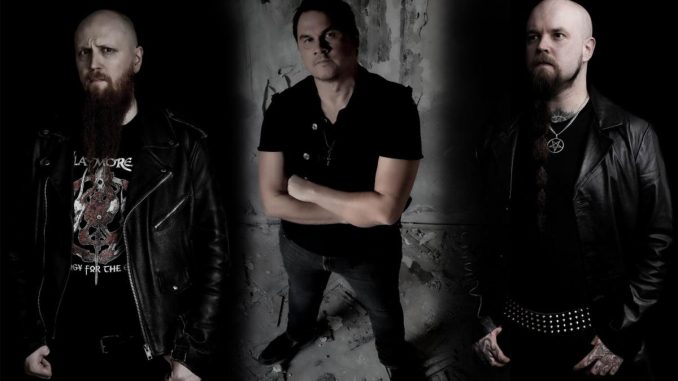 Out November 2023 on Svart
Pre-Order HERE
Band Shares New Single "Morrigan" + Lyric Video
Watch HERE
Brand-new Finnish band GRAVEN SIN stomp proudly on the shoulders of giants with their stunning debut album, 'Veil of The Gods'. Pristine heavy metal, expertly delivered with stunning finesse and elegant doom perfection, 'Veil of The Gods' is a classic in the making. Rarely has a new band sounded so timeless, serving up a venerable platter of first-class heavy metal.

From the galloping charge of opening barn-stormer "Morrigan", with jaw dropping solo guitars courtesy of riff master Ville Pystynen, the epic and anthemic "She Who Rules Niflheim" with soaring vocals from Greek vocalist Nicholas Leptos to the formidable double bass canter of Ville Markkanen's drums on songs like "Beyond Messopotamia", GRAVEN SIN knows the true riddle of steel.

A refreshing tour–de-force, not shrinking from the dark but embracing it with gusto and fierce bravado, 'Veil of The Gods' shows us that real metal lives forever, if crafted with true spirit and belief. Hear the cry of the seer of doom, by heeding "Morrigan"'s call now!

Check out the Official Lyric Video for "Morrigan" HERE
Throughout 'Veil of The Gods'' eleven cast-iron tracks, we can trace veins of recent Finnish greats such as Sentenced, Amorphis, Reverend Bizarre or their nordic counterparts Grand Magus from Sweden, but there is much more at play here. GRAVEN SIN offers up heavy, doom laden orthodox heavy metal in the true, chugging, monumental sense of the term. The knowledge and prowess of heavy metal craft on display in 'Veil of The Gods' is second to none, from the Maidenesque command of melody to the swarthy Manowar rhythms, herculean Deep Purple keys and Messiah like Candlemass-rich voice of astonishing vocalist Leptos, these are songs to be inscribed into stone tablets.

Where pitch dark mythical themes and occult leanings of the lyrics bring to mind the heavy metal running through black metal bands like Dissection, the song arrangements swing from gallop to thundering, head-banging mid-sections with such magnificence, you would think you were in the hands of a band with decades of heritage behind their backs.

A "where have you been all my life moment" awaits heavy metal fans of all shades when GRAVEN SIN hits the speakers, delivering a sound that cuts glass and steel.
GRAVEN SIN are:

Ville Pystynen – guitar, bass

Nicholas Leptos – vocals

Ville Markkanen – drums