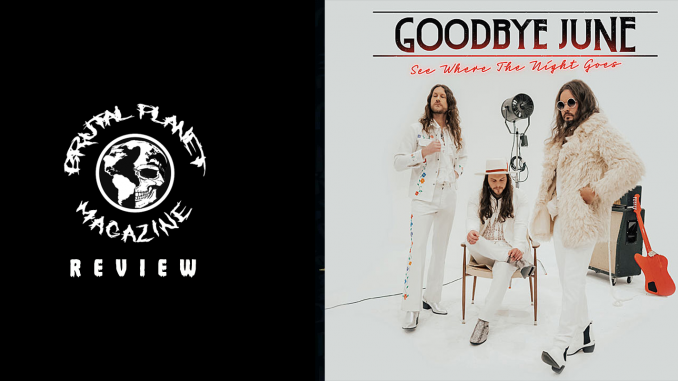 Review By
Emily Tipping
Southern soulful rockers Goodbye June have put together a fierce new album that will be available February 18th. See Where the Night Goes infuses rustic blues and heavy metal with a Southern-rock sound. This is the perfect uplifting disc to put on while driving in the car, playing poker with some friends or show it off at a house party with the coolest next best thing.
Landon, Brandon and Tyler know the key to any great album is to kick it off with a memorable hook to grab the listener's attention. "Step Aside" is just that – it captivates with a heart pumping beat and twangy guitar strums. "See Where the Night Goes" takes it up a notch pulling the listener in with it's hard rocking sound. Too much heat can create the need to cool down a bit and "Breathe and Attack" does just that. There are a lot of 'do's' and 'don'ts' in making a successful album and these cousins have seemingly figured out the formula.
"Take A Ride" is the next track and it sounds like something Hendrix would have made today. The song features insinuatingly dirty lyrics, driving beats and blistering guitar riffs. Goodbye June has a sound that brings you back to a simpler, better time. Landon has a gritty-boisterous voice that sounds like it would fit somewhere between Dave Evans and Brian Johnson. He sings about real-life experiences with a raspy high-pitched head voice yet has the power to easily transition to a softer, more quiet tone. He uses this ability on "What I Need" a beautiful ballad about looking into oneself for peace.
"Stand And Deliver" has all the components to be the next rock anthem and a powerful message to be remembered. A perfect song to put on that will liven up any room. "Baby I'm Back" reminds me of 'that guy' who can't stop drinking and has to be the life of the party. This track is followed by "Everlasting Love", a brilliant love song. Something of a transition song, "Nothing" reminds of how it feels to deal with the pain of breaking up with somebody. "Three Chords", picks the mood back up – a dance tune, reflecting on the church of their grandfather with obvious roots in the gospel. "Black" closes the album out, it's a great tune about living life to the fullest while your here.
Goodbye June's sophomore album, Magic Valley, exposed them to several fans by collaborating with WWE, Budweiser and Need For Speed. The band has also shared the stage with the likes of ZZ Top and CCR and built up a devoted fan base. Their latest creation pulls it all together and makes for one-hell-of-a dancin' Southern-rock album. Make sure you pick up a copy of See Where the Night Goes on February 18th and be the life of the party.