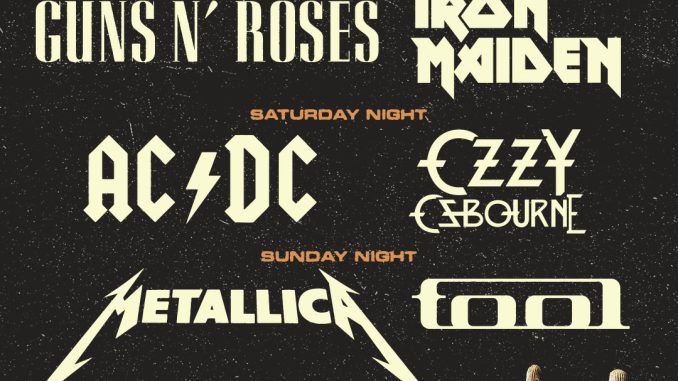 OCTOBER 6, 7 AND 8, 2023
AT THE EMPIRE POLO CLUB IN INDIO, CA,
THE WORLD'S GREATEST LIVE MUSIC DESTINATION
AND HOME OF THE COACHELLA VALLEY MUSIC AND ARTS FESTIVAL
A THREE-NIGHT EVENT SET IN BACKDROP OF THE AUTUMN DESERT
FEATURING SIX LOUD AND POWERFUL HEADLINERS
REGISTER NOW FOR ACCESS TO TICKETS STARTING
A massive wall of sound will emerge in the desert this fall at the world's greatest live music destination Empire Polo Club in Indio, CA with the arrival of POWER TRIP. It's a three-day historic event set for October 6, 7 and 8 that will bring together six iconic bands that define loud and powerful music: Guns N' Roses and Iron Maiden (Friday, October 6), AC/DC and Ozzy Osbourne (Saturday, October 7) and Metallica and Tool (Sunday, October 8).
This unique night-time desert setting with unmatched concert production will amplify the experience beyond the traditional stadium or parking lot concert norm with three double-billed headlining performances. This is the most rocking line-up to ever perform in an unparalleled location for heavy music audiences looking for an unforgettable weekend escape.
Camping Trip: Camp at the Trip in ease. Options include Car & Tent Camping, ready-to-go 2 person Lodge/4 person tents, RV spots and more. Amenities and activities are available for all campers.
Connect with Power Trip:
Media Contacts:
SRO PR
ABOUT GOLDENVOICE