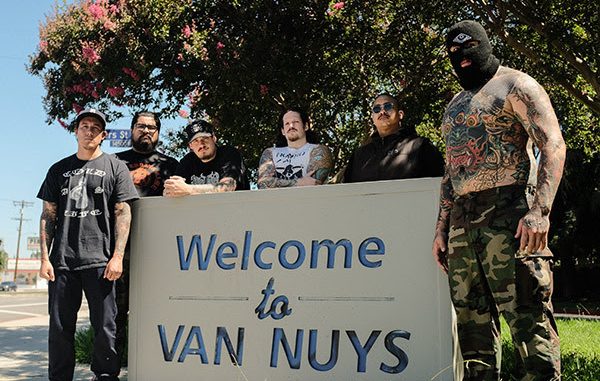 SELF-TITLED ALBUM OUT MARCH 12 VIA CLOSED CASKET ACTIVITIES
God's Hate
, one of the hardest hardcore bands in all the land, have just shared another song from their upcoming self-titled album, which arrives via
Closed Casket Activities
on March 12. Go
here
for more info.
Listen to "God's Hate" here.
The band previously shared "Be Harder."
Co-founded by Colin Young of Twitching Tongues and vocalist/Ring Of Honor professional wrestler Brody King, God's Hate set out to re-establish the mantle of hardness created by East Coast HxCx titans Merauder, Hatebreed, and the seminal Troy-core scene of the late '80s and early '90s.

The band delivered a pair of fists to the throat with the Divine Injustice and Father Inferior seven-inches in 2014 and 2015, respectively, before sawing off their full-length debut, Mass Murder, in 2016. Railing against religion, the government, and airing their grievances against the stupidity of mankind, they employed the strong-arm musical tactics of their forefathers: Beatdown riffs, slamming breakdowns, gang vocals and no bullshit whatsoever.

It's been five years since the last God's Hate album. But during that time, Colin has been touring on and off with Twitching Tongues and King's pro wrestling career has taken off. There have been births, deaths, and major life changes. Factor in the COVID-19 pandemic, and maybe the delay doesn't seem quite so long.
Tracked at The Pit in Van Nuys, CA, by Colin's brother Taylor Young (Twitching Tongues, ZOUS) between August 2019 and the summer of 2020, God's Hate marks a significant lineup shift for the band.This time, Colin, King, and guitarist Anthonie Gonzalez are joined by Twitching Tongues bassist Alec Faber, Taylor Young on lead guitar, and third guitarist Martin Stewart, while Colin moved over to drums.