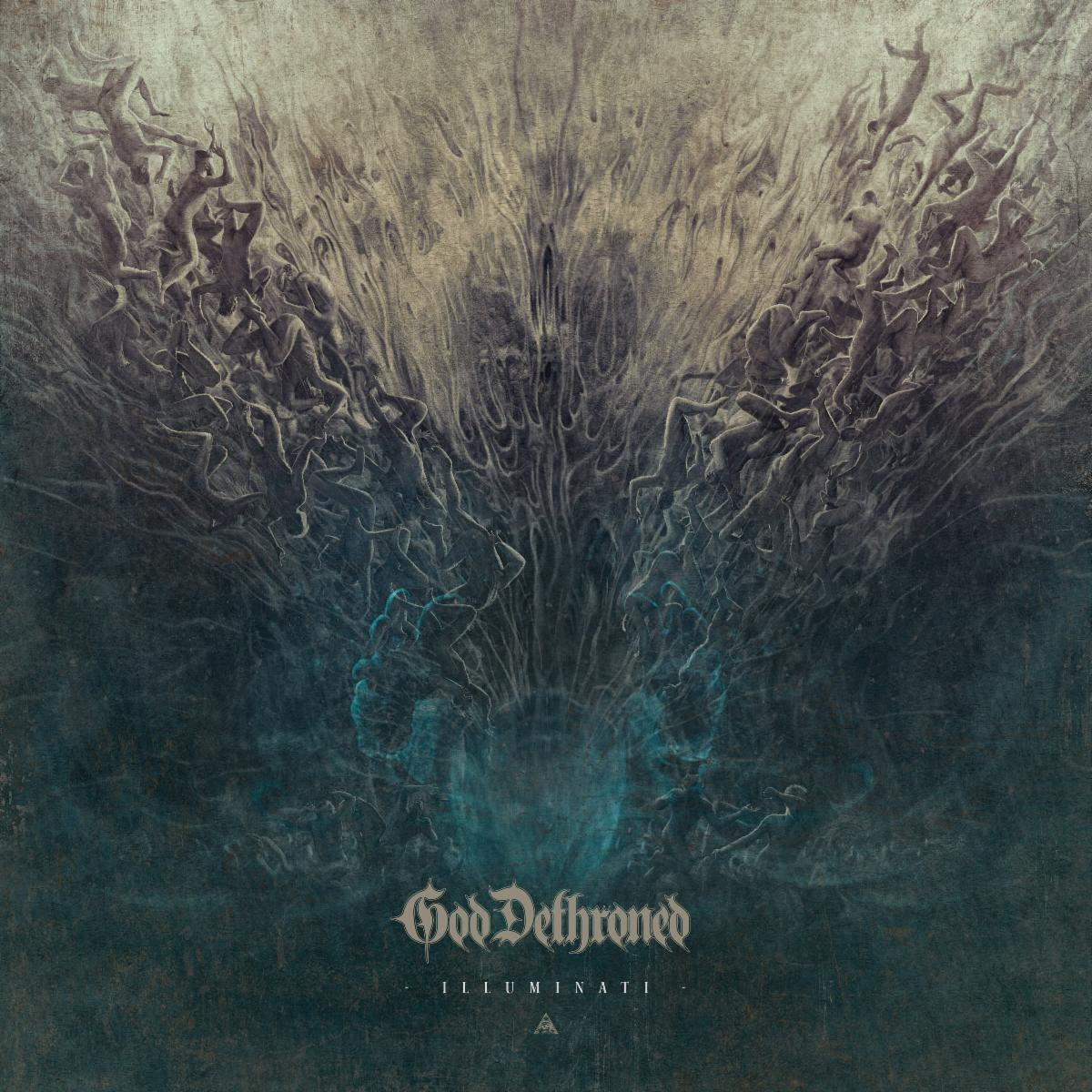 launches video for new single, "Book of Lies"; kicks off album release shows and European tour
Today (February 7th), God Dethroned have unleashed their new album, Illuminati, via Metal Blade Records. For a preview of Illuminati, a video for the new single "Book of Lies" (the third of three interconnected short movies) can be viewed at: https://www.youtube.com/watch?v=eEVA_baMx34

God Dethroned guitarist/vocalist Henri Sattler comments: "'Illuminati' is out today and we can't wait for everyone to check out the album! We are also launching a third video today for 'Book of Lies', which connects the storyline of the two previous singles/videos and hopefully is a track that will spark your interest in listening to the full album! Also, we are soon to start a heavy touring campaign: First it's three special album release shows this weekend, then next week we start a first European tour with Obscura, and afterwards it's festival time, but also another European tour of which we will reveal details soon. We look forward to seeing you at one of the upcoming shows this year!"

To view the videos for the title track and "Spirit of Beelzebub", please visit: metalblade.com/goddethroned – where the record can also be purchased in the following formats:
– jewelcase-CD
– digipak-CD (EU Exclusive)
– box set (digipak CD, bonus DVD, chain necklace, photo cards, patch – limited to 3000 copies)
– 180g black vinyl (EU exclusive)
– clear violet blue marbled vinyl (EU exclusive – limited to 300 copies)
– beige brown marbled vinyl (EMP exclusive – limited to 300 copies)
– steel blue marbled vinyl (EMP exclusive – limited to 200 copies)
– blue / green melt w/ red splatter vinyl (EU Shop exclusive – limited to 100 copies)
– burgundy marbled vinyl (US exclusive – limited to 200 copies)
– clear/white splatter vinyl (Tour exclusive – limited to 100 copies)
* exclusive bundles with shirts, plus digital options are also available!
Read on for what press have to say about the critically acclaimed Illuminati!
"Henri Sattler and his crew now return in top shape and deliver an album that belongs to the highlights of their discography!" – Deaf Forever
"But above all, it's the dominating and extravagantly fabulous melodies, which make the eleventh full-length by God Dethroned a very, very special one." – Legacy
"…a must-buy for every black/death fan." – Metal Wani
"The result is that 'Illuminati' is a damned fun and damned fine record, filled with hooks and hate, and certainly a welcome addition to my […] list of melodic blackened death metal knockouts." – Last Rites
To celebrate the release of Illuminati, God Dethroned will be hosting three release shows this weekend in Germany and the Netherlands. Starting next week, European fans can also catch them on tour with Obscura, Thulcandra, and Fractal Universe. See below for all dates!
God Dethroned tour dates 2020:
'Illuminati' release shows
w/ Dawn Of Disease & Aesmah
Feb. 7 – Lingen (Germany) – Alter Schlachthof
Feb. 8 – Hoogeveen (The Netherlands) – Het Podium + Sisters Of Suffocation
Feb. 9 – Rotterdam (The Netherlands) – Baroeg
w/ Obscura, Thulcandra, Fractal Universe
Feb. 14 – Metz (France) – Haunting The Chapel
Feb. 15 – Zug (Switzerland) – Galvanik
Feb. 16 – Bologna (Italy) – Locomotiv
Feb. 17 – Ljubljana (Slovenia) – Orto Bar
Feb. 18 – Graz (Austria) – Explosiv
Feb. 19 – Tuzla (Bosnia-Herzegovina) – Palma
Feb. 20 – Sofia (Bulgaria) – Mixtape5
Feb. 21 – Bucharest (Romania) – Quantic Club
Feb. 22 – Belgrade (Serbia) – Bozidarac
Feb. 23 – Budapest (Hungary) – Dürer Kert
Feb. 24 – Bratislava (Slovakia) – Randal
Feb. 25 – Prague (Czech Rep.) – Futurum
Feb. 26 – Krakow (Poland) – Kwadrat
Feb. 27 – Warsaw (Poland) – Proxima
Feb. 28 – Riga (Latvia) – Melna Piektdiena
Feb. 29 – Tallinn (Estonia) – Tapper Club
Mar. 1 – Helsinki (Finland) – Tavastia
Mar. 3 – Stockholm (Sweden) – Klubben
Mar. 4 – Oslo (Norway) – John Dee
Mar. 5 – Aarhus (Denmark) – Voxhall
Mar. 6 – Essen (Germany) – Turock
Mar. 7 – Landshut (Germany) – Rocket Club
Festival appearances:
Mar. 28 – Hirschaid (Germany) – Braincrusher Festival
Apr. 17 – Lichtenfels (Germany) – Ragnarok Festival
May 2 – Erica (The Netherlands) – Pitfest
Jun. 5 – Montagny (France) – Lions Metal Fest
Jul. 24 – Freissenbüttel (Germany) – Burning Q Festival
Jul. 25 – Ottobeuren (Germany) – Schlichtenfest
And more shows to be announced soon…
God Dethroned line-up:
Henri Sattler – vocals, guitars
Michiel van der Plicht – drums
Jeroen Pomper – bass, vocals
Dave Meester – guitars
God Dethroned online:
https://www.facebook.com/goddethronedofficial
https://goddethroned.bandcamp.com
https://twitter.com/villavampiria