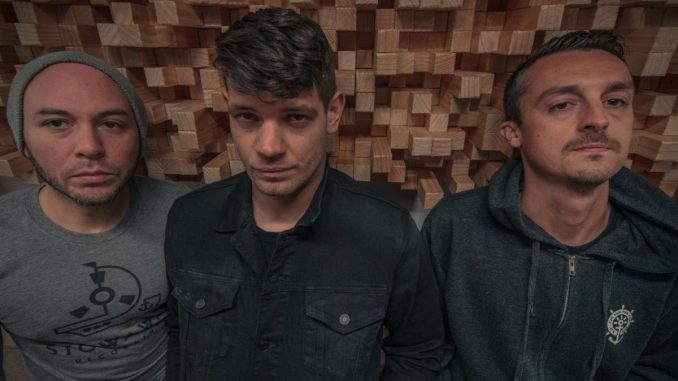 Austin, TX experimental black metal / post-hardcore trio GLASSING have completed their third-full length album. The album set to be titled Twin Dream, will see a release this Fall via Brutal Panda Records. Last year, the band released the title track via Decibel Magazine which can be heard
HERE
.
Twin Dream marks the follow-up to GLASSING's 2019 breakout album Spotted Horse. Recorded during the time of COVID in an old Texas Country music studio, the album sees GLASSING push their sound even further, experimenting with rich textures, expanded song structures, dreamlike passages, and their signature moody exercises in bleakness that range from grim to hopeful to destructive. The band commented on the making of the new album:
"To be completely honest we wrote this record when we were fucked up and scared. When we and everyone else around us were going through one of the most uncertain periods of our collective lives. Now that the dust has settled slightly, we can look back and realize that a great deal of people got hit hard and raw and lost a lot. And not everyone had a project to lose themselves in or some passion to distract from reality. Not everyone had something as powerful as music to guide them as it guides us. Maybe you can hear some of that in the record, maybe this record ties you to our life raft. Either way, we're beyond grateful to have it, so our job is to share it for when those bad times come again."
Additionally, GLASSING will see the release of their 2017 debut album Light and Death on vinyl for the first time. The album is being re-released on July 30th and can be pre-ordered via Brutal Panda
HERE
or on Bandcamp
HERE
.
GLASSING commented on the long-awaited vinyl release:
"We're super excited for Light and Death to get a proper release through two great labels, BPR in the US and Medication Time in France. We sat on that album for a while and ended up rushing a DIY release for it on our 2017 tour with This Will Destroy You. We had handmade CD-Rs for that tour that kinda fit the sound of that record and the early era of Glassing which was more raw and aggressive."
About GLASSING:
GLASSING excels at the art of organized chaos through sound, blending elements of black metal and post-hardcore with ambient explorations, dream-pop sensibilities, and grinding walls of sound that defy categorization. Formed in 2015, GLASSING have shared stage with Power Trip, High on Fire, Devil Master, Creeping Death, This Will Destroy You, Portrayal of Guilt, Street Sects, and many others.
"…a unique amalgam of suffocating textures, crushing blast beats, and black metal-inspired atmosphere." — Decibel
"GLASSING combines post-metalisms with black-metal blasts, gaining comparisons to modern favorites like Sumac, Pelican, 5ive, early Cave In and Sannhet" – Revolver
"From their wailing guitars to their staccato rhythms to their hollered vocals, GLASSING finds the sweet spot between Deftones, The Dillinger Escape Plan, and Big Black, and drive a spike deep into it so that fans can hear the raw sonic substance that bubbles forth." — Kerrang
"…an emotional journey through dense textures and the illusion of hope… Fans of the heavier side of post-rock, the atmospheric side of post-hardcore, and the emotional side of black metal should find plenty to get lost in here." — Heavy Blog Is Heavy
"Massive and entrancing, Spotted Horse is a one-of-a-kind achievement within its genre." — New Noise
"Clearly a crossover between hardcore, black metal, and post-metal, this nebulous genre space means less in nomenclature than it does in emotional depth. Borrowing the most climactic elements from each style, GLASSING lift you out of your conscious thought-stream into a more dreamlike state." — Invisible Oranges
"In a modern musical landscape where subgenres collide into uneasy blends calling attention to their construction, a band melding multiple influences into a seamless whole counts as damn near revolutionary. Incorporating strains of post-rock, noise rock, math rock, black metal, and ambient music, GLASSING doesn't lean definitively toward any of those styles, but stands sure-footed on its amalgamated foundation." — The Austin Chronicle
GLASSING is:
Cory Brim – guitar
Dustin Coffman – vocals, bass
Jason Camacho – drummer