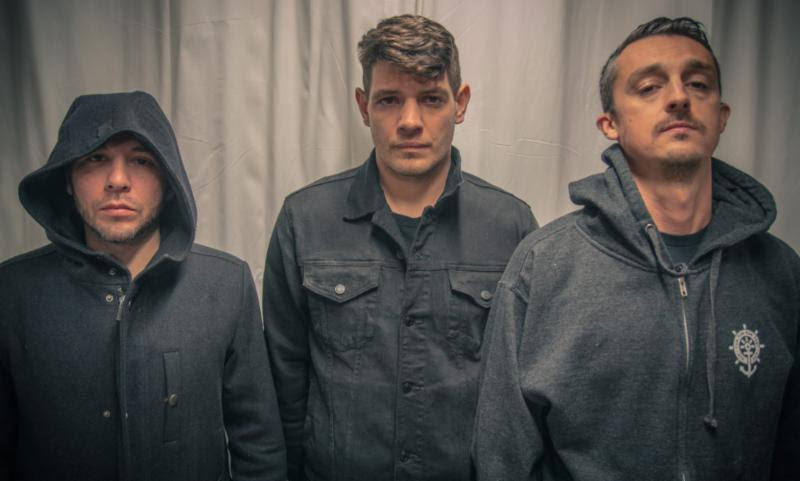 GLASSING: Austin-Based Blackened Post-Hardcore Trio To Release Spotted Horse Full-Length Via Brutal Panda Records May 17th; New Track Streaming At Kerrang + Preorders Available
[Photo by Donny Hermes]
"From their wailing guitars to their staccato rhythms to their hollered vocals, GLASSING find the sweet spot between Deftones, The Dillinger Escape Plan, and Big Black, and drive a spike deep into it so that fans can hear the raw sonic substance that bubbles forth." — Kerrang
Cold sand on a barren coastline. Spectral blackness. Godless nights. The calmness of undisturbed water. The illusion of belonging. Death as a gift. These are but a minute illustration of the vast array of themes and explorations deliberated upon by Austin, Texas-based trio GLASSING on their sophomore opus Spotted Horse.
Weaving together layers of dense textures, swirling blastbeats, and looming atmospheres, GLASSINGexcels at the art of organized chaos through sound. Across ten songs and forty-four minutes, GLASSING blends elements of black metal and post-hardcore with ambient explorations, dream-pop sensibilities, and grinding walls of sound that defy categorization. Recorded with Andrew Hernandez at Estuary Recording Facility in Austin, with cover art by This Will Destroy You's Chris King, Spotted Horse is, at its core, a construction of dynamic, beautifully unsettling soundscapes, and nothingness unsurfaced at once pulsing and punishing. Fans of Deafheaven, Oathbreaker, Envy, Birds In Row, Astronoid, Alcest, Sigur Ros, and This Will Destroy You, pay heed.
In advance of its May 17th release via Brutal Panda Records, Kerrang Magazine is offering up the first helping of Spotted Horse with a premiere of "Lobe," noting, "GLASSING makes a beautiful whole from the sum of their differences. The Austin, Texas-based post-rock trio is made up of three musicians from very different backgrounds, and yet their combined talents result in violent, emotionally-charged music that cuts straight to the chorus. From their wailing guitars to their staccato rhythms to their hollered vocals, GLASSING find the sweet spot between Deftones, The Dillinger Escape Plan, and Big Black, and drive a spike deep into it so that fans can hear the raw sonic substance that bubbles forth."
Stream GLASSING's "Lobe" alongside an interview with guitarist Cory Brim at
THIS LOCATION
.
Spotted Horse will be released on LP and digital formats. For preorders, go to THIS LOCATION.
Spotted Horse Track Listing:
1. When You Stare
2. Sleeper
3. Lobe
4. Coven
5. A Good Death
6. Bronze
7. Follow Through
8. Fatigue
9. Way Out
10. The Wound Is Where The Light Enters
GLASSING:
Cory Brim – guitar
Dustin Coffman – vocalist/bassist
Jason Camacho – drummer