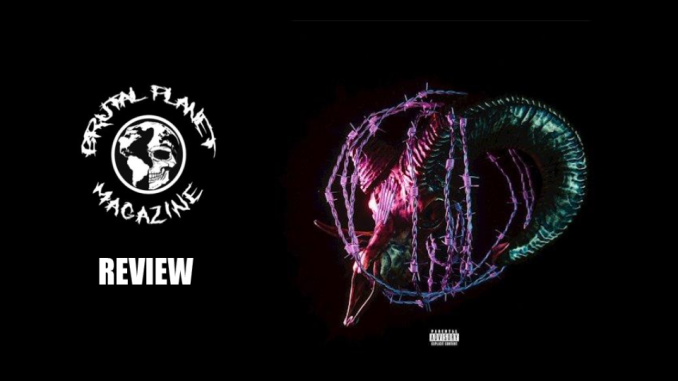 The Alabama metal band, Gideon, (Daniel McWhorter- vocals, Tyler Riley- guitar/vocals, Caleb DeRusha- bass, Jake Smelley- drums) is delivering another knockout performance! Their sixth full-length studio album, "MORE POWER. MORE PAIN." will be released on March 17, 2023, through Equal Vision Records. I have been super excited about this release for a while, so let's dive in!
"MORE POWER. MORE PAIN." starts out with an intro track called "Hell For A Man." It features a man being interviewed that sets the story for the rest of the album. The first musical track is "Locked Out of Heaven" and it is heavy! It's a killer track and I absolutely love hearing the deep bass lines. The next song is "Push It Back." This song picks up the tempo a bit. Lyrically, it's a great song to listen to if you need to get out some aggression. Three-quarters of the way through, the breakdown severs back and forth as a pendulum saw in all its hardcore glory. "Too Much Is Never Enough," the first single, was released on December 2 and the accompanying music video has received nearly a quarter of a million views on YouTube. I'm writing this review while I'm listening to the album for the first time. I'm only three songs in and am completely blown away.
The title track, "More Power. More Pain." is another banger. This track was released as a single on January 20 and features a sludgy, bass-y breakdown. Yes, I just made up a new word. The bass is so low you feel it in your soul. "Take Off" is a bit different. It has a total nu-metal vibe complete with turntables. I don't listen to much of this genre anymore, but it was the genre I listened to in high school so this diversity of sound was both nostalgic and refreshing to hear. "Damned If I Do (Damned If I Don't)" returns to that sludgy hardcore sound and is a solid track for being in the middle of the album. "If You Love Me, Let Me Go" has a musically uplifting feel to it. While I'm not very good at deciphering lyrics or their meaning, this song seems to be one that many listeners will really connect to.
The album's songs are fairly short, with only one of them being longer than four minutes. While the length of each song might not be vast, the tracklisting is– coming in at fourteen songs! "Off the Rails" is chockfull of killer breakdowns, "The Final Nail" is so aggressive that it makes me want to punch something, and "Midnight Blue," although much slower paced than the rest of the album, is a vicious ballad only Gideon could pull off. One highlight of the album is the song "I Will Carry You." The song is written about a friend named Sam who tragically died in a car accident while the band was in the studio recording this album. According to Jake Smelley, there are many references to Sam within the lyrics, and the song is meant to be "an anthem to remember him by."
Concluding the album are "Back 2 Basics" and "Let 'Er Fly." The former mentioned is an in-your-face closing song and the latter mentioned is a wacky outro that will remind you of a DJ Lethal song from 1999. Gideon does a great job staying true to their metalcore roots while experimenting with nu-metal sounds. There's a southern tough-guy vibe but also a mature sincerity. There's aggression and passion. It is still early in the year for me to be making predictions, but I wouldn't be surprised if "MORE POWER. MORE PAIN." made my "Top Ten" list at the end of the year.