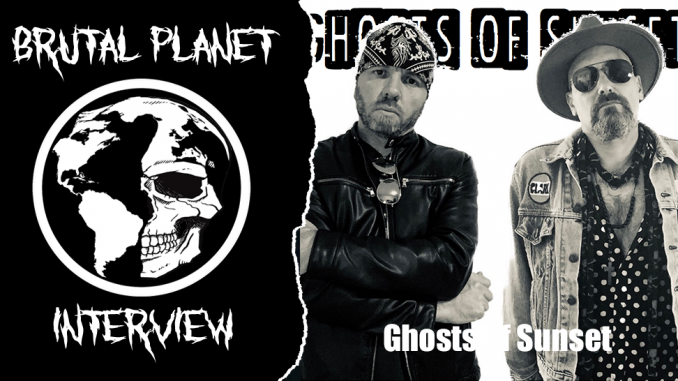 Melodic hard rock band Ghosts of Sunset recently released their sophomore album, No Saints in the City, on Golden Robot Records. Brutal Planet checked in with the band's John Merchant and Todd Long and found out more about the duo.


The two of you have worked in bands prior to Ghosts of Sunset, correct?? How and when did you initially meet?
John – Todd and I met while we both still in highschool. Todd was already known as one of the best musicians in our area. We first connected through our mutual love of the 1980s Sunset Strip "glam" scene. Not a lot of people in our school were into the super glam-y stuff like Pretty Boy Floyd, Faster Pussycat, Tuff, Poison, etc… I nagged him until he finally invited me over to his parent's basement to jam. From that point forward he's been a major factor in every musical step of my life.
Todd – I remember meeting John at a "lip sync" competition in high school. We really bonded on the 80s rock movement. We've been in numerous original and cover bands ever since.
Has there ever been a full blown version of the band that has played out? If not, do you plan on putting anything together to do so?
John – Todd and I toured together in another band that had some mid-level success and nearly got a major label deal (it was an Americana style band). Ghosts started out as something fun for Todd and I do to and maybe share the songs with our friends. As luck would have it, we were able to start releasing the material and we found a lot more friends to share it with! Ghosts has never had a physical live lineup, we ALWAYS talk about it and the logistics of making it happen. Right now, it's just not in the cards, but if we're ever able to get the stars to align, we'd love to play this material for people in a live setting.
Todd – I really wish I lived closer to John so that we could make it a "full band" but for now we just make the best out of our situation.
Did recording No Saints In The City during lockdown prove to be a bit of a hassle or were you a bit more relaxed in your approach to tracking?
John – I was just telling a friend this. I'm ashamed to say it, but the lockdown was a really good time for me. It allowed me to set up a musical work schedule that was really productive, creative, and designed around my life. Recording Saints was as happy as I had been in a while.
Todd – it made it a lot easier for sure. We were able to reach out to some musicians that would usually be out on the road and they were stuck home like the rest of us. Because of that we probably would've never been able to be on a track with Tracii Guns!
How did you get all of the guest guitarists on board? Are any of them people you've worked with in the past?
John – Basically we would talk saying stuff like "wow, this sounds like Tracii Guns". Then, we reached out, we just rolled the dice. Our pitch was always, "if you like the song, we'd love to have you play". We were blessed that almost every time it was a resounding "yes, I'm in".
Todd – We we're fortunate to work with Mark Tremalgia (Little Caesar) a few different times. It just blows my mind that we can reach out to people now because of social media and ask if they would be into playing on a track.
Your first EP, Headed West was based on Hollywood's Sunset Strip, correct? And … Saints is largely based on NYC? Will there be another city you focus on for your next release?
John- We're working on that release now, and it doesn't quite have the "location" feel of our previous stuff. I will say you'll hear everything from the story of two spies on the run to a junkie that takes over someone's home.
With John in Michigan and Todd in Florida, how does the writing process go? This seems to be a common aspect of today's songwriting process, utilizing writers in different cities and even countries.
John – Todd and I text A LOT. And we're constantly sending files back and forth as we hammer out a song. Sometimes we actually say, "hey, we need an 'arrangement call'" and we'll talk on the phone getting song structures down. Mostly it's text and video. It's fun to watch them take shape, but the logistics of working this way definitely has it's struggles too. We're grown ups with grown up lives and responsibilities, it's a balancing act and can be frustrating when things aren't moving as fast as we'd like.
Todd – Seems to be working out great for us. We file share ideas back n forth. We send voice memos back n forth. I honestly couldn't imagine having a 3rd person involved in the writing at this point.

How did the deal with Golden Robot come about?  Is it a multi album deal or just record by record?
John – Golden Robot worked with us record by record and they were instrumental in building Ghosts of Sunset to where we find ourselves at now. They completely understood what we were doing. Unfortunately, touring is a priority for them, and rightly so. Our next effort may come out via another label. We're always trying to guide this thing in the right direction, but make no mistake, without Golden Robot Records, I doubt we'd be having this conversation right now. We're forever grateful to them.
Todd- We reached out to 3 labels. One flat out passed, the other wanted to be involved but Golden Robot understood what we were doing. I will always be grateful to Mark for that.

What's next on the Ghosts of Sunset agenda?
John – Wrap up the new record, make some announcements soon, revamp our online presence, and increase our interaction with people who like Ghosts of Sunset. Definitely look for more videos, live streams, Q&A's, and more. We're excited for the next step.
Todd – Keep writing and hopefully figure out a way to play some shows.