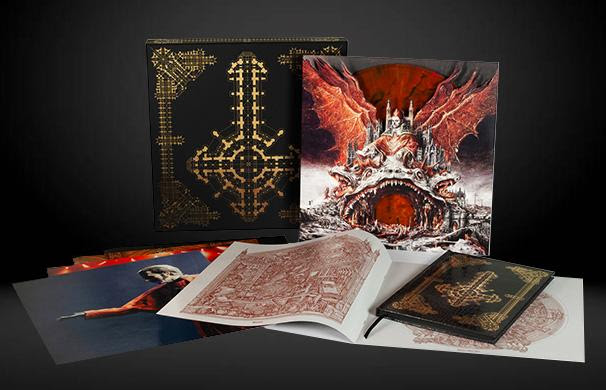 GHOST'S "PREQUELLE EXALTED" COLLECTOR'S EDITION
ARRIVES IN STORES TODAY
"Seven Inches of Satanic Panic" 7-Inch Also Available Now
Sister Imperator "Unboxes" the Collector's Edition
HERE
LOS ANGELES, CA – Friday, September 27, 2019 – Grammy-winning artist GHOST will see its hefty
Prequel Exalted
Deluxe Collector's Limited Edition available today at independent record stores in the U.S., Canada, and across Europe. Only 5000 numbered editions have been produced and once they're gone, they're gone. Unveiled by Sister Imperator in
this unboxing video
,
Prequelle Exhalted
includes a variety of exclusive items tied to the
Prequelle
album:
* Prequelle Limited Edition – 5000 numbered copies worldwide
* 60-page arena tour photo book, hardbound and wrapped in black gator skin
* Four 12″ X 12″ live photo prints
* Exclusive die-cut Prequelle artwork with a 12-page booklet featuring brand-new,
mind-blowing illustrations
* Prequelle Limited Edition Transparent Orange with Black Smoke Colored Vinyl
* Bonus 7″ ("Seven Inches of Satanic Panic") with two previously unreleased songs:
"Mary On A Cross," and "Kiss the Go-Goat" and alternative cover
In addition, the stand-alone "Seven Inches of Satanic Panic" double A-side 7-inch, featuring "Mary On A Cross" and "Kiss The Go-Goat," is also available today. These two songs were originally recorded and released back in 1969 by the Papa Nihil-led Ghost line-up and performed only once at The Whiskey A Go-Go. After that line-up disbanded, the original audio tapes and Super 8 footage were lost, but recently rediscovered by Papa Nihil. Ghost's current label, Loma Vista Recordings, is re-releasing the 7-inch on vinyl today.
Prequelle was produced by Tom Dalgety and originally released in on June 1, 2018. The album received a GRAMMY nomination for Best Rock Album, and a nomination for Sweden's Grammis Award as Best Rock/Metal Record of the Year, and Dalgety received a GRAMMY nomination as Producer of the Year. Both
Revolver and Kerrang! magazines named
Prequelle the Best Album of 2018, and the album produced three Top 10 singles – "Rats," "Dance Macabre" (both of which went to #1 at Rock Radio), and the band's current track, "Faith." To date, Prequelle has accumulated some 250-million streams globally.
Ghost just kicked off its Fall/Winter North American and European "The Ultimate Tour Named Death" headline arena trek that includes a performance at The Exit 111 Festival in Tennessee on October 12. At the tour's Bakersfield, CA kick off, the reviewer for the local daily paper, the Californian wrote, "As pure spectacle, Ghost spared no expense, and musically, this is a seasoned unit of top players…" Upcoming tour dates are below.
SEPTEMBER
27 Taco Bell Arena, Boise, ID
28 Maverik Center, West Valley City, UT*
30 Budweiser Events Center at The Ranch, Loveland, CO
OCTOBER
1 Broadmoor World Arena, Colorado Springs, CO
3 Denny Sanford Premier Center, Sioux Falls, SD
4 Scheels Arena, Fargo, ND
5 The Armory, Minneapolis, MN
7 Resch Center, Green Bay, WI
8 TaxSlayer Centre, Moline, IL
10 Covelli Centre, Youngstown, OH
11 Big Sandy Superstore Arena, Huntington, WVa
12 Exit 111 Festival, Manchester, Tennessee
14 DeltaPlex Arena, Grand Rapids, MI
15 Huntington Center, Toledo, OH
17 FirstOntario Centre, Hamilton, ON
18 Richcraft Tire Center, Ottawa, ON
19 Cross Insurance Arena, Portland, ME
21 DCU Center, Worcester, MA
22 The Oncenter, Syracuse, NY
24 GIANT Center, Hershey, PA
25 Cure Insurance Arena, Trenton, NJ
26 Cool Insuring Arena, Glens Falls, NY
European dates:
NOVEMBER
16 Motorpoint Arena, Nottingham, UK
17 Motorpoint Arena Cardiff, Cardiff, UK
18 The SSE Hydro, Glasgow, Scotland
20 3Arena, Dublin, Ireland
22 The SSE Arena Wembley, London, UK
23 First Direct Arena, Leeds, UK
26 Forum Black Box, Copenhagen, Denmark
28 Hartwall Arena, Helsinki, Finland
30 Spodek, Katowice, Poland
DECEMBER
1 Universum, Prague, Czech Republic
3 Budapest Sports Arena, Budapest, Hungary
5 PalaBam, Mantova, Italy
6 Halle 622, Zurich, Switzerland
8 Sant Jordi, Barcelona, Spain
10 Sala Tejo at Altice Arena, Lisbon, Portugal
11 Wizink Center, Madrid, Spain
13 Zenith de Strasbourg, Strasbourg, France
17 Rockhal, Luxembourg, Luxembourg
18 Zenith Nantes Metropole, Nantes, France
19 Zenith Toulouse Metropole, Toulouse, France
*****
ABOUT GHOST
The Swedish-born Tobias Forge, who has been referred to as "the Andrew Lloyd Webber of rock," is Ghost's creative force, singer, songwriter, musician, and architect of the elaborate storylines that are woven through the band's four full-length studio albums, EPs, music videos, webisodes, and live shows, all of which advance the Ghost storyline. Forge grew up listening to a wide array of 70s and 80s rock – Alice Cooper, Journey, Kansas, Boston, Black Sabbath, Jefferson Starship, Iron Maiden, and Foreigner. He's a hardcore music junkie; at home in Sweden, he has a most impressive collection of vinyl, cassettes, CDs, and VHS tapes, and when on tour, he regularly arranges for visits to local record haunts and ships back even more treasures. He plays guitar, bass, drums, keyboards, and kazoo. Ghost's new album, Prequelle, is loosely based on The Black Plague of 14th century Europe, a metaphor Forge hopes will apply to the societal ills of today.
Ghost's music began as being much heavier, harder and "more metal," but over the band's recent history, their songs have evolved to embrace a catchier, rock/pop sound. Five of the band's songs have hit Billboard's Top 5 Rock chart – "Cirice" claimed the #4 spot in 2015, "From The Pinnacle to The Pit" went to #5 in 2016, and "Square Hammer" (2017), "Rats" (2018), and "Dance Macabre" (2018) all held the #1 spot on the Billboard Mainstream Rock Songs chart and on the Mediabase Active Rock chart. "Faith," the band's current single, is the third consecutive Top 10 single on the Rock Charts from Prequelle. Ghost's music retains its rock edge as well as its dark lyrical themes like The Black Plague, the Antichrist, the Inquisition, avarice, and the Apocalypse. Ghost has received three GRAMMY nominations: "Best Metal Performance" in 2016 for "Cirice," which they won, and "Best Rock Album" for Prequelle and "Best Rock Song" for "Rats" in 2019.