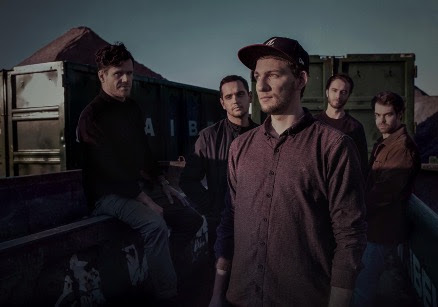 | | |
| --- | --- |
| New Studio Album, f̶o̶r̶ ̶w̶h̶a̶t̶ ̶m̶a̶y̶ ̶I ̶h̶o̶pe̶? for what must we hope?, out December 10, 2021 via Napalm Records | |
Shortly after German post-rock/experimental quintet THERE'S A LIGHT signed a record deal with Napalm Records, the band announced their second album/label debut – f̶o̶r̶ ̶w̶h̶a̶t̶ ̶m̶a̶y̶ ̶I ̶h̶o̶pe̶? for what must we hope?, out December 10, 2021 – and lifted the lid on its first single "Elpis". Fans of their atmospheric and multilayered post-rock can already take a further glimpse into the soundscapes of fo̶r̶ ̶w̶h̶a̶t̶ ̶m̶a̶y̶ ̶I ̶h̶o̶pe̶? for what must we hope? with the newly released single "Dark Clouds Behind, Bright Skies Ahead", including a pure music video.
True emotions do not require words. That's what THERE'S A LIGHT have proven many times, as with new single "Dark Clouds Behind, Bright Skies Ahead". A fulfilling opening is followed by familiar peaceful guitar melodies and ambient interjections that detach the listener from mundane concerns. Each note drifts weightlessly through the atmosphere before fading into eternity. In addition, the warm cello tunes of passionate guest musician Akito Goto join in, gently embracing the listener in auditory bliss, assuring that everything's going to be alright. The music video goes hand in hand and tells a profound story with the purest of visual means and brings peace with one's internal conflicts.
THERE'S A LIGHT on "Dark Clouds Behind, Bright Skies Ahead":
"If you ever experienced this phenomenon in nature, on a hike or wherever you are without shelter from the elements, you will not forget it. It's a calming and beautiful sight when you see a dark storm front moving away from you while the sun comes out.
For us this is a metaphor – life is a constant flow between ups and downs. But no matter how dark a storm is, there will always be a bright sky ahead. This song tries to capture this motion and feeling. Thank you so much for listening!"
Watch the new music video for "Dark Clouds Behind, Bright Skies Ahead"
HERE
:
Thematically, on f̶o̶r̶ ̶w̶h̶a̶t̶ ̶m̶a̶y̶ ̶I ̶h̶o̶pe̶? for what must we hope? THERE'S A LIGHT take a deeper look at the question of the true meaning of hope as well as at the different facets of it: On the one hand, hope can be something positive – a flourishing force that always gives a new impulse to grow beyond oneself. On the other hand, it can also do harm, for example, if one holds on to something that will never become reality.
The radiant album opener "…The Storm Will Set The Sails" immediately enchants with its shimmering melody and great arrangements, while the following "Within The Tides" presents a more dramatic, progressive touch with impressive technique and rhythm. The driving "Like The Earth Orbits Sun" is one of the tracks that features bassist Andreas Richau's captivating, emotional vocals, along with the multi-faceted exclamation point "Elpis" and spherical "Be Brave, Fragile Heart". "Dark Clouds Behind, Bright Skies Ahead" and "Appearance Of Earth" open up another spectrum of sound and expand the cosmos with the passionate cello playing of guest musician Akito Goto. The grand finale "Even In The Darkest Place…" weaves powerful instrumentation with dreamy moments into a harmonious overall construct, once again underscoring a hypnotic post-rock experience in the style of bands like God Is An Astronaut, Russian Circles and Sigur Ros.
THERE'S A LIGHT on the new album:
"So, we asked ourselves what hope stands for and what it means to us. We had a lot of conversations within the band about the good but also the bad aspects of hope and our experiences with it.
And we got answers and inspiration by history and philosophy. Like Kant who has extremely positive views on this topic – hope is necessity for human existence, it's not seen by him as a personal but collective thing. This is where the album title came from.
The whole process of creating this album really took us on a journey and we found new ways to express our thoughts and feelings with our music. We took a few trips to France and wrote songs together in a cabin, but we also had to write a lot of parts simultaneously, since we are not living in one city any more. We had the chance to work together with new lovely people but we also reconnected with old partners in crime.
All in all it wasn't an easy journey, but now we made it and are happy and proud to finally release this album with Napalm Records!"
Get your copy of f̶o̶r̶ ̶w̶h̶a̶t̶ ̶m̶a̶y̶ ̶I ̶h̶o̶pe̶? for what must we hope?
NOW
!
f̶o̶r̶ ̶w̶h̶a̶t̶ ̶m̶a̶y̶ ̶I ̶h̶o̶pe̶? for what must we hope? tracklist:
1. …The Storm Will Set the Sails
2. Within the Tides
3. Magnolia
4. Like the Earth Orbits Sun
5. Dark Clouds Behind, Bright Skies Ahead
6. Refugium
7. Elpis
8. Fear Keeps Pace with Hope
9. Be Brave, Fragile Heart
10. Appearance of Earth
11. Even in the Darkest Place…
f̶o̶r̶ ̶w̶h̶a̶t̶ ̶m̶a̶y̶ ̶I ̶h̶o̶pe̶? for what must we hope? will be available in the following formats:
– Digipack
– 2LP Gatefold Black
– 2LP Gatefold in Marbled Curacao/Black (limited to 100 copies worldwide)
– 2LP Gatefold in Ocean Blue (limited to 300 copies worldwide)
– Digital Full Length Album
[2LP Gatefold in Marbled Curacao/Black]
THERE'S A LIGHT are:
Jonas Obermüller – piano, synth percussion
David Christmann – guitar
Markus Dold – guitar
Andreas Richau – vocals, bass
Jan Lüftner – drums
THERE'S A LIGHT SOCIAL MEDIA: