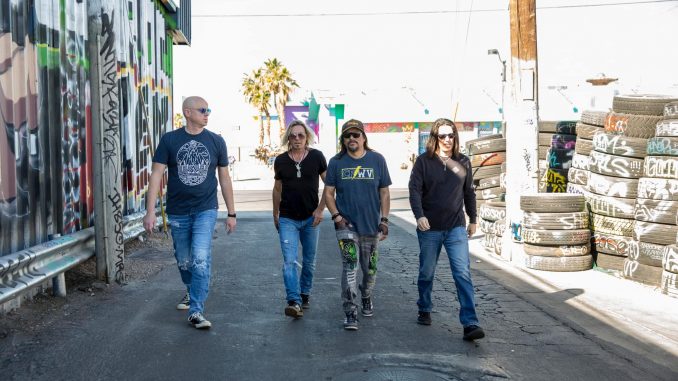 Photo Credit: Jennifer Swanson
Las Vegas hard rockers Generation Landslide have released the debut video for "Feel the Sensation" which we're premiering for you here at Brutal Planet.  
The single, which was released three weeks ago, comes from the quartet's debut album, 'Rulin' the Street Scene,' which sees the light of day later this year on Weapon Records / Vanity Music Group.
Generation Landslide has been a two decades long project for founder and guitarist / singer Anthony White. Over the years White (formerly the drummer for MCA artists Cold Sweat) had run into band members with commitment and motivational issues, chemistry problems and more, causing him to throw in the towel more than once while he played with other outfits.
In 2018, the multi-instrumentalist decided the time was right to begin tracking an album and let the pieces fall where they may. Recording the majority of the instruments himself (aside from the drum tracks which were laid down by former Lillian Axe drummer Ken Koudelka and a couple of guitar solos from Dennis DeYoung's lead guitarist August Zadra) as well as producing the record, White carved out the exact type of album he wanted to create, laced in late 80s era styled hard rock complete with multi-tracked backing vocals and hooks large enough to land a whale.
After the album was finished, White set out on another search to complete Generation Landslide once again. He already knew the members he wanted it was just a matter of their availability. This time he struck gold. Reaching back out to drummer Ken Koudelka and recruiting bassist Jonathon Swanson, both of whom he had played in bands with previously and lead guitarist Sandy Stein, a friend from the Las Vegas music scene, he had finally found the perfect team to complete the package.
You can purchase "Feel the Sensation" on Apple Music and stream it on Spotify.
Generation Landslide can be found on Facebook.