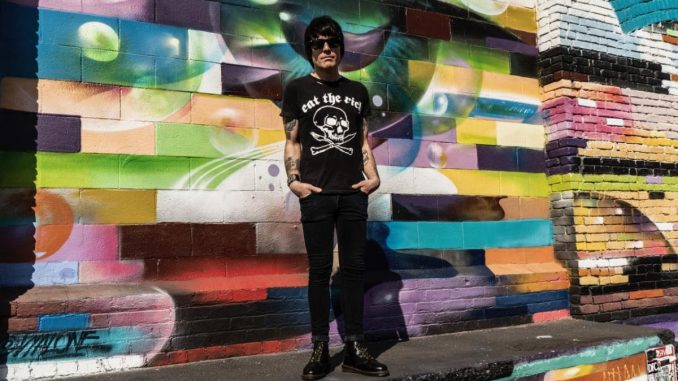 Watch HERE
New Album 'Välkommen till underjorden'
Available Now! | Order HERE
"Life sucks, for the most part and for the most of us. Let's just agree on that. And making it through everyday life can be a tough and lonely struggle, but searching for an answer or a meaning to all of this existential dread is just a waste of time – because there's absolutely no meaning of life whatsoever. However, that opens, rather than closes, the opportunity to create your own meaning, your own answers and your own place in history.
"This is where punk ethics and DIY philosophy will come in handy, at least they do for me. Because life is very short, and there's a strong possibility that your life after death will be just like how it was before you were born, and by then it will be too late. I guess that I want to believe in a life before death, and that's what the song is all about." – Inge Johansson
Appearing as death in the video is none other than Mr. Leif Andree. He is a renowned Swedish actor who has been awarded the Litterist et artibus medal by His Royal Highness Karl XVI Gustaf (monarch of Sweden) for his remarkable achievements in the arts. These include his time as the drummer for the punk band Pizzoar.
The video was shot and cut by Daniel Wahlström at Heavy Groove Media.
The idea behind GATUPLAN comes from Inge Johansson (Swedish bassist from bands like The (International) Noise Conspiracy, Against Me!, Cryssis and CSS) who has gone solo with a fantastic backing band.

With no intention of reinventing the wheel, GATUPLAN's music echos of the music that inspired from the get go – in GATUPLAN you can hear the influence of the pop sensibilities of the mighty Ramones, the groove of Rancid and The Specials, the attitude and edge of Ebba Grön, The Clash or Public Enemy. But they have no ambition to become a retro or a concept act – GATUPLAN strive to make music for the here and now, and for the future to come.

It's positive music in a negative time, and the soundtrack to a dream of a better future.