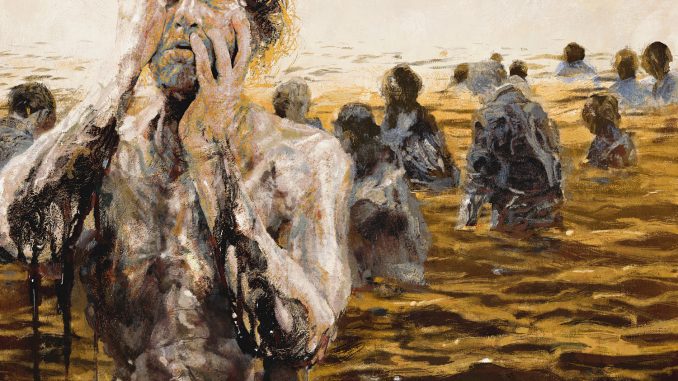 Upon popular demand, Cathartic black metal titans
GAEREA
will present the worldwide premiere of their "Live at Arda Recordings" concert stream! This intimate and devastating performance was recorded in the autumn of 2020 and showcases the Vortex Wanderers performing 'Limbo' in its entirety from start to finish. The set will premiere this Friday, December 15 @ 4:00 P.M. EST and will be on demand for a limited time only! Set reminders and buy your tickets HERE.
Earlier this year, the band also streamed their unique and stunning "Bronze Hall" performance via Knotfest's "Pulse of the Maggots 2×21" online festival. The band's set from the festival has recently been named one of the Best Streaming Performances of 2021 by Knotfest.com. The performance is available to view HERE.
'Limbo' is out NOW and can be streamed, downloaded, and ordered HERE.
To request an interview with GAEREA, please contact Katy Irizarry at Katy@Season-of-mist.com. Additional assets, such as hi-rez photos, can be found HERE.
The cover arwtork for 'Limbo,' which is created by the talented Eliran Kantor, can be found below along with the tracklist.
Style:
Cathartic Black Metal
Something rises in the bleak and blackened skies of society as we know it. Vortex community GAEREA are about to bestow their Undying Sigil to the masses, with their brand-new full length 'Limbo'!
GAEREA is a black metal quintet from Portugal. Emerging in the beginning of 2016, the band released their first (self-titled) EP on November 11, 2016 through Everlasting Spew Records. The EP received many praises from the worldwide press, and it was not long before the first full length "Unsettling Whispers" (2018) was presented.

With that, GAEREA had the pleasure to perform and tour festivals in Europe and China, including performances with Jupiterian in April 2019 and a headlining Chinese tour in May 2019. The band already performed at festivals like SWR Barroselas Metalfest (PT), De Mortem et Diabolum (DE), Throne Fest (BE), Frantic Fest (IT), Eresia Metal Fest (IT), Amplifest (PT) and many more. During the fall of 2019, the band did an extensive tour with label mates NUMENOREAN under the Doomstar Bookings wing throughout Europe.

Are you finally ready for the tale of the Fallen Society and the journey to the vast Void, the only good in Life? Let us begin then. In the first hopeless circle, on too great and Undeniable Nothingness. WE ARE GAEREA.
Line-up: unknown
Studio/recording: Demigod Recordings (PT)
Mix/Master: Miguel Tereso
Sales: redirect.season-of-mist.com/GaereaShop
Press-Kit: presskit.season-of-mist.com/Gaerea
Presskit Credentials:
Username: presskit
pw: Presskitofmist
Available formats:
Digipak
LP in various colours
Digital
For more on GAEREA, visit the band's official FACEBOOK, INSTAGRAM, BANDCAMP, and TWITTER.
For more on SEASON OF MIST artists, visit our official WEBSITE, FACEBOOK, INSTAGRAM, YOUTUBE, and TWITTER.