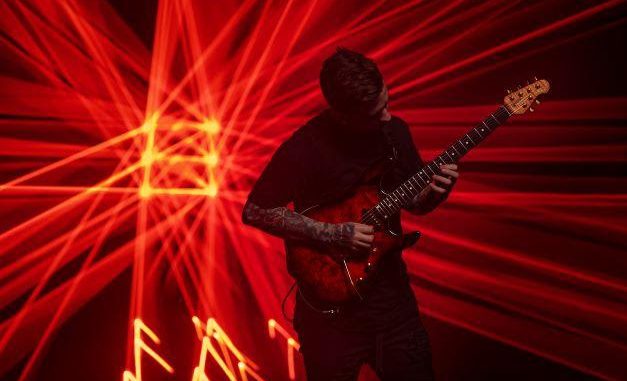 "Jason Richardson is a guitar demon and the solo he played on 'Our Way' is melodically and technically brilliant. Having him on our track was an honor," says Carlos "ocelote" Rodriguez, G2 vocalist and co-founder of G2 Esports.
Jason Richardson adds "Had a lot of fun recording these guitar parts for the G2 guys! Super easy to work with and I liked the challenge of learning the crazy synth unison after the solos! This song rips!"
WATCH Jason Richardson's "Our Way" Playthrough Video
HERE!
Already one of the world's most successful and distinctive esports organizations, G2 Esports expands into music with the release of the epic power metal anthem "Our Way." The inaugural release from G2's newly launched music initiative sees company founder Carlos "ocelote" Rodriguez leading a team of metal luminaries.
"Our Way" features Rodriguez alongside innovative djent/deathcore guitarist Jason Richardson (Chelsea Grin, Born Of Osiris, All Shall Perish), YouTube sensation and sought-after session drummer Luke Holland (Falling In Reverse, Starset, The Word Alive), and Finnish singer Noora Louhimo (Battle Beast). A sonic invocation of "the G2 Way," the track also boasts Taylor Davis (best known for her popular violin covers of video game music) and Chinese-born American cellist Tina Guo, who worked under the direction of Hans Zimmer on the soundtrack for Dune.
G2 "Our Way" Official Music Video:
HERE
"Epic power metal is my favorite genre. I don't care about its marketability. It's coming from the heart like everything else we do." commented Rodriguez. "20G2 is our year. This song is its anthem."
"Our Way" begins with a battle cry. "Like the embers of the flames, we shall rise once again, to the last, we fight forever." It's an assured reference to the G2 way, with a focus on rising above turbulent times. "We're taking flight into the flames, hear now the call of our redemption," the chorus contends. "We're rising up, we must remain, always as one, stand together."
The accompanying music video for "Our Way" also launches the official 2022 G2 Jersey, created in partnership with adidas and now available online
HERE
. The wider G2 adidas Pro Kit, including a full tracksuit, a sleeve, and a supporter jersey, will follow in the coming weeks.
Some of G2's legendary players, including Rasmus Winther "Caps", Sergen Çelik "Broken Blade", Marcin Jankowski "Jankos", Nikola Kovač "NiKo" and Zainab Turkie "zAAz", appear in the music video, wearing the new 2022 jersey, pursued by a Shadow Demon angered by the theft of an ancient artifact box. Rodriguez opens a portal with a sword made of shards. Those shards can also be found on the official 2022 G2 jersey itself. (Sami is an easter egg on the jersey, within the holographic.)
"We are the number one esports organization in the world. And now, we are setting the stage to entertain everybody beyond just competitive video games. This is the beginning of an insane, fun ride." Rodriguez declared.
Jason Richardson
photo courtesy of Ernie Ball
"Our Way" by G2 is available to stream on Spotify, Apple Music, Amazon, YouTube Music, Pandora, and Deezer. The song will also be available in rhythmic games such as Beat Saber.
"Our Way" music links:
For more information please contact:
Adrenaline PR
732-462-4262
Maria Ferrero
G2 Esports global press office
+44 207 693 6999
Rachel Harrison
Talia Godfrey
ABOUT G2 ESPORTS:
G2 was co-founded in 2015 by legendary League of Legends player-turned-team owner
Carlos 'ocelote' Rodriguez and veteran esports entrepreneur and investor Jens Hilgers.
In the past five years, G2 built a global fanbase of over 35 million fans spanning EMEA, North American, Latin America, and Asia Pacific. G2 counts the likes of BMW, Logitech G, Philips, Red Bull, Twitch, Pringles, and MasterCard amongst its strategic commercial partners.
Boasting an Instagram following of 1.3 million and Twitter followers in excess of 1.2 million, G2 has a loyal community that follows every twist and turn of the club's fortunes along the global esports calendar.