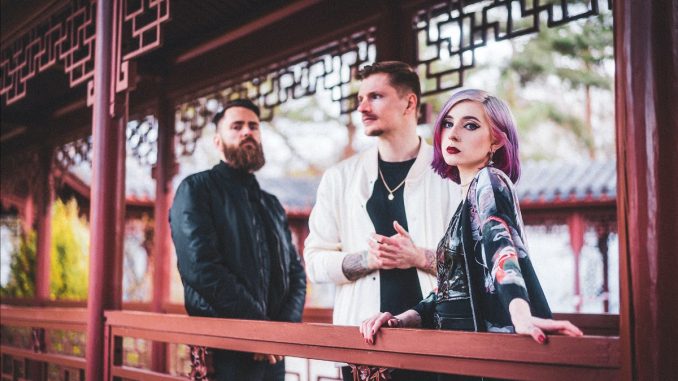 BAND ANNOUNCES NEW ALBUM RUN, OUT JUNE 10
The world isn't always a gracious place. And for the last year-and-a-half, mankind hasn't had much hopefulness.
With their new single "'Heads Up," the Berlin post-hardcore trio Future Palace wrote a bombastic (and relevant) hymn about the fight against depression, which arose during the pandemic. Watch the video here.
Musically, the band doles out heavy riffs and astonishingly sharp yet melodic guitar work, which set the stage for the war against inner demons. This can be heard on the previously released single "Paradise."
"The song is a motivating ray of light in the pandemic," comments singer Maria. "It is written honestly, bitterly, and full of self-hatred, and yet it conveys the message that one literally must not despair, no matter how stressful the current situation in life is."
The track was produced by Julian Breucker, who has worked with scene heavy weights like Beyond the Black. It was mixed and mastered by Annisokay guitarist Christoph Wieczorek.
For the music video, Future Palace again worked with director Pavel Trebukhin, who has produced videos for Imminence, Betraying The Martyrs, Landmvrks, and Novelists FR, among others. The shoot took place in a disused sand pit — under extremely adverse conditions. Suddenly during the shoot, it started raining like a monsoon and the whole crew had to escape from the mud with the transporters in the middle of the night, armed only with flashlights. It was an almost symbolic setting for a song that advocates continuing on in difficult situations.

Future Palace are also pleased to announce their second album Run, which will be released on June 10. Pre-order it here.
Run explores the aftermath of a toxic relationship in a stunning and vulnerable way. The struggle with one's own salvation is only the beginning — even after escaping from a tough situation. The band sets these painful processes to music in dramatic post-hardcore fashion, which atmospherically reproduces the ups and downs of emotions. Kindred spirits are Holding Absence, Spiritbox or While She Sleeps, Bring Me The Horizon, and Pvris.
Future Palace released their debut Escape via Arising Empire and have since accumulated several million streams across streaming platforms.
FUTURE PALACE ARE:
Maria | Vocals
Manuel | Guitar
Johannes | Drums