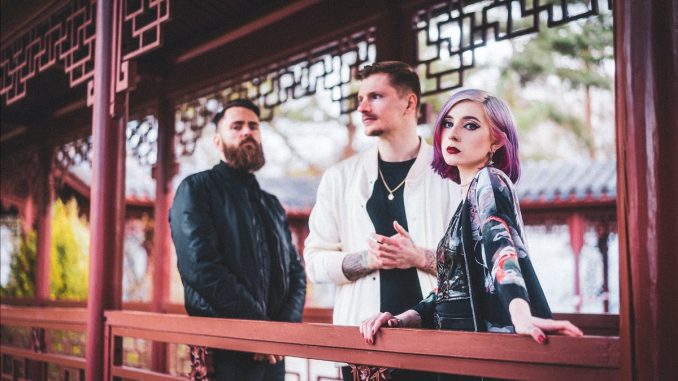 NEW ALBUM RUN OUT JUNE 10 VIA ARISING EMPIRE
"I gotta carry on / I've suffered for too long"
That's the main credo put forth by Berlin post-hardcore trio Future Palace on their new single "Flames."
Watch the video, which was shot by shot by Pavel Trebukhin, here.
The song appears on the band's upcoming sophomore album Run, out June 10 on Arising Empire. Pre-order it here. It comes in CD, limited colored vinyl, and bundle formats.
The track is a bitter look into a dark past, with a razor-sharp note shaking off all demons in the epochal chorus. Metalcore elements crash against manic, throbbing 808 beats, which may remind the listener of trap structure. The vocal diversity of singer Maria shifts from brutal screams to melodic singing, with chanting passages.
Here, Future Palace are making a statement.
If you want to process agonizing experiences, you have to go through every emotional dimension.
"'Flames' is one of our most powerful and aggressive songs. Instrumentally as well as vocally, we have tried out a multitude of new stylistic means here. In terms of content, the song looks back on my unfortunately often-painful past. Like its predecessors, however, it conveys the will to fight and hope," says Maria.
The visuals for "Paradise" and "Heads Up' didn't skimp on imagery, but the new video is perhaps the most elaborate visualization that Future Palace have ever chosen for a song. Symbolizing an escapist message, it is represented by literal fire from which Maria escapes.
Watch the previously released "A World in Tears" video here.
Run was produced by Julian Breucker and Annisokay guitarist Christoph Wieczorek, who also mixed and mastered the record.
The album explores the aftermath of a toxic relationship in a stunning and vulnerable way. The struggle with one's own salvation is only the beginning — even after escaping from a tough situation. The band sets these painful processes to music in dramatic post-hardcore fashion, which atmospherically reproduces the ups and downs of emotions. Kindred sonic spirits are Holding Absence, Spiritbox, While She Sleeps, Bring Me The Horizon, and Pvris.
Future Palace released their debut Escape via Arising Empire and have since accumulated several million streams across streaming platforms.
FUTURE PALACE ARE:
Maria | Vocals
Manuel | Guitar
Johannes | Drums