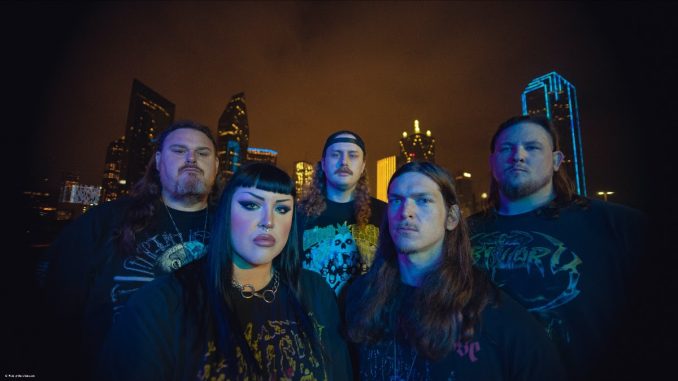 SONG + VIDEO FEATURE A CAMEO FROM TRIVIUM'S MATTHEW K. HEAFY

NEW ALBUM OUT MAY 19 VIA CENTURY MEDIA
BRRR! There's a chill in the air and it's courtesy of ice cold death metal crew Frozen Soul!
The band — vocalist Chad Green; guitarists Michael Munday and Chris Bonner; bassist Samantha Mobley; and drummer Matt Dennard — is back with frigid force and will unleash its new album Glacial Domination on May 19 via Century Media. The album was produced by Trivium vocalist/guitarist Matthew K. Heafy and co-produced by Daniel Schmuck. Pre-order it here.
Today, the band has shared the video for the title track. Watch it here.
It features a cameo from Heafy, as well as a past vs. future battle that ends with someone's arm being ripped off!
"'Glacial Domination' was co-written by the band and Matt Heafy of Trivium," Frozen Soul share. "We had a lot of fun exploring new things like catchier choruses, more leads, and solos. It's an avalanche of riffs leaning in traditional Frozen Soul but adding some new flavor. At the end of the day, we wanted to write a catchy and fun death metal song! It's paired with another video by Brendan McGowen that features Matt and a fight between a stranded, time-traveling space man and a literal caveman — what's not to love about that?!"
GLACIAL DOMINATION TRACK LISTING:
"Invisible Tormentor"
"
Arsenal Of War
"
"Death And Glory"
"
Morbid Effigy
"
"Annihilation"
"Glacial Domination"
"Frozen Soul"
"Assimilator"
"Best Served Cold"
"Abominable"
"Atomic Winter"
FROZEN SOUL ON TOUR:
4/14 — Philadelphia, PA — Decibel Metal & Beer Fest
4/15 — Pittsburgh, PA — Roxian Theatre
4/16 — New York, NY — Irving Plaza
4/18 — Buffalo, NY — Town Ballroom
4/19 — Detroit, MI — St. Andrews Hall
4/20 — Grand Rapids, MI — The Intersection
4/21 — Toronto, ON — Phoenix Concert Theatre
4/22 — Montreal, QG — MTelus (With Despised Icon)
4/23 — Boston, MA — Paradise
4/25 — Baltimore, MD — Baltimore Soundstage
4/26 — Cincinnati, OH — Bogart's
4/27 — Nashville, TN — Eastside Bowl
4/28 — Atlanta, GA — The Masquerade
4/29 — Orlando, FL — The Beacham
4/30 — Tampa, FL — The Ritz
5/1 — Houston, TX — White Oak Music Hall
5/3 — Austin, TX — Mohawk
5/4 — San Antonio, TX — Vibes Event Center
5/5 — Ft. Worth, TX — Ridglea Theater
5/6 — Lawrence, KS — Granada Theater
5/7 — Denver, CO — Summit Music Hall
5/8 — Albuquerque, NM — Sunshine Theater
5/10 — Mesa, AZ — The Nile
5/11 — Los Angeles, CA — Belasco Theater
5/12 — Anaheim, CA — House of Blues
5/13 — Berkeley, CA — UC Theatre
5/14 — Sacramento, CA — Ace of Spades
5/16 — Salt Lake City, UT — The Depot
5/18 — Seattle, WA — Neptune Theatre
5/19 — Portland, OR — Roseland Theater
5/20 — Vancouver, BC — Rickshaw Theatre
5/22 — Edmonton, AB — Union Hall
5/23 — Calgary, AB — Palace Theatre
5/25 — Winnipeg, MB — Park Theatre
5/26 — Minneapolis, MN — Skyway Theater