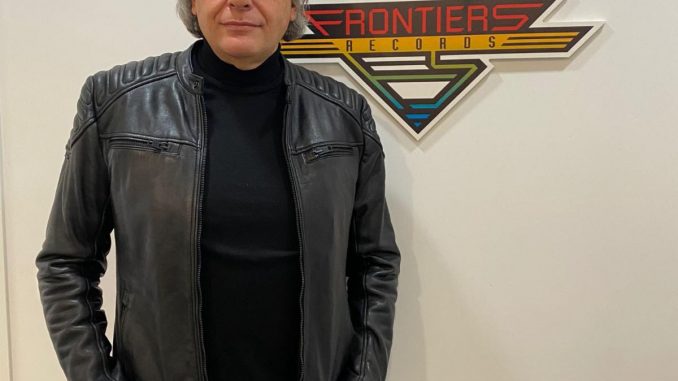 LABEL'S 'BIRTHDAY' CELEBRATED ON FEBRUARY 27TH

PRESIDENT & HEAD of A&R, SERAFINO PERUGINO RELEASES STATEMENT ON MILESTONE ACHIEVEMENT
This past Saturday, February 27, 2021, Frontiers Music Srl celebrated the 25th anniversary of when label President & Head of A&R, Serafino Perugino officially registered the company as a business 25 years ago, to the date. On this momentous occasion, Perugino took some time to reflect on this huge milestone in the label's history and released a statement about the label's humble beginnings and bright future.
Perugino and the label staff wish to thank all the artists, past and present, on the label, all the music fans, journalists, radio stations, podcasts, publicists, radio pluggers, distribution partners, video directors/creators, and everyone else along the way who has or still currently does help us achieve our goals.
The first 25 years have been an incredible journey and we look forward to the coming decades with great enthusiasm and determination to keep the rock 'n roll flame burning.
"I believe I already shared a lot of thoughts when we celebrated the 20th Anniversary of the label about how I started and the initial years of the label spent in my father's office amongst piles of cds that I was packing up to ship to Italian records shops. Quite a few years, 25 to be exact, have passed since then and looking back it seems like just a few weeks have gone by since those early days. It was an incredible learning curve, an amazing ride, and while I had been dreaming (and still do) for my entire life to be able to work with my musical heroes, having actually been able to release new music from so many amazing artists is something I really could not even dare to imagine. When I look back, I can proudly say that we have created some real rock history with so many great records released and combining the amazing talents of the artists with our creativity. So many artists have managed to release new music again and feel the passion and the fire of the fans' love. This is really difficult to believe for me, even now, and a sign of the times thanks to the very hard work we have put into the creation of this label to serve a faithful and passionate pool of fans like yourselves."
"We are keeping hard at work to develop the exciting new talents that have been signed in the past few years too. We are working with a lot of the individual artists from these bands on additional projects for the label in order to increase their exposure on a global level and in turn, increase the visibility of their respective original bands, whom we fell in love with in the first place.
To illustrate what I mean, here are a few that I am personally really thrilled about!
*SKILLS (formerly known as Escape Machine), which we plan to release after the summer, sees ELECTRIC MOB (Brazil) singer Renan Zonta paired with well known, legendary American musicians Brad Gillis of Night Ranger, Billy Sheehan of Mr. Big, and David Huff of Giant).
*CROWNE, which can rightfully be considered an epic supergroup from Sweden, features Jona Tee (H.E.A.T.), Alex Strandell (Art Nation), John Leven (Europe) and Christian Lindqvist (The Poodles).
*LAURENNE / LOUHIMO, the stunning alliance between Netta Laurenne (Smackbound) and Noora Louhimo (Battle Beast).
*THE GRANDMASTER, which sees an alliance between the awesome singer Nando Fernandes from Brazil with Jens Ludwig of Edguy.
*THE ERINYES, which will offer to you the stunning talents of vocalists Justine Daaé, Mizuho Lin, and Nicoletta Rosellini all on the same album.
*And also the mind-blowing new group – name to be revealed later – with Nathan James of Inglorious, Michael Sweet of Stryper, Joel Hoekstra and Tommy Aldridge of Whitesnake, and Marco Mendoza."
"In 25 years, Frontiers has created, or started together with the musicians involved, projects and bands such as (in alphabetic order): All 41, Allen Lande, Allen / Olzon, Ambition, Andersen/Laine/Readman, Archon Angel, Black Swan, Brother Against Brother, Chaos Magic, Cry of Dawn, Dirty Shirley, Dream Child, Find Me, First Signal, From the Inside, Gioeli/Castronovo, Groundbreaker, Headrush, Her Chariot Awaits, Icon of Sin, Indigo Dying, Kee of Hearts, Khymera, Kimball / Jamison, Kiske Somerville, Kryptonite, Kreek, Level 10, Lione / Conti, Los Angeles, Lovekillers, LRS, Moonland, Nordic Union, Over the Edge, Perfect World, Phantom 5, Place Vendome, Pride of Lions, Prime Suspect, Places of Power, Radiation Romeos, Rated X, Resurrection Kings, Revolution Saints, Roth Brock Project, Seventh Key, Shadow's Fade, Shining Black, Sinner's Blood, Sonic Haven, Spirits of Fire, Sunbomb, Sunstorm, Sweet & Lynch, Sweet Oblivion, The Big Deal, The Codex, The Dark Element, The Defiants, The End Machine, The Ferrymen, The Magnificent, The Mob, The Sign, The V, Three Lions, Two of a Kind, Under Suspicion, Vertigo, Vicious Mary, Voodoo Hill, Waiting for Monday, W.E.T, and Zion."
"As I said before, in 25 years we have managed to release new music from an incredible list of Classic Rock and Metal legends. The list is so long, but really how can you not name such LEGENDS as Alan Parsons, Asia, Blackmore's Night, Blue Öyster Cult, Bob Catley, Boston, Chicago, Danger Danger, Def Leppard, Dennis DeYoung, Dokken, Electric Light Orchestra, Enuff Z'nuff, Extreme, Fair Warning, Foreigner, FM, Giant, Glenn Hughes, Graham Bonnet, Great White, Halford, Hardline, Harem Scarem, Heart, Honeymoon Suite, House of Lords, Hurricane, Jack Russell's Great White, Jeff Scott Soto, Jimi Jamison, Jim Peterik, Joe Lynn Turner, John Waite, John Wetton, Jorn, Journey, Kee Marcello, Keel, King Kobra, Kingdom Come, Kip Winger, LA Guns, Last In Line, Lynch Mob, Mark Boals, Michael Bolton, Mr Big, Nazareth, Neal Schon, Nelson, Night Ranger, Operation: Mindcrime, Orianthi, Pink Cream 69, Praying Mantis, Pretty Maids, Primal Fear, Quiet Riot, Red Dragon Cartel, REO Speedwagon, Richard Marx, Richie Kotzen, Rick Springfield, Riverdogs, Royal Hunt, Sammy Hagar, Sebastian Bach, Shaw Blades, Steelheart, Stephen Pearcy, Steve Lukather, Steve Walsh, Strangeways, Stryper, Stuart Smith, Styx, Survivor, Tak Matsumoto, Talisman, Ted Nugent, Ten, Tesla, The Lou Gramm Band, Thunder, Timo Tolkki, TNT, Toto, Treat, Triumph, Tyketto, Unruly Child, Uriah Heep, Vanden Plas, Warrant, White Lion, Whitesnake, Wig Wam, Winger, Y&T, Yes, and Zebra."
"Together with Eclipse, I wish also to mention bands such as One Desire, Inglorious (whose new album "We Will Ride" landed on the charts in the UK, U.S., and Germany), Work of Art (of course!), The Dark Element (Anette Olzon and Jani Liimatainen), Electric Mob (whose debut single "Devil You Know" is approaching 2 million streams on Spotify!), Bloody Heels, Wayward Sons, Edge of Paradise, Eternal Idol, Phantom Elite, Sinner's Blood, Lords of Black, Smackbound, DGM, Edge of Forever, Secret Sphere, Crazy Lixx, Perfect Plan, The Treatment, Creye, Vega, Landfall, Lionville, Leverage, Semblant, Stardust, James Durbin, Animal Drive, and so many more. And for the near future… among many others…Icon of Sin, Temple Balls, Seventh Crystal, The Big Deal, and Manic Sinners. And one band that many, many fans have asked us to sign that will be announced in the coming day, but I can say they are from… India!!"
"Thanks of course to ALL the other new, developing, and classic bands whom we work with every day and that put their heart, soul, blood, sweat, and tears into the creation of the music you all love! Even if you don't see your name here, you are with us and we will do our absolute best to kick asses with your music!"
"I wish to spend a few words also on the outstanding, I dare to say exceptional, work that our publishing arm and songwriting team are putting together. Thanks to the tireless efforts of Alessandro Del Vecchio especially, we have managed to create an amazing team of superb writers who can work and pen songs in so many different music styles. We represent now more than 250 writers in every continent and we are proud to give them the chance to present their amazing output to the worldwide markets with great artists who perform and present their songs. This also prompts me to mention and thank all the great producers we have worked, developed and launched from (of course!) the ubiquitous Alessandro Del Vecchio to Aldo Lonobile, Simone Mularoni, Magnus Karlsson's Free Fall, Erik Martensson, Jona Tee, Dennis Ward, Dan Rossall, Fabrizio Grossi & Soul Garage Experience, Mat Sinner, Daniel Flores, Michael Palace, and more new guys to come to your attention VERY soon!"
"Of course a special thanks goes to Gary Hughes and TEN who were the first release from the label and are currently hard at work on not one, but TWO new records to be released sometime in 2022. They have the FR CD 001 catalogue number and after all these years we still work together! What a ride!"
"And before finishing, hugs and thanks to the one and only Kip Winger, Johnny Gioeli, Jim Peterik, Jack Blades, Neal Schon, Tracii Guns, Michael Sweet, George Lynch and of course Jeff Scott Soto for bearing with us for 20 years this year!"
"So, after 25 years of serious, hard and passionate work, I can safely say we managed to create a recognizable and fan-friendly brand for all rock fans. We have been WITH everyone of you in the past decades and we look forward to another 25 and more years of great rock to be enjoyed together! Let's ROCK together! You make this all possible!"