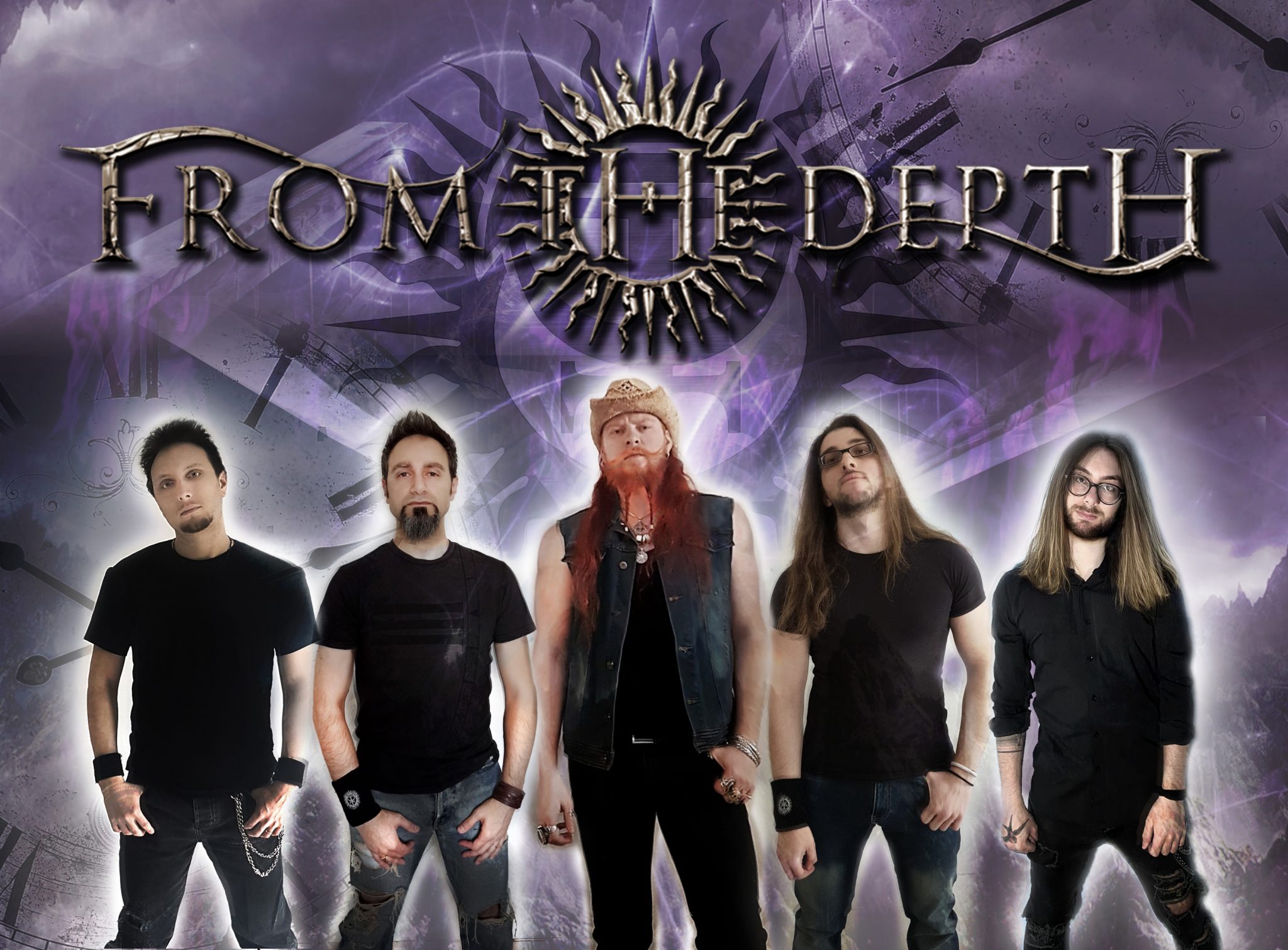 + digital single and official music video
+ New Album 'Moments' preorder
Italian power metallers From The Depth are sharing their third single "Somewhere" off their second full-length album "Moments" set for release on August 28, 2020 via Rockshots Records.
The band comments about the track:
"You can call it "ballad" if you want but we think this song is for sure something more than a usual ballad. It has a special mood and a very emotional melody, we were almost moved when we listened back we recorded after the vocal sessions with Raffo. Lyrics were written just before the recording session, everything came out so natural that we almost couldn't believe what we got at the end. Davide Castro's keyboards here reached really the next level, astonishing job."
Listen to "Somewhere" at the following links:
YouTube
Spotify
Apple Music
FROM THE DEPTH – Somewhere (Official Music Video)
Punchy and aggressive, fans who have been waiting since 2014's EP "Perseverance", are now rewarded with From The Depth's new 10 track album. Entitled "Moments", the full length is a series of personal occasions in the band members' lives that they are reliving through their music, from hard times to the anniversary of the group forming.
In the band's own words: "'Moments' is a way to celebrate relevant memories and episodes of everyday life while time passes by. Each aspect of the production has been taken care of with extreme attention to detail from song structure to the final master; nothing has been left to chance and we did our best to get out the most from each session during songwriting."
After years of hard times, they are now fully operational with a killer stable lineup, and with the new partnership with Rockshots Records, From the Depth is ready to show fans what they have been working on. Starting as a power metal cover band with a distinct "melodic mindset", From The Depth has come a long way since 2008, and the maturity and refinement really show in this new chapter.
Pre-order "Moments" HERE.
Previous singles "Spread You Fire" and "Immortal" are available at the following links:
Spread Your Fire: https://youtu.be/1aVYjrfgRfw
Immortal: https://youtu.be/ZSB1NJ8ImVc
Track Listing:
1. Immortal (4:55)
2. Spread your Fire (4:55)
3. Ten Years (5:09)
4. Streets of Memory (4:20)
5. Hypnos (1:51)
6. Forget and Survive (4:48)
7. Just Ice (7:46)
8. Missed (4:51)
9. A Matter of Time (5:47)
10. Somewhere (4:22)
Album Length: 48:48
Album Details:
Recorded at Domination Studio and Angle Room Studio.
Mixed and mastered by Simone Mularoni at Domination Studio.
Artwork by Péter Sallai
FTD logo by Jen Scarlet
Band pic by Emiliano Paola
Vocals: Raffaele "Raffo" Albanese
Bass: Santo Clemenzi
Guitars: Alessandro Cattani
Guitars: Raffaele "Raffo" Albanese (on "Streets of Memory")
Guitars: Gianpiero "Jump" Milione (on "Hypnos")
Drums: Cristiano Battini Keyboards:
Davide Castro (on "Somewhere", "Streets of Memory", "Spread Your Fire", "A Matter of Time", "Ten Years" ending theme, "Immortal" cinematic break)
Andrea De Paoli (on "Ten Years", "Forget and Survive", "Missed", "A Matter of Time")
Oreste Giacomini (on "Immortal")
Backing vocals and choirs: Raffaele "Raffo" Albanese, Roberto Tiranti, Giacomo Voli, Ros Crash, Angelo Guidetti, Marco Spitale, Stefano Nüsperli, Santo Clemenzi, Jennifer Ferretti, Marco Olmedi.
More info:
Rockshots.eu
Fromthedepth.it
Facebook.com/fromthedepthband
Instagram.com/fromthedepthband/
ABOUT:
From The Depth was formed officially at the end of 2008. In 2010, with their first solid line-up, they released the demo "The Will To Be The Flame", which quickly sold out.
In 2011 the band signed with Rising Records for the release of their first studio album "Back To Life", published and released worldwide in November of the same year. Meanwhile, they attended many European festivals playing alongside bands such as Megadeth, Sonata Arctica, Overkill, King Diamond, Iced Earth, Moonspell, Lordi, Sabaton, Rhapsody Of Fire, Dragonforce and more.
Between 2013 and 2015 the band went through some line-up changes, but slowly, during live shows, they started the writing process for the "Back To Life" successor. By the end of 2016, a new limited edition EP was published with the name of "Perseverance".
From 2018 the actual stable line-up is in place and after some live gigs the band focused on studio material to finalize "Moments". The album was mixed and mastered by Simone Mularoni at Domination Studio in January 2020 and features, among others, musicians like Roberto Tiranti and Giacomo Voli. While working on new material, the band leveraged new members' ideas to write even more songs, and a new album is already written and in the early stage of production.
Lately, the band is also remixing and remastering "Back To Life" which is waiting for a new release, scheduled for the 10-year anniversary of the album in 2021.
– 30-
"Back To Life" has everything and more when it comes to a solid power metal album. The songs flow together smoothly and are well balanced between reckless guitar solos and stunning piano work. Also, the vocals were most impressive. This is definitely an album that you will want to check out. – Sorrow Eternal – 9/10
"From The Depth managed to stand out thanks to their quality and exciting work, which knows how to identify itself among the overwhelmed Italian scene" – Metalitalia.com – 7/10
"Finally! Finally some good Italian power metal, produced with all the trimmings, played with all the trimming and sung with all the trimmings! After too many negatives reviews by Italian bands From The Depth wipe out any doubt on our land's playing skills." – Metal.it – 7,5/10