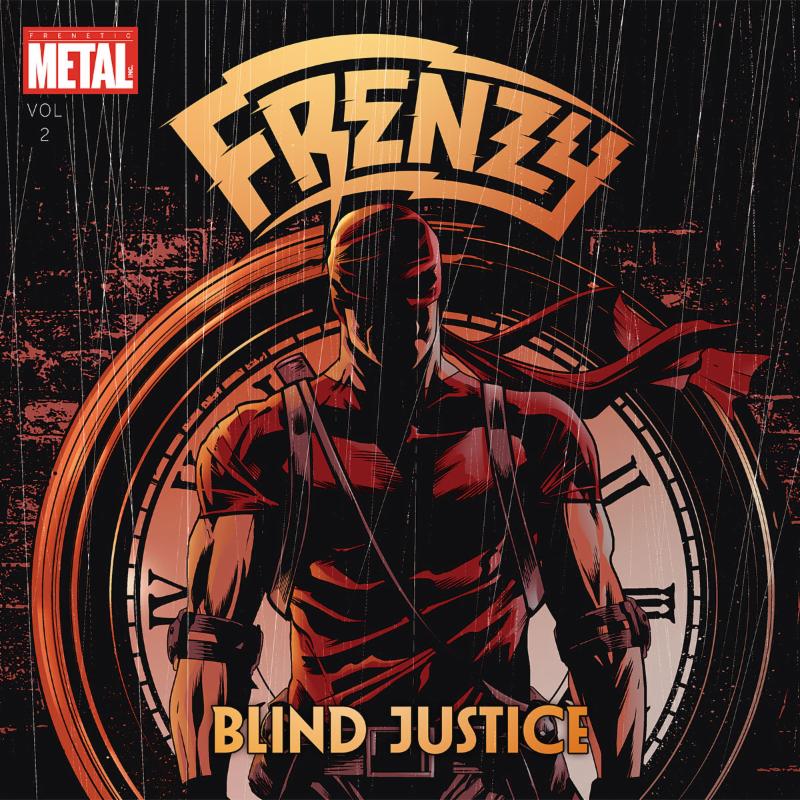 Madrid (Spain) – Blind Justice, the debut album from traditional heavy metal rockers and comic book fanatics FRENZY, is out now on all major digital platforms and streaming its entirety. The album will be available on CD and vinyl formats in the near future via Underground Power Records.
Stream/Purchase Blind Justice
Self-admitted Heavy Metal and Comics fanatics and fronted by U.S. born singer Anthony Stephen, FRENZY has successfully created a fresh approach to the traditional style accompanied by great lyrics focused on comic books and graphic novels such as Daredevil, From Hell, The Killing Joke, Silver Surfer, X-Men, and others. This band truly is the perfect union of Heavy Metal and Comics, combining the "larger than life" and epic aspects of Heavy Metal with those of the Comic Book classics, as well as the urban culture common to both worlds. Those elements together form the FRENZY universe.
The graphic artwork of Mike Mora (Heavy Metal Magazine) and Javier Pastor (Evil Rite) on Blind Justice (complete with 16-page booklet in comic book style) is the perfect match for this music, resulting in a holistic listening experience.
"Save Me" (Official Video)
"From Hell" (Lyric Video)
"Let me make something clear before we even start: this is simply a new sensation on matters of old-school, traditional heavy metal."
-Lords of Metal
"Frenzy's Blind Justice offers a solid, nearly flawless, platter of entertaining traditional heavy metal with plenty groove and loaded with frenetic guitar work. Easily recommended." [5/5]
– Dangerdog Music Reviews
"A great mix of traditional music and comic book/graphic novel subject matter – ideal for fans of Racer X, Judas Priest, and Accept among others." [8.5/10]
– Dead Rhetoric
"Well composed and well played heavy rock, where inspiration and energy are not lacking." [4/5]
– All Around Metal
"FRENZY pay homage to good old heavy metal and the world of Marvel comics. And it's a lot of fun listening. Eleven tracks in the intersection of LIZZY BORDEN, HEAVY LOAD and currently NIGHT DEMON, seasoned with a pinch of JUDAS PRIEST."
– Streetclip
"Frenetic energy and pounding melody!"
– The Median Man
Blind Justice Track Listing:

Blind Justice
From Hell
Killing with a Smile
Save Me
Twilight of the Sapiens
We are the Future
Velocity
Mad Ball
Waiting on your Call
Annihilated by my Sound
Shred or Die
Frenzy is:

Anthony Stephen: Vocals

Angel Muñoz "Choco": Bass

Víctor Díaz: Guitars

Luis Pinedo: Guitars

David Ontanaya: Drums

Frenzy bio:

Born in Madrid in 2015, the Spanish Heavy Metal band released their debut Lethal Protector EP in 2016,

receiving great feedback and praise from press and fans. They have played all over Spain, Germany, Belgium, and the Netherlands since then… including prestigious festivals like Harder Than Steel, Pounding Metal Fest, Heavy Sound Festival, and Heavy Metal Maniacs, to name a few.