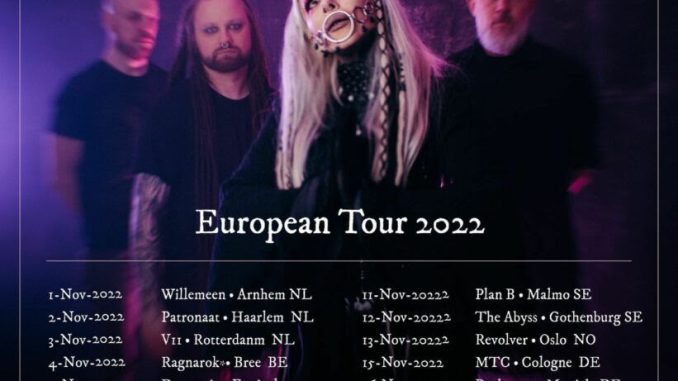 European Tour Kicks Off November 1
"Our first trip to the UK is going to be a big one! It feels like we've been listening to some of the bands on this bill for our entire lives. What an incredible line up and we're so excited to be part of it!" – Gwyn & Sean

In support of Frayle's album Skin & Sorrow (released September 23), the band embarks on a European tour beginning November 1 at the Willemeen in Arnhem, Netherlands. The tour includes two festival appearances, Damnation in Manchester, UK November 5 and Gloomaar Festival in Neunkirchen, Germany November 19, in addition to the legendary venues to which Frayle will bring their doom magic.
About Frayle:

Heavy, Low, & Witchy. Frayle is a doom, sludge band from Cleveland, formed in 2017 by guitarist Sean Bilovecky (ex-DISENGAGE) and singer Gwyn Strang. They draw their inspiration from bands like Sleep, Portishead, Bjork, Kyuss, & Black Sabbath. Frayle makes music for the night sky.

On September 23, Frayle released their sophomore album Skin & Sorrow, which was fully written and recorded by Bilovecky and Strang from the third floor of their own studio, on the edge of Cleveland, surrounded by ancient lakes and woods that echo the howls of coyotes. The band is rounded out live by Jason Knotek on bass and Jon Vinson on drums.

The record follows Frayle's groundbreaking debut 1692 in 2020 that further introduced the world to their penchant for creating "lullabies over chaos." Tracks feature Strang's ambient vocals laid over the voluminous instrumentals of Bilovecky (formerly of Disengage), morphing into disturbing harmonies best described as music for the night sky and are poised to dominate the doom circuit.

In addition to haunting original tracks that push heavy music into new dimensions (an inspirational mix of Sleep and Portishead, or Black Sabbath and Bjork), the duo is known for their cryptic covers including takes on Johnny Cash's "Ring Of Fire" and Bauhaus' "Bela Lugosi's Dead."