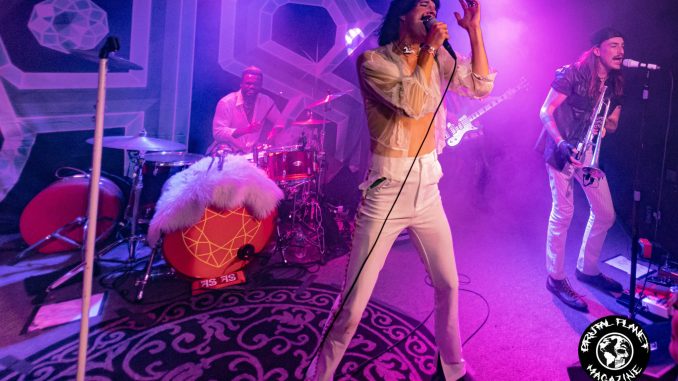 Review by:
Emily Tipping
Foxy Shazam is out with their Hidden Treasure Tour 2022 and Brutal Planet discovered these precious treasures at the Urban Lounge in Salt Lake City on Sep 23rd. I once made a rookie mistake of comparing them to another band I had seen at the same time (ten years ago). Let me set the record straight and confirm that you can't compare Foxy Shazam to any other performers. The sheer amount of passion and force these guys put out is unequaled to any performer out there, old or new. You miss the theatrical rock greats like Meatloaf or Queen? Then get your ass to a Foxy Shazam show.
Foxy Shazam is touring with two other great bands that deserve a mention. Lung started the night off right by keeping the crowd engaged and enthralled. This talented duo was comprised singer Kate Wakefield, a classically trained opera singer and cellist, with drummer Daisy Caplan, of Foxy Shazam. Daisy floored the crowd with his incredible drumming and pad mixing skills, all while Kate blew the back wall off with her high pitched wavy vibrato. She slammed out the horse hair on her white electric cello all while staying in her perfect soprano pitch as she sang. A delightful appetizer for what was about to come.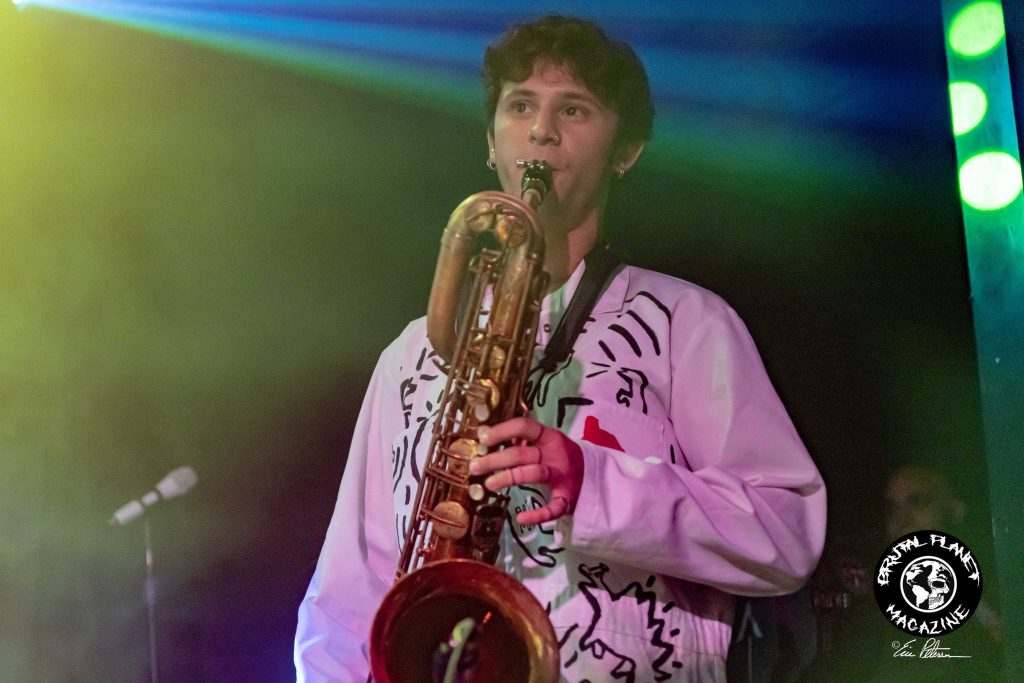 Milky Way Planet Earth Caveman Kitchen Thumpasaurs is a funk band that truly is out-of-this-world. The Revenge Of The Nerds-looking band has countryfied Primus-like tones mixed with the great Funkadelic beat and saxophone solos that blow to a higher register. The college-age crowd danced and sang along to "Dance", that has a crazy, faster, scrambled version of James Brown's "Get Up Offa That Thing" feel and sound to it. The party continued with "Alien" and "I'm Pissed" as the intertwining electrical sounds provided a happy altered state. Their set was obscure, wild and psychedelic, the perfect opener for Foxy Shazam.
Before the headline performers beloved by the crowd came on stage, we heard the loud sound of galloping horses, as if a crushing stampede was headed our way. The members of Foxy Shazam ran out to their positions and the crowd went insane. The high energy glam-rock band is extremely physical on stage. Singer Eric Nally is one the thee best front men around today. He jumped around on stage, bounced off the other members who all continued to stay in tune as he sang at the top of his lungs. The entire band took it to the extreme leaving every bit of energy on the stage. Alex Nauth, on the French horn, was a very lively performer as well. He sang while swinging his horn around, and danced while head banging. Sky White, on keys, is off the chain. He played with aggression and fear, sticking his tongue out as if to scare away any dark demons. He flipped his keyboard upside down, and drug the giant synthesizer all over the stage, all while playing. The most impressive stunt he is known for is crowd surfing with his keyboard and only a few people holding him and his equipment. I wouldn't repeat the tale except that I've seen it with my own eyes. This time the crowd was large enough to keep him safe and steady.
They played a ton of hidden treasures (hence the name of the tour) from their entire catalog. A little taste of everything for everybody. It seemed like all the `cool kids' knew that this was going to be the most fun show in town that night and showed up. I definitely recommend that you make it a point to catch Foxy Shazam if they come near you in the future. I guarantee that it will be most memorable.