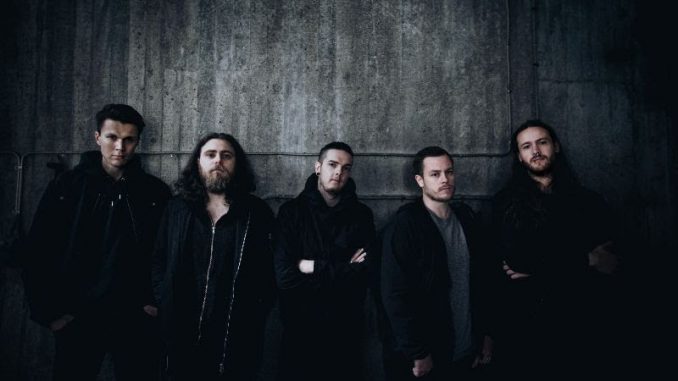 Album 'Vemod' coming September 24th, 2021!
Watch The Video for 'Mask Ov Lies' Here
Swedish metalcore 5-piece Forgetting The Memories have released their new single 'Mask Ov Lies'. It's the second new track taken from the album 'Vemod' coming September 24th, 2021 via Long Branch Records.
Listen to 'Mask Ov Lies' and pre-order the new album 'Vemod' here:
Watch the video for 'Mask Ov Lies' here:
Forgetting The Memories about the new single 'Mask Ov Lies':
"This song is about a journey through the life of a person who has a very distant relationship with his dad and the effect it has to the beholder. The song takes a dark dive into what goes through the head of the son who sees nothing but the wrong doings of his father. When it comes to becoming a parent of his own, he is eager to be the better parent to give a better life to his child."
VEMOD Tracklist:
1. Beneath The Creek
2. The Solstice Rebirth
3. The Lake
4. A Voice In The Static
5. Mask Ov Lies
6. Cowards Tongue
7. From Soot
8. Cursed Earth
9. Komma Skall
10. Trauma
Forgetting the Memories combine intricate, headbangable rhythms with melodic choruses that will have you singing along in no time, constructing a unique blend of deathcore and metalcore that is unparalleled in complexity and intensity.
"Monophobia," their first self-released full-length in 2016, was a sprawling labyrinth of ferocious, hard-pounding breakdowns and catchy choruses, peppered with meaningful lyrics detailing deeply personal journeys through issues like battling cancer, losing a friend, and heartbreak. The band continued on this path on their first release with their new label "Long Branch Records". The EP "Known Darkness" was released in 2019 and featured 6 songs, further confirming the band's rapid growth and potential.
Now "Vemod", the second longplayer of the 5 Swedes, is a clear further development of the already known trademarks of the band and thus comes across even more intense than its predecessors. The 10 tracks on the new album, which was mixed and mastered by Buster Odeholm (Vildhjarta, Humanity's Last Breath), are lyrically haunting and deal with personal setbacks, world-weariness, anger and melancholy or wistfulness (="Vemod" in swedish).
Over the years, Forgetting The Memories have remained true to their particular style, yet have constantly evolved and defined themselves as a truly essential force within the genre.
Line Up:
Bastian Kempe – Vocals
Gustav Holst – Guitars
Adrian Lyxell – Guitars
Lukas Löken Olsson – Bass & Vocals
Johan Blomberg – Drums
Watch The Video for the 1st Single 'The Solstice Rebirth' Here
Forgetting The Memories Online: