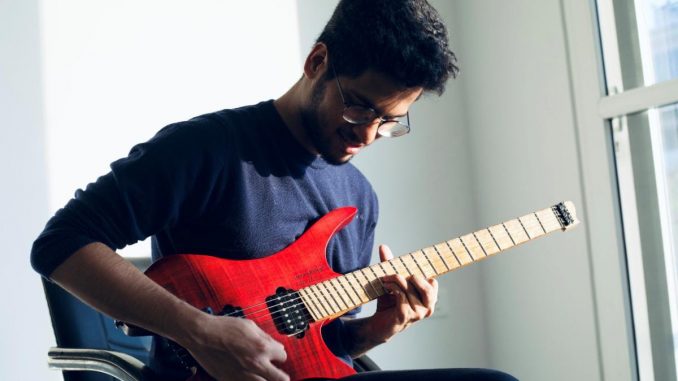 All Turns to Dust Debut Slated for Release This Spring
Guitarist Abhiruk Patowary has revealed a guitar playthrough for "Into the Light," the second single from his band FLYING CUPID's upcoming debut album, All Turns to Dust.
19-year-old Indian-born Patowary is a multi-instrumentalist whose musical journey began 11 years ago with piano, followed by drums five years later and guitar the year after. He began studying at the esteemed Berklee School of Music, but due to the pandemic, was forced to return to his native India.
"I am completely self -taught, so most of my playing is a bunch of trial and errors and seeing what works best," Patowary says. "My technique is quite unconventional and almost what people would consider wrong as I mostly use two fingers while playing. That being said it, has worked for me and I use a lot of palm muting accompanied with 7th chords and little riffs to fill the space."
The solo project of guitarist and composer, FLYING CUPID blends the sounds such as Killswitch Engage with modern "djent" bands like Periphery to create a modern sound.
A prolific writer, Patowary also spends his time playing bass and guitar in the bands Acid Pit and Gaia, and working on other diverse musical endeavors outside of the metal realm, including pop, hip hop, a long orchestral piece and a jazz quintet.
FLYING CUPID online: