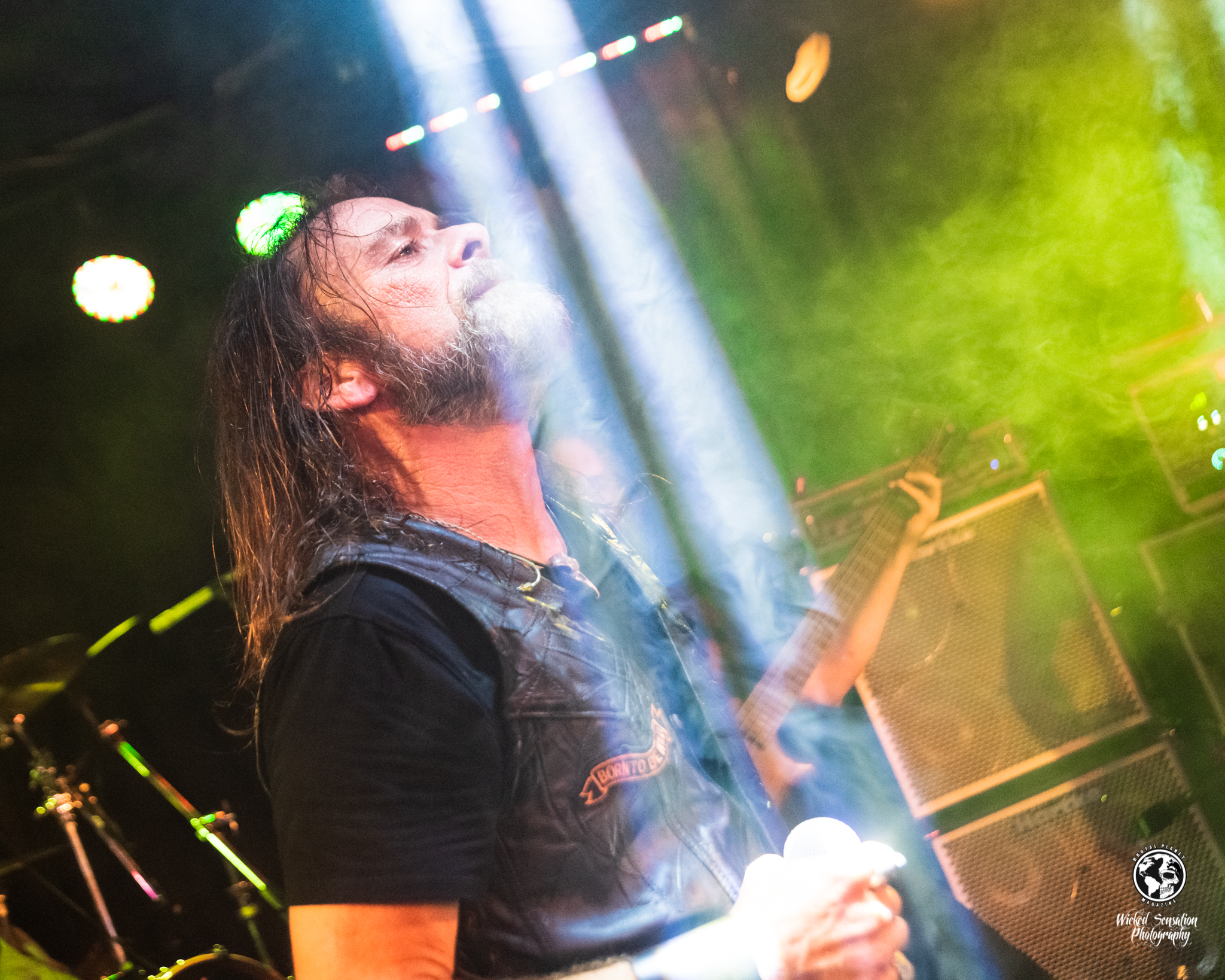 The chaos was brought to Salt Lake City by thrash metal pioneers Flotsam and Jetsam. Currently finishing the last leg of a 45 day U.S. tour before heading back to Europe, the boys in Flotsam & Jetsam are touring in support of their January 2019 album End Of Chaos. I had the pleasure of interviewing founding guitarist Michael Gilbert before their set and get some insight into recording, gear, touring and fan stories. Check our site out for that audio interview.
I also had the pleasure of reviewing End of Chaos prior to its release. I was a casual fan of the band, but can say that all changed with this release and their performance this night. Too often I go to shows of bands at all experience levels and some are a sad shell of what they formerly were. That is not the case with vocalist Erick "A.K" Knutson, Guitarist Michael Gilbert and Steve Conley, Bassist Michael Spencer and during this leg of the trip Overkill drummer Jason Bittner.

A.K.'s vocals were on spot throughout the entire performance. The theme for this nights show was a clear mix of new and old material. It was a great set with every song fitting right where it should. This was my first show of Flotsam & Jetsam's and several others that were with me. A fan to my left kept saying the entire night, "this is the best night of my life." He was wearing a Pantera shirt and was pumped through the entire set. At one point behind me a bunch of us were shoved from behind. There was a rather large fan who was a little uncontrolled in the pit and hit several of us. Another gentleman took a moment to have a discussion with him and the offender went elsewhere.

Flotsam and Jetsam wrap up this leg of their U.S. tour in their home base of Arizona in Tempe on June 15, 2019. They are currently trekking down the west coast in the meantime. Get out and see Flotsam and Jetsam! Check out more concert photos here.

Set List: Prisoner of Time, Desecrator, Iron Maiden, Hammerhead, Demolition Man, Suffer the Masses, Control, Smoked Out, Monkey Wrench, I Live You Die, Seventh Seal, Dreams of Death, Recover, She Took an Axe, Life is a Mess, No Place For Disgrace