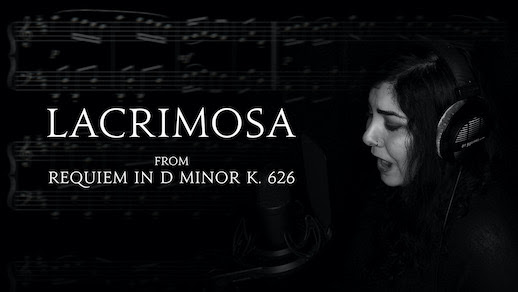 Italian orchestral-death metal giants FLESHGOD APOCALYPSE reveal a very special gem for their fans today: The band recorded a stunning video with their interpretation of Wolfgang Amadeus Mozart's 'Lacrimosa', taken from his masterpiece "Requiem In D Minor".
Dive yourself into the world of the tearful and check out the video here:
https://www.youtube.com/watch?v=Hww1hr1b0bk

The band states,
"Even if the whole world is in lockdown, we still feel the need to stay connected with our fans all around the world. That's why from now on we'll be constantly releasing new playthrough videos, for all instruments. The first one is an excerpt from the magnificent "Requiem In D Minor" by Wolfgang Amadeus Mozart, performed by Veronica Bordacchini and Francesco Ferrini.
If you want, you can keep supporting us by visiting our store at shop.fleshgodapocalypse.com
Stay safe!"
»Veleno Across Europe Tour 2020«
w/ EX DEO
01.10. D Übach-Palenberg – Rockfabrik
02.10. NL Nijmegen – Doornroosje
03.10. F Paris – Petit Bain
04.10. UK London – The Underworld Camden
06.10. F Nantes – Le Ferrailleur
07.10. E Bilbao – Stage Live
08.10. P Porto – Hard Club
09.10. P Lisbon – RCA Club
10.10. E Madrid – Sala Caracol
11.10. E Barcelona – Sala Bóveda
12.10. F Toulouse – Le Metronum
15.10. I Retorbido (PV) – Dagda Live Club
16.10. CH Sion – Le Port Franc
17.10. CH Schaffhausen – Kammgarn
18.10. D Leipzig – Hellraiser
20.10. D Munich – Backstage
21.10. SK Košice – Collosseum Club
22.10. H Budapest – A38
23.10. BG Sofia – Mixtape 5
24.10. RO Bucharest – Quantic Club
25.10. RO Cluj-Napoca – Flying Circus
27.10. CZ Prague – Futurum Music Bar
28.10. PL Poznan – u Bazyla
29.10. PL Warsaw – Klub Proxima
30.10. LT Vilnius – Vakaris
31.10. LV Riga – Melnā Piektdiena
01.11. FIN Helsinki – Ääniwalli
04.11. N Oslo – Røverstaden
08.11. B Roeselare – Trax
11.11. D Weinheim – Café Central
12.11. D Berlin – Musik & Frieden
13.11. D Essen – Turock
14.11. F Pagney-derrière-Barine – Chez Paulette
15.11. NL Leiden – Gebr. de Nobel


More on Veleno:
"Sugar" OFFICIAL MUSIC VIDEO: https://www.youtube.com/watch?v=Xmq3iyW02b8
"Carnivorous Lamb" OFFICIAL LYRIC VIDEO: https://www.youtube.com/watch?v=3RMEoOl80SM
"Healing Through War" OFFICIAL LIVE VIDEO: https://www.youtube.com/watch?v=mviUmbrvAP0
"Worship And Forget" OFFICIAL VISUALIZER: https://youtu.be/Rx67BcnDk9c
"The Fool" OFFICIAL LIVE VIDEO: https://youtu.be/yYJ4UmxGrIk
Trailer #1 – About The Song "Sugar": https://www.youtube.com/watch?v=2lXTqJLIuxI
Trailer #2 – About The Veleno Album Artwork: https://www.youtube.com/watch?v=EXWn0yobSuY
Trailer #3 – The 2019 Band Line-Up: https://www.youtube.com/watch?v=PcttT-yKpc0
Trailer #4 – Veleno: Writing And Recording: https://www.youtube.com/watch?v=23xBJa8q52M
Trailer #5 – About The Song "Carnivorous Lamb": https://www.youtube.com/watch?v=VwUjw63xG1A
Trailer #6 – The Meaning Of Veleno: https://www.youtube.com/watch?v=Mp4YKnC71Xw
Trailer #7 – What Fans Can Expect From Veleno: https://www.youtube.com/watch?v=Q7EEbTXNU4c
Trailer #8 – Veleno: About An Evening in Perugia Bonus Blu-ray: https://youtu.be/FFhGr8mZtKc
Trailer #9 – Drummer David Folchitto and Guitarist Fabio Bartoletti: https://youtu.be/pAHI80by9JY

Italian for 'venom', Veleno marks FLESHGOD APOCALYPSE's first record in 3 years, since the release of their critically acclaimed record King (2016). The 'metal part' of Veleno was recorded in Rome, Italy atBloom Recording Studio and Kick Studio with long-standing collaborator Marco Mastrobuono, while the 'orchestral part' – the ensembles – were tracked at Musica Teclas Studio in Perugia. Fleshgod Apocalypsethen took the effort over to Grammy-nominated Jacob Hansen (VOLBEAT, THE BLACK DAHLIA MURDER, EPICA) at Hansen Studios in Denmark for mixing and mastering. The entire production of Veleno took, according to Paoli, about three months. Artwork for the album was created by Travis Smith (AVENGEDSEVENFOLD, OPETH, KATATONIA).
Visit FLESHGOD APOCALYPSE at