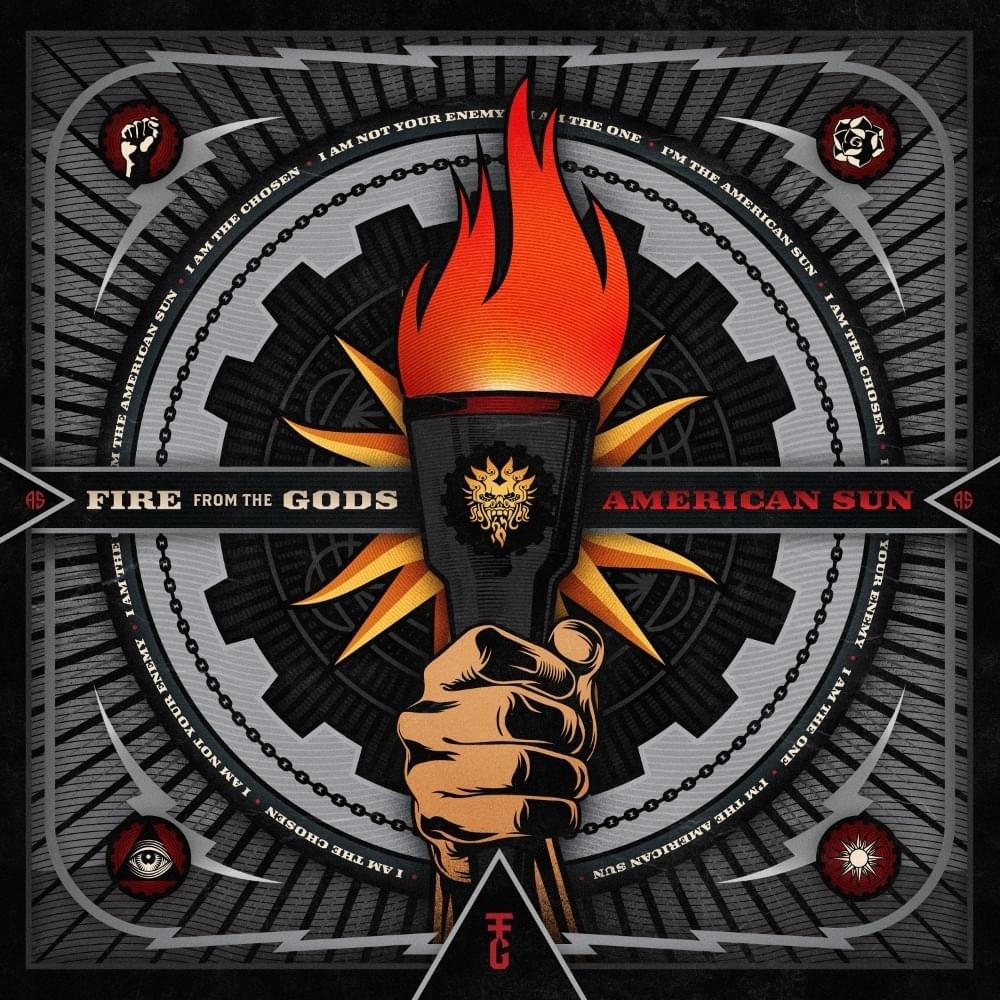 As if a gift from above, Fire From the Gods will deliver their sophomore album, American Sun on November 1st. For listeners who enjoy more of the "nu-metal" sound, this album is a must! This Austin, Texas based quintet doesn't hold back from delivering your money's worth- when most bands limit their albums to around ten songs, American Sun comes packed with thirteen.
Lyrically this band has a purposeful message to share with those who will pay attention. They have adopted the tagline, "In Us We Trust," which is an invitation for people from all backgrounds and walks of life to join them in facing life's challenges together. While some may find this idea cliche, frontman AJ Channer brings a unique perspective from having lived all over the world. Channer presents his worldview and emotions in diverse ways- from track to track you never know if he will feed you through rapping, singing, or screaming. I found his voice to be reminiscent of both Lajon Witherspoon (Sevendust) and Max Illidge (40 Below Summer).

Musically, American Sun is a more mature version of the band's debut album, "Narrative." The band stayed true to their sound, but have taken their skills to the next level. Their first single, "Truth To the Weak," (which is also the opening track) really sets the tone with a hip-hop bass line and a chorus that states "Givin up ain't an option/I'm not built to collapse/But I'll take what I'm given/I won't lay down and die!" The additional singles that have already been released include "Right Now" and "Make You Feel It," which both show off AJ Channer's amazing vocal range.
The diversity of sound can be heard on nearly every track. The title track, "American Sun" is infused with funky horns, and "Trust" has very catchy riffs and pounding drums. In the heat of inspiration, "They Don't Like It" was written by the band in a single day and features guest vocals from Sonny Sandoval of P.O.D. "Fight the World" is a perfect song to get yourself pumped up to face life's challenges, "All My Heroes Are Dead" has guitar riffs that will make you feel invincible, and the melodic ballad "Break the Cycle," was a perfect song to end the album.

It is evident Fire From the Gods are taking their art to the next level. They will begin their U.S. tour with Bad Wolves, Three Days Grace, and Five Finger Death Punch on the first of November. In a world where people can feel overwhelmed and hopeless, American Sun shines as the call to stand united and live victoriously.