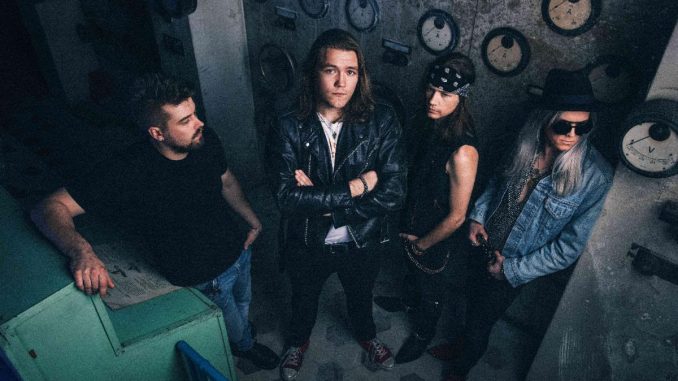 DUE MARCH 11, 2022

SINGLE & VIDEO 'PRISONER' OUT NOW

PRODUCED BY JIMMY WESTERLUND (ONE DESIRE)
Frontiers Music Srl is pleased to announce the release of Finnish hard rockers Rust n' Rage's new album, "One For The Road". Produced by Jimmy Westerlund (One Desire), "One For The Road" will be released on March 11, 2022. Today, the band has released a new single and video from the album, 'Prisoner'. Watch the video HERE:
https://youtu.be/S1SDv-5PgUg
Through lots of hard work and gigging, Rust n' Rage have been starting to make a name for themselves in their home country of Finland. With energetic live shows and anthemic songwriting, this rock n' roll-quartet is ready to introduce themselves to the world more than ever before. Be sure to stay tuned for their Jimmy Westerlund produced debut album, which will be chock full of anthemic, hard rocking, melodic tunes.
Coming from a small town in Finland called Pori, Rust n' Rage is made up of four guys who all live for a similar cause: Rock n' Roll. While individually practicing a lifestyle of hard rockin' and playing their hearts out around their small town, it didn't take long for Vince, Johnny, Jezzie, and Eddy to meet and realize they had a shared musical vision. Their musical influences originate from the '80s, with their idols being such legends as Guns n' Roses, Judas Priest, Mötley Crüe, Dokken, and the like. Rather than merely be the sum of their influences though, Rust n' Rage concentrates their songwriting on being separate from their influences, while still maintaining those awesome hard rock riffs and high-pitched vocal screams.
In 2020, things started rolling for the band, having found a new manager and a new producer to help them get their musical vision properly recorded. Based on the strength of their newly created/recorded singles, the band caught the interest of Frontiers Music Srl, who have signed them to a worldwide deal. Signing with Frontiers is an opportunity to release their music to a global audience and to show the world what they are made of. Stay tuned for more exciting things to come from these Finnish rockers in 2022.
Tracklist:
1. Prisoner
2. Ghost Town
3. One For The Road
4. The Future Is For The Strong
5. Heartbreaker
6. Hang 'Em High
7. Ride On
8. I've Had Enough
9. Unbreakable
10. The Throne
11. Moving On
Total length: 00:43:03
Line-up:
Vince – Vocals
Johnny – Guitar
Eddy – Bass
Jezzie – Drums
Rust n' Rage Social Media