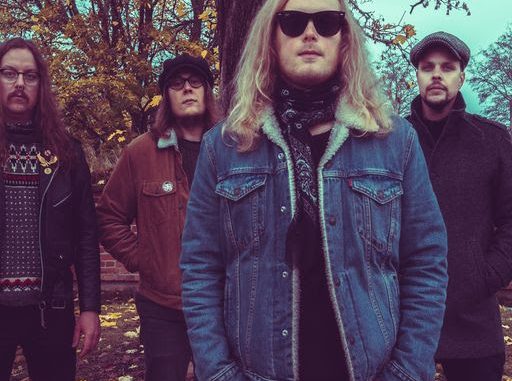 Heavy fuzzrock outfit Craneium shares the stand alone single, "Victim of Delusion".

The single is the first release from the Finnish four piece since their third studio album 'Unknown Heights' from 2021 and is released together with a music video on The Sign Records.

Joel from Craneium comments:

"Our new single "Victim of Delusion" is a straightforward rocker in true retro style. It's fuzzy and it's bluesy. Dare we even say it's a bit proto metalesque? Lyrically the song talks about how nothing good comes out of trying to control people. Instead, it's easy to end up a delusional lonely person.

To accompany the song, we wanted to make a video that tips the hat to retro psychedelic filmmaking. We teamed up with music video maker Joni Tuominen who had an idea on a video with acid fried aesthetics. It turned out great and we had a blast doing it."
Liar Thief Bandit – "Peace with Disaster" (Official Audio)
Craneium's latest studio album 'Unknown Heights' was released during the autumn of 2021.

The album is available on white/blue splatter vinyl, black vinyl, CD, and all streaming platforms.

Get 'Unknown Heights' HERE
Craneium biography:

Finnish heavy fuzzrock outfit Craneium blends classic riffing with dynamic atmospheres. Through a constant ebb and flow of light and heavy they explore the vast underground and draw influence from the 70 ́s hard rock, 90 ́s desert psychedelia and their many masters.

Craneium was formed in 2011 in the Finnish town of Turku. Since then, they have sweated themselves through almost 100 shows around the Nordic countries and Europe, most of them booked by the band themselves. Over the years Craneium has warmed up crowds for bands such as Skraeckoedlan (SWE) and Mars Red Sky (FRA), just to name a few.

This band loves playing live and on the stage is where their music finds its definite shape. They've played everything from basements and rock clubs to alternative festivals such as the Swedish psych rock mecca Krökbacken and Estonia ́s Skeneraator Festival.

Craneium has released two albums through California label Ripple Music, an independent cassette release and two split vinyls with 3rd Trip (FIN) and Black Willows (CH).

Their third album "Unknown Heights" was recorded and mastered by producer Joona Hassinen (Studio Underjord) and released during the autumn of 2021 on The Sign Records.
Craneium:

Andreas Kaján – Guitars and Vocals

Martin Ahlö – Guitars and Vocals

Jonas Ridberg – Bass

Joel Kronqvist – Drums

FOLLOW CRANEIUM: