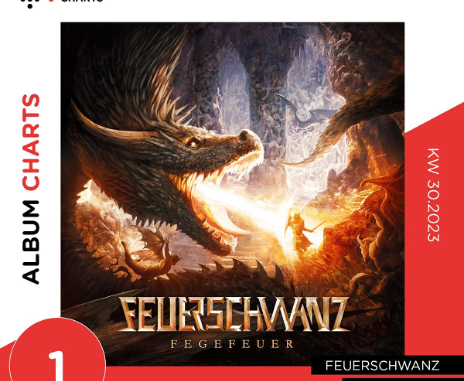 New Studio Album, 'Fegefeuer', Marks the Second Consecutive #1 Album After 'Memento Mori' (2021)
Get Your Copy of 'Fegefeuer' NOW
Germany's hottest Folk Metal band has hit #1 on the Official German Album Charts again! FEUERSCHWANZ unleashed their highly anticipated new full-length, 'Fegefeuer', last Friday, and have now stormed the album charts with their second #1 placement in a row. FEUERSCHWANZ's previous studio album, 'Memento Mori' (2021), also entered at #1, and with this new achievement, it is safe to say that FEUERSCHWANZ truly belongs among one of the biggest current bands in the German metal scene.

With the switch to Napalm Records in 2020, FEUERSCHWANZ started their gradual change from the comedic medieval folk outfit of the past into the serious metal band they are today, with #3-charting album, 'Das elfte Gebot'. The 2021 live album, 'Die letzte Schlacht', landed at #4, and with 'Memento Mori', the band climbed to the top of the Official German Album Charts for the first time, followed by the cover album 'Todsünden' on #5. All of the last five releases entered the Top 5 of the Official German Album Charts.

With their second #1 album, 'Fegefeuer', FEUERSCHWANZ have reached new career highs – and there's no end in sight to their ongoing ascent!

FEUERSCHWANZ on the chart entry:

"'FEGEFEUER' HITS #1 IN THE GERMAN ALBUM CHARTS
Our second #1 in only two years – if someone had told us this would happen in the early days, when we sang unplugged on beer benches, cracking jokes about mead… We would have laughed madly into the drinking horn and sung on until we fell off the table (which wasn't so bad – there were fewer spectators in front of the "stage" than musicians on it anyway).
"To celebrate such a victory today – even though we haven't even digested the last #1 entry – is just great! We owe it all to YOU – whether you have accompanied us through the purgatory of the early days or if you have recently joined us. Another epic album battle has been fought – and we have won!
"Dear mainstream radio landscape out there: There is a crazy, colorful and fantastic music world here where people sing and sweat together, where music is made by hand, where strange instruments are used and where you can be a battle dwarf or a Valkyrie or both at the same time! This is not a funny little fringe group – no, we are LOUD and we are MANY!
To our biggest fans, the HORDE – we thank you!"
Napalm Records Founder, Owner and Managing Director Markus Riedler:
"What a success! FEUERSCHWANZ have secured the #1 spot on the Official German Album Charts again with the new album, 'Fegefeuer'. With the goal of constantly evolving to consistently deliver the quality that makes listeners have fun and be in a good mood, the band not only has great demands on themselves, but also on us as a label. Accordingly, we would like to thank all those involved who have made this success possible. Above all, however, this thanks goes to you, the fans, for supporting this great band so devotedly on its development and future path!"
Fegefeuer kicks off with outstanding opening track "SGFRD Dragonslayer". Successor "Bastard von Asgard" features beautiful vocals by Eluveitie's Fabienne Erni. The catchy viking party anthem "Berzerkermode" calls for the listener to join the celebration and "party like a viking", while the first three tracks, as well as heavy "Highlander", are best proof of the band's evolution from comedy rock to metal. Other tracks like the intense title track "Fegefeuer", Lord of the Rings battlechant "Uruk-Hai" and "Die Horde" will be long-time fan favorites.

'Fegefeuer' stays lyrically true to trademark topics, exploring long forgotten legends and heroic battles, and shows off the band's extraordinary musical skills. The album will be available in various formats, with some containing the live bonus album 'Live in Wacken 2022', which includes a recording of their co-headline show from the holy fields. With their new release, FEUERSCHWANZ clearly confirm their outstanding position!
'Fegefeuer' Track List:
3. Berzerkermode
4. Knochenkarussell
5. Fegefeuer
6. Die Horde
7. Uruk-Hai
8. Highlander
9. Morrigan
10. Eis & Feuer
11. Valkyren
Various limited versions come with the bonus CD, 'Live in Wacken 2022', recorded during the band's co-headline set at Wacken Open Air 2022. Other versions include the instrumental version of all 11 album tracks:
'Live in Wacken 2022' Track List:
1. Intro (Das Elfte Gebot) (Live in Wacken 2022)
2. Memento Mori (Live in Wacken 2022)
3. Untot im Drachenboot (Live in Wacken 2022)
4. Metfest (Live in Wacken 2022)
5. Ultima Nocte (Live in Wacken 2022)
6. Schubsetanz (Live in Wacken 2022)
7. Methämmer (Live in Wacken 2022)
8. Dragostea Din Tei (Live in Wacken 2022)
9. Rohirrim (Live in Wacken 2022)
10. Das Elfte Gebot (Live in Wacken 2022)
11. Warriors Of The World United (Live in Wacken 2022 / feat. Melissa Bonny)
12. Die Hörner Hoch (Live in Wacken 2022)
13. Extro (Live in Wacken 2022)
'Fegefeuer' will be available in the following formats:
=> Deluxe Box incl 2 CD Madiabook with 40 pages booklet & 2CDs (Fegefeuer & Live In Wacken 2022), resin BIC lighter, letter of indulgence, trading card, flag – strictly limited to 2000 units worldwide, exclusively available via Napalm Records Mailorder
=> 2-CD Mediabook Bundle incl. 0,5l jug (height 16cm, weight 1kg) & Mediabook, incl 40 pages booklet, 2CDs (Fegefeuer & Live In Wacken 2022) – strictly limited to 500 units worldwide, exclusively available via Napalm Records Mailorder
=> 3-CD Earbook (Fegefeuer, Live in Wacken 2022, Instrumental) with 48 pages booklet – strictly limited to 1000 units worldwide, exclusively available via Napalm Records Mailorder and EMP
=> 2-LP Red, Black Marbled Vinyl Gatefold Deluxe Box, incl 2 Vinyl (Fegefeuer & Live in Wacken 2022), 24 pages booklet, cloth bag, Record Butler – strictly limited to 500 units worldwide, exclusively available via Napalm Records Mailorder and EMP
=> 2-CD Mediabook Bundle incl. patch & Mediabook, incl 40 pages booklet, 2CDs (Fegefeuer & Live In Wacken 2022) – strictly limited to 300 units worldwide, exclusively available via Feuerschwanz Shop, Napalm Records Mailorder and EMP
=> 2-CD Mediabook, incl 40 pages booklet, 2CDs (Fegefeuer & Live In Wacken 2022)
=> 1-LP Gatefold Black
=> 1-CD Jewel Case, incl 24 pages booklet
=> 2-MC Music Cassette Red transparent – strictly limited to 300 units worldwide, exclusively available via Feuerschwanz Shop, Napalm Records Mailorder and EMP
=> Digital Deluxe Album
Experience FEUERSCHWANZ Live:
Festivals 2023
10.08.23 ES – Villena / Leyendas Del Rock
19.08.23 DE – Weil Am Rhein / MPS
26.08.23 DE – Wuppertal / Feuertal Festival
02.09.23 DE – Luhmühlen / MPS
Fegefeuer Tour 2024
w/ Orden Ogan, Angus McSix
11.04.24 DE – Hamburg / Große Freiheit 36
12.04.24 DE – Berlin / Huxleys
13.04.24 DE – Dresden / Alter Schlachthof
18.04.24 DE – Saarbrücken / Garage
19.04.24 DE – Erfurt / Club Central
26.04.24 DE – Hanover / Capitol
27.04.24 DE – Osnabrück / Hyde Park
01.05.24 DE – Nuremberg / Löwensaal
02.05.24 DE – Stuttgart / LKA Longhorn
03.05.24 DE – Wiesbaden / Schlachthof
04.05.24 DE – Cologne / Palladium
06.12.24 AT – Vienna / Arena
FEUERSCHWANZ are:

Johanna – violin, hurdy-gurdy

Hauptmann – vocals, guitar

Hodi – flutes, bagpipes, guitars, vocals

Hans – guitar

Jarne – bass

Rollo – drums

Musch Musch – dance & performance

Myu – dance & performance

FOLLOW FEUERSCHWANZ: