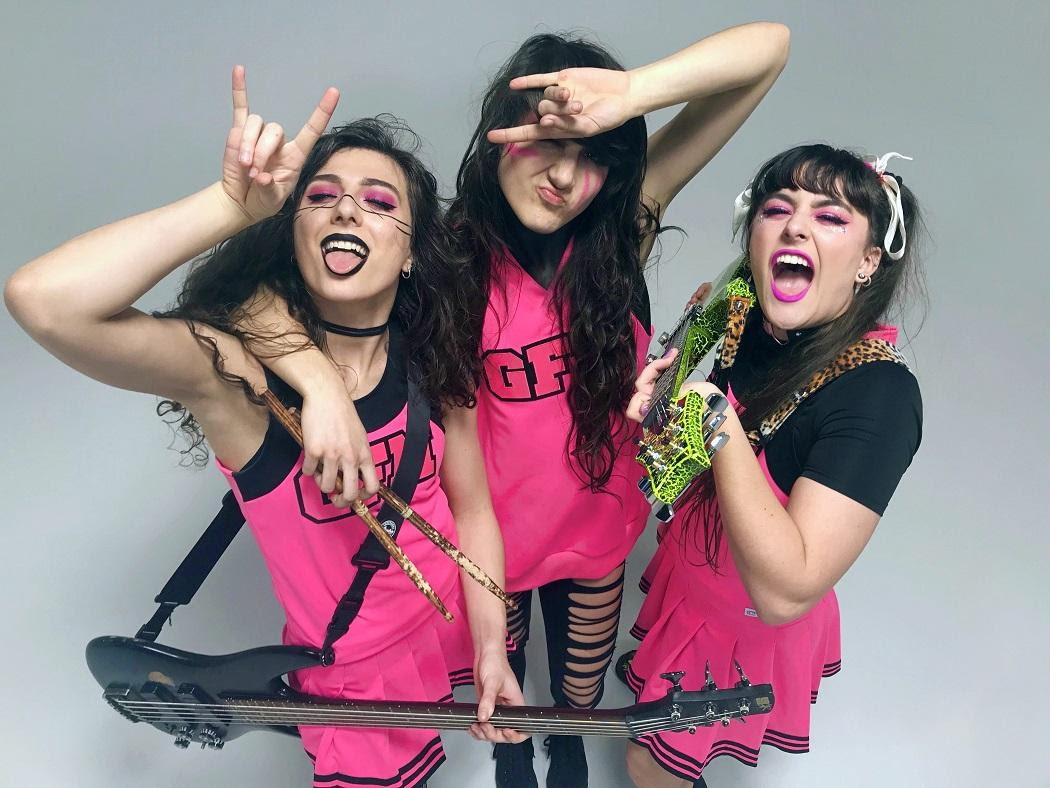 Catch GFM Now on the First Ever Social Media E-Tour
GFM (GOLD FRANKINCENSE & MYRRH), a trio of teenage sisters who have already mastered the art of balancing a Paramore style of melodicism with a Slipknot-like ferocity, have debuted a new video for the single "Taking Over."
"'Taking Over' is a song about standing up for yourself and for others," says bassist/vocalist Maggie English. "We're not taking no for an answer and nothing is going to stand in our way. The time to join Team GFM is now before it's too late."
Visualizing the young band's sound, which they have dubbed "beautycore," director Dale Resteghini juxtaposes images of military tanks emblazoned with GFM's pink logo with aggressive performance footage of the band in their trademark pink GFM cheerleader uniforms, as the sisters proclaim, "Get up, stand tall If we fall, then we fall together/Take your shot, the best you got/We won't stop, and we're taking over."
"The girls crushed the video," Resteghini says. "I love helping hot new bands breakthrough the noise. One listen to the single 'Taking Over,' I knew I had to do this. These young girls have already shown they can handle the rigors of tour life and are destined for greatness!"
The Joey Sturgis (Of Mice & Men, The Devil Wears Prada, Attack Attack!, Asking Alexandria) produced "Taking Over" is the second single from an upcoming EP. "Prepare to hear GFM at their heaviest," says Sturgis. "Working on this song was all about capturing the girls at their heaviest moment, shattering your ears while allowing their melodic ability to continue to shine through the rubble."
While spending time at home during the quarantine, the trio is finding unique ways to connect with Team GFM. GFM is hosting the first ever "e-tour," virtually touring a variety of different social media pages and platforms. The first round of tour dates have been announced on GFM's social media pages, with more dates quickly being added. An entire acoustic performance will be featured along with a Q&A session during each livestream. Additionally, fans with a good eye will notice a phone number within the artwork for "Taking Over." This Easter egg is an active number that is being used as fun and unique way to interact with fans.
Clearly not your average teenage girl band, CJ English (guitar/vocals), Maggie English (bass, keyboards, vocals) and LuLu English (drums, vocals) are breaking boundaries in the music industry and bringing life back to rock and metal with GFM's encouraging and positive message.
The sisters all began taking music lessons at just five years old, which sparked a love of music that would continue to grow. As they grew up, the girls collectively decided that they wanted to pursue this love for music professionally and began putting blood and sweat into creating GFM.
GFM's first album, Identity Crisis, was released in 2016, followed by Oh, The Horror! in April 2019. After touring the US multiple times, the group headed overseas to Germany in 2018, where their energetic performances established GFM as a festival favorite. A new EP is scheduled for release this spring.
Members of GFM are endorsed by PRS Guitars, Sinister Guitar Picks, Schecter Guitars, SJC Drums, Sabian Cymbals, 64 Audio, Orange Amps, Gator Cases, Enki USA, Pig Hog Cables, Coffin Cases, TUK Footwear, Cheerleading Company and Boathouse Sports.
GFM is:
CJ Sanders English – Guitar, Vocals
Magdalene "Maggie" Rose English – Bass, Vocals
Evie "LuLu" Louise English – Drums, Background Vocals
GFM online:
*If you are viewing this email with a Firefox web browser and cannot see any press release content, please try viewing in a different browser.
For press inquiries and additional information, please contact Adrenaline PR:
ABOUT US:
Adrenaline PR is a boutique independent public relations firm founded in 2003 by acclaimed PR and music industry professional Maria Ferrero. Adrenaline PR utilizes decades' worth of effective PR techniques to execute a project's targeted focus, all the while enhancing the potency of a campaign by extending outside the realms of traditional promotions and applying beneficial marketing and branding methods to reach various new media territories. Although Adrenaline PR's longstanding credibility is rooted in their successful representation of notable brands, festivals, artists, and beyond, the firm also specializes in securing noteworthy placements and creating a high-profile buzz for up-and-coming talent and brands.
The team at Adrenaline PR has represented wide range of projects – ranging from bands, fine artists, films and books, to labels, tours, festivals, award shows, conventions, photographers, and tattoo artists. Adrenaline PR has represented notable artists such as, but not limited to: American Idol winner Lee DeWyze, All That Remains, Anthrax, As I Lay Dying, Atreyu, Dethklok/Brendon Small's Galaktikon, DevilDriver, Drowning Pool, Down, Europe, Every Time I Die, Five Finger Death Punch, GWAR, Hank3, Harley Flanagan, Hatebreed, John 5, KMFDM, Lamb of God, Mac Sabbath, Machine Head, Motorhead, Mudvayne, Norma Jean, Otep, Pentakill, Peter Murphy, Sevendust, Suicidal Tendencies, Superjoint Ritual, Tech N9ne, Testament, The Aristocrats, Twiztid, Uli Jon Roth and more. Adrenaline PR has had the pleasure of supporting press campaigns for Good Fight Music, InsideOut Music, Metal Blade Records, Minus Head Records, Napalm Records, Nuclear Blast Records, Prosthetic Records, Razor & Tie, and others. Adrenaline PR has promoted films, soundtracks and compilations including As The Palaces Burn (Lamb of God documentary), Hesher, REPO! The Genetic Opera, Super Duper Alice Cooper, the Ronnie James Dio: This Is Your Life tribute compilation (2014 Best Metal Performance Grammy winner for Tenacious D's "The Last In Line"), Dimebag Darrell's Dimevision, and The Punisher (soundtrack), and books such as Louder Than Hell; The Oral History Of Heavy Metal and The Merciless Book of Metal Lists. Artists represented include Paul Booth – The King of Rock and Roll Tattoo, Vincent Castiglia (tattoo artist and surrealist) and Derek Hess. Adrenaline PR is recognized for publicizing various events such as the "Astronomicon" Pop Culture Convention, the Journeys Alternative Press Music Awards and the Alternative Press Magazine 20th Anniversary (My Chemical Romance, The Used and Say Anything), MTV2 Headbanger's Ball Tours I and II, REPO! The Genetic Opera Film and Road Tour, Rockstar Energy Drink Mayhem Festival, Ronnie James Dio: Stand Up and Shout Cancer Fund charity events, Scott Ian's "Speaking Words" tour, Sounds of the Underground, various Live Nation NYC club events, and many more. Adrenaline PR has also booked guest judges for BRAVO's Top Chef and assisted with Grammy Award/The Recording Academy events.