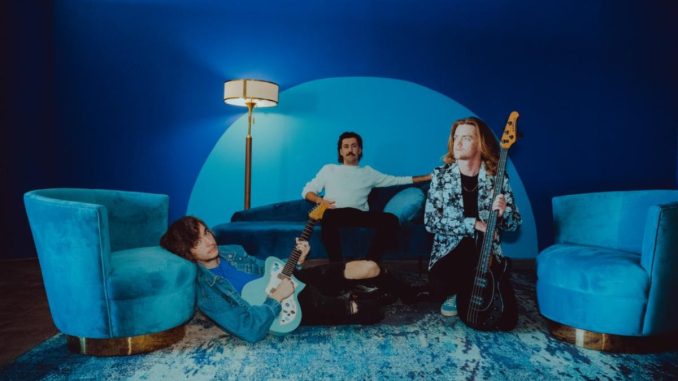 Photo Credit – Heather Koepp
Friday, February 3, 2023 – The Los Angeles based rock trio, Fencer, have today released their long awaited self-titled debut album, via Blood Blast Distribution. This marks the band's first self-produced release, composed of 10-tracks and what is considered to be their most authentic work yet. Fans can stream the album here.
The album release is accompanied by the release of their latest single "Couch." You can stream "Couch" here. You can also watch the special music video for "Couch" here or at the link below.
Speaking on today's album release, vocalist Field Cate shares:
"Very excited to finally have our first album out in the world. We've worked really hard on this and feel it's the most accurate representation of what we're all about, proud to have it as the first full length release in our discography. The recent single "Couch" is about boredom and drugs and sitting on your couch all day. The video is as ridiculous and silly as we could possibly make it so we hope it's something that can make you laugh or maybe get a catchy hook stuck in your head. Please enjoy and make your own meaning of the tracklist we spent the last couple years creating | == |"
Not only was their debut album self-produced, but it was mixed by Henry Lunetta (5 Seconds Of Summer, State Champs, Grayscale) and mastered by Zach Fisher (Weezer, Rancid, Bad Religion). Prior to today's release, Fencer had previously dropped tracks "Junebug", "Sanitarium", and "Joseph Courtney" which had racked up over 1.5 million listens across all streaming platforms. Keep an eye out for more Fencer news coming soon.
WHAT THE PRESS ARE SAYING:
"This album is a fantastic example of how to step out and make a scene.
In a mentally visual sense, this album stuck true to the band's motto of "Everything must be blue." Each song is a shade of blue, different from the last, ranging from deep, vibrant, and hazy to bright, pale, and cheery. All in all, Fencer couldn't have put together a better collection of songs as a way to debut themselves. This is an album that will open many doors for the band.5/5″
CHARM Music
"Field's soulful, melodic vocals pierce right through you from start to finish and are perfectly accompanied by a bluesy bassline and rhythmic drums. Field's vocal range on this entire album is beyond impressive.
This album was just a rollercoaster of emotion and you could feel every word rush over you.
Fencer has really set the bar high for their next album."
Hunnypot
"This album has something for everyone and very diverse."
Bleach Bangs
Los Angeles fans also have the chance to see Fencer LIVE tonight at Molly Malone's for their exclusive album release party.
Support comes from OC Natives Crossing I's Dotting T's, alt rock duo Joker's Hand, and the female-fronted It's Butter. Most importantly – Fencer will be bringing their iconic, fuzzy, manic garage opera sound to close out the night and celebrate their album release.
With an amazing setlist, this is a show surely not to be missed.
Tickets can be purchased here or at the image on the right.
ABOUT FENCER
Fencer, the self-defined garage opera band, is leading a new era of rock music with their own undeniably, dynamic sound. The Los Angeles-based trio consists of vocalist and guitarist Field Cate, bassist Scott Sauve, and drummer Cameron Sauve. Only two years after their inception, they became fan-favorite openers for notable acts such as Badflower, The Wrecks, and Dead Poet Society. Tackling the stigma surrounding mental health and its struggles, Field's emotive and frenetic vulnerability resonates with listeners to further solidify the band's electric presence. The trio have racked up an impressive 1.5 million listens across all streaming platforms, despite having not even released their debut album. Field's synesthesia (seeing music in color), Scott's vigorous bass-lines, and Cameron's expertise in self-producing flow together to create an eccentric style that is certain to become rock's newest novelty.