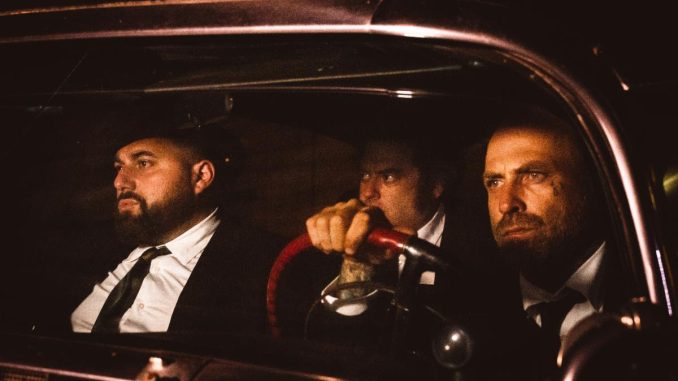 Friday, December 9th, 2022 : Right on the heels of the exoneration of his new band Codefendants, notorious punk rock legend Fat Mike announces the launch of a new record label, Bottles To The Ground. This label will be a halfway house for Codefendants, and a home for British punk duo The Meffs, NOFX's Eric Melvin's EDM project Melvinator, and others.
Fat Mike explains the origins of Bottles to the Ground: 
"When NOFX first played Amsterdam in 1988, we were invited to the closing night of one of the most infamous squats in the city. Not just a squat, this was a punk bar that instructed everyone to smash all glasses and bottles on the street after we emptied them. Apparently there would be no repercussions from the city because no one owned it. So, we drank all night along with hundreds of punks and every fucking bottle got smashed. To me, it looked like how punk rock music should feel. Bottles to the Ground is the beauty of disaster."  
Fat Wreck Chords now has a new imprint Bottles to the Ground. Fat Mike created this label for both his and NOFX's music projects such as Codefendants and Melvinator, as well as other bands that do not fit the traditional Fat sound. This label is a collective not solely owned by Fat, but by all members of NOFX.
"Erin and I both decided that NOFX deserved to be co-owners for all their years of loyalty and support for Fat Wreck Chords. Of course, their percentage isn't as big as mine, but hey…" – Fat Mike
Codefendants released the video for brand new track "Suicide By Pigs" last month. The track is now available on all streaming platforms alongside previous single "Abscessed", listen to both HERE. Watch the music video for "Suicide By Pigs" HERE or by clicking the image below.
The Meffs' new EP 'Broken Britain, Broken Brains Pt. 1′ is released digitally along with a brand new music video featuring a cameo from album producer Frank Turner for the title track "Broken Britain, Broken Brains". The EP can be listened to HERE with physical copies being available to purchase HERE. Watch the video for "Broken Britain, Broken Brains" HERE or by clicking the image below. Speaking on their new track, the band share
""Broken Britain, Broken Brains" – A dialogue that resonates with the masses. This song spits truths about society, the daily grind and the price we pay for happiness. We owe you a beer if the chorus isn't stuck in your head for the rest of the day. The video was filmed in Clacton-on-sea, where Lily was born and bred. Being about a 'Broken Britain' it felt apt filming by the most deprived town in the UK… on a boiling hot day."
Globally renowned guitarist, artist and founding member of punk-rock heavyweights NOFX, Eric Melvin needs little introduction. Outside of his work with NOFX, fans have been eagerly watching Melvin's solo transformation into Producer / DJ for nearly 10 years. Beginning with the now legendary "Mosh-Up" collection of mixes, Melvin's entree into the world of mash-ups, with short, sharp sets that seamlessly moulded together punk rock, hip hop, EDM, and funk – and mixing the likes of NWA with Fugazi & The Circle Jerks!  
With a packed schedule for 2023, Melvinator has teamed up with long-time friend, bandmate, and label boss Fat Mike as one of the first signings to his new label Bottles To The Ground. Melvinator will offer fans brand new versions of NOFX staples. Executive produced by Fat Mike and recorded over the course of two years alongside producer Baz The Frenchman (NOFX – The Decline at Red Rocks), this project continues Eric Melvin's exploration of the do-it-yourself links between punk rock & EDM. His first release on the label, a reworking of "American Errorist", is out today and available both on streaming platforms and as a 12" single featuring Melvinator's original version and a remix by ZBA. Stream the track HERE, purchase the vinyl HERE and watch the music video for "American Errorist" HERE or by clicking the image below.
Speaking on his first official release on Bottles To The Ground, Melvinator shares:
"I'm so excited to share this track with the world. I have been experimenting in my private labs for what seems like an eternity, but I'm finally ready to start sharing my creations with you. While the synthesis of Punk Rock & EDM might seem like an unholy matrimony to some, I think more will delight in the similarities as I do. The high energy, the sonic intensity and the refusal to conform has made this path clear for me. I see connections in the most unlikely places. This just might be one of them. American Errorist is only the beginning! Thank you for being here with me and facilitating my artistic expression as this new landscape echoes with boundless possibilities.
Mel xoxo"