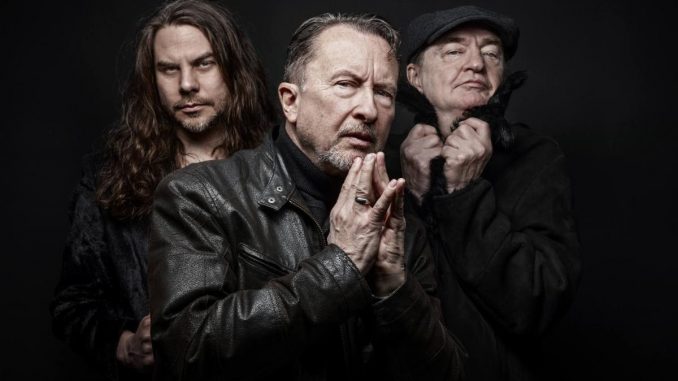 | | |
| --- | --- |
| New Studio Album "Strangers D'Amour" Out On June 25th | |
German Hard Rock band FARGO releases with "Gimme That Bone" their new single and video out of their new studio album "Strangers D'Amour" today. The video features two special guests: ex FARGO guitar player Hanno Grossmann and Torsten Lüderwaldt on keyboards, well known for his work for the band Fair Warning.
You can watch the video here:
Bass player Peter Knorn says: "Compared to our comeback album "Constellation", "Strangers D'Amour" sounds even more mature and rounded, with our typically driving beats and lots of melodious chorus parts, but also with a few little surprises thrown in," "'Gimme That Bone' have guitar player Peter Ladwig play a Hammond organ and Fender Rhodes, as well as his guitar."
Tracklisting:
1. Rain Of Champagne 3:17
2. Gimme That Bone 3:23
3. Closer To The Sun 4:13
4. Time 6:04
5. Mary Says 3:23
6. Law Of The Jungle 3:19
7. Homesick 3:59
8. Dear Miss Donna Vetter 3:35
9. No Reason To Cry 4:12
10. Car Expert 3:32
11. Why Don't You 3:32
"Strangers D'Amour" will be released through SPV/Steamhammer on Jun
e 25th, 2021 as CD digipak, LP in black vinyl and digital. There will also be an exclusive CD/LP bundle with a T-Shirt only available at the Steamhammer shop: https://shop.steamhammer.de/artists/fargo/store
FARGO History
Founded in 1973 by Peter Knorn and Peter Ladwig, the group soon earned itself a faithful fan base and went on to sign a recording contract only a few years later. For a while guitarist Matthias Jabs, who joined the Scorpions in 1978 and went on to make a global career, was also part of the Fargo fold. Fargo themselves developed into an internationally acclaimed act, too, released their debut album in 1979 and brought out three more superlative studio albums by 1982, all of them on EMI, the major label giant of that time. The band toured all over Europe, played with the greatest luminaries of the rock scene, performed outstandingly successful tours with AC/DC, Mothers Finest, April Wine and The Small Faces, among others, and wowed TV audiences on a regular basis. Thanks to their sensational live shows (including Knorn's legendary nightly head-first somersault), Europe's biggest teen magazine BRAVO devoted two full pages to the Fargo bassist in January 1981.
Following a time of upheaval, the hard rock act Victory emerged from Fargo in 1984 and continued the successful career of its predecessor seamlessly. After a hiatus of 34 years, Fargo returned in autumn 2017 and went on to release their comeback album "Constellation" one year later.
Fargo Social Media: