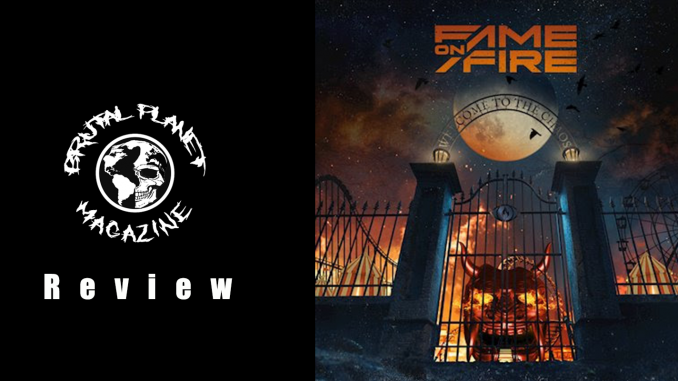 Review by:
Megan Buck
Come one, come all and step right up. Witness as Florida musicians, Fame on Fire, proudly present their newest creation. Fresh off their Fall 2020 release, Levels, comes a new delight for the senses. The wild and twisted, carnival themed cover art and musical intro is certain to set the stage. Welcome to the Chaos.
There is no holding back as the intro drops you straight into the title track, "Welcome to the Chaos" featuring Spencer Charnas, lead vocalist of Ice Nine Kills. Don't sleep on these guys thinking they can only provide you with the latest catchy take on pop hits. This, along with "Cut Throat" hit their own mark and show they aren't afraid to get dirty. Those screams, whispers and breakdowns are downright delicious. These incorporated elements show their growth and progression on this sophomore album.
"Plastic Heart" and "Emo Shit (featuring Kody Lavigne)" are here to battle it out for your break-up anthem of the Summer. "Plastic Heart" is a prime example of Fame On Fire's continued pursuit of bending and blurring genre lines The track's high energy is further fueled by its visual storytelling in the pre-released music video.
Warning: you are going to listen to "Robbery" and it is going to get stuck in your head and infect your dreams. If your personal ear worm from the album isn't that, I bet it will be "Dead or Alive." Both tracks set a different vibe but engage the listener and will have you humming along in no time.
Welcome to the Chaos drops Friday, July 22nd through Hopeless Records. You can check out the band's upcoming Fall tour schedule with You Me At Six, merch and more by visiting their site.
Fame on Fire is: Bryan Kuznitz (vocals), Blake Saul (guitar), Paul Spirou (bass) and Alex Roman (drums).