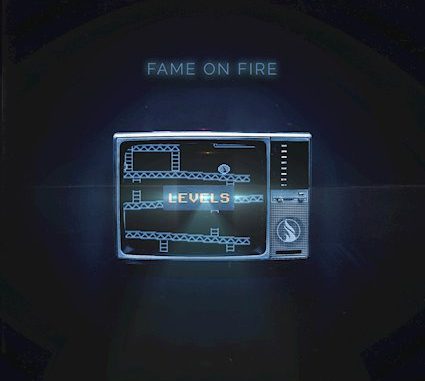 "What are you guys? Like, a cover band or something?"
Fame on Fire, tackles the popular misconception, outright, with their banger of a intro, on Levels. The band may have amassed their following by covering some of mainstream music's favorite hits; but, they do indeed, have their own original music. Levels, which released back in September through Hopeless Records, is here to set the record straight.
"Her Eyes" launches the album and hits the ground running. Like a majority of Levels, this song is infectious in the best way possible. "Not Dead Yet" keeps the energy going while providing contrast with the added use of the piano. Fame on Fire set out to push the boundaries of genre definitions. The mix of rock, mainstream and heavier variants provide a vast landscape of musical opportunity for the band.
Did you watch the video to "I'm Fine" yet? You're singing along already, aren't you? Good, that means, you're warmed up to sing the next one. POORSTACY joins in for "Headspace". Follow that last link to check out the theatrical video (TW: suicide/cutting). Speaking of guest spots, Trevor Wentworth (Our Last Night), steps in for "Now and Forever." It's the crossover that just HAD to happen.
Taking a giant swing in mood is "Crazy for Your Crazy." Showing their scope, it's different stylistically. You'll be jumping with each "Boom!" when live music makes it's return. There is a track for every vibe. Gritty, try "It's Okay." It may be the shortest track on the album but it's in my personal top three. Softer? Check out the acoustic piece, "Scars of Love" that closes out Levels.
So not only did these four rockers from Florida self-produce, track and mix Levels themselves, they did so from the studio they built! So no, they aren't a cover band. Fame on Fire is someone you're going to want to keep your eye on.