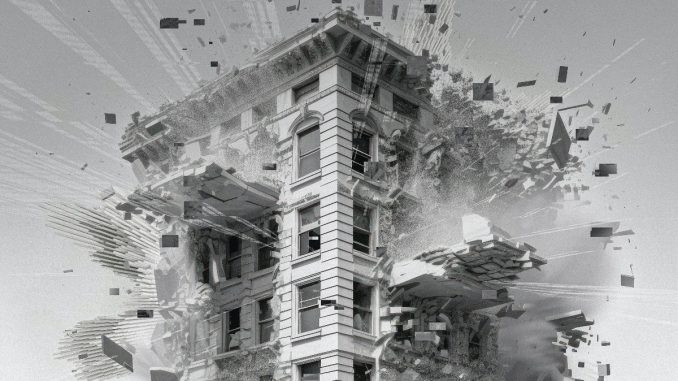 Fresh off their first-ever (and sold-out!) performance at New York City's Madison Square Garden, the World's Most Famous Arena last Friday, FALLING IN REVERSE have shared their cover of Papa Roach's "Last Resort."

"I wanted to reimagine one of the biggest rock songs of the last 20 years because lyrically, it is so powerful and resonates," says Ronnie Radke. "I got the blessing from [singer] Jacoby [Shaddix] and I think that Papa Roach is one of the nicest, humble, and most down-to-earth bands to date and it inspires me to keep going since they have been so successful for so many years. This is me paying homage in the best way I know how."

Falling In Reverse also embarks on its "The Popular Monstour" today, with special guests Ice Nine Kills. Special guests on select dates include Underoath, Slaughter To Prevail, Crown The Empire, and Catch Your Breath, making for a thrilling night of hard rock in each city the tour hits!

Falling In Reverse continues to explode by leaps and bounds in this nascent decade. The band's catalog has clocked over 2.7 billion — yes, billion — streams. Another recent single "Watch the World Burn" is at 135 million global streams (including 36 million video views) and landed at No 1 on multiple charts,  including Billboard's Hot Hard Rock Songs, Hard Rock Digital Song Sales, and Alternative Digital Song Sales. Elsewhere, "Voices In My Head" garnered over 140 million streams and was the #1 song of 2022 at SiriusXM's Octane, while "Zombified" has clocked 138 million and topped the active rock charts. Lastly, "Popular Monster" was also, well, a monster, that landed at #1 on the active rock charts, as well. FALLING IN REVERSE ON TOUR:
6/26 — Charleston, WV — Charleston Coliseum*
6/27 — Richmond, VA — Virginia Credit Union LIVE!*
6/29 — Hershey, PA — Giant Center*
6/30 — Syracuse, NY — St. Joseph's Health Amphitheater at Lakeview**
7/2 — Gilford, NH — Bank of New Hampshire Pavilion**
7/3 — Baltimore, MD — Chesapeake Employers Insurance Arena**
7/5 — Pittsburgh, PA — Petersen Events Center***
7/6 — Asheville, NC — ExploreAsheville.com Arena***
7/8 — Cedar Rapids, IA — Alliant Energy PowerHouse****
7/9 — Peoria, IL — Peoria Civic Center****
7/11 — Morrison, CO — Red Rocks Amphitheatre****
7/12 — Council Bluffs, IA — Westfair Amphitheatre****
7/14 — Cadott, WI — Rock Fest+
7/15 — Grand Rapids, MI — Upheaval Festival+
7/17 — Little Rock, AR — Simmons Bank Arena**
7/18 — Oklahoma City, OK — The Zoo Amphitheatre**
7/22 — Las Vegas, NV — The Theater at Virgin Hotels*****
7/24 — Airway Heights, WA — Northern Quest Resort & Casino*****
7/26 — Nampa, ID — Ford Idaho Center*****
7/27 — Idaho Falls, ID — Mountain America Center*****
7/29 — Sacramento, CA — Heart Health Park*****
7/30 — Redding, CA — Redding Civic Lawn*****
* w/ Slaughter To Prevail + Catch Your Breath
** w/ Slaughter To Prevail + Crown The Empire
***With Underoath + Crown The Empire
****With Underoath + Catch Your Breath
*****Catch Your Breath
+ Falling In Reverse festival appearance
ABOUT FALLING IN REVERSE:
Platinum-selling rock band Falling In Reverse, lead by outspoken and charismatic singer Ronnie Radke, has been completely dominating the radio and streaming space in this new decade. The band, which formed back in 2008 and built itself as a mainstay of the Warped Tour scene while gracing many Alternative Press covers, has seen its latest single "Zombified" hit No. 1 Billboard's Hot Hard Rock Songs Chart. The band has also been generating nearly 50 million total streams per month. Falling In Reverse's previous chart-topping single "Popular Monster" earned platinum RIAA status. The track is truly a juggernaut and is a watershed moment for the band. "Popular Monster" has been streamed nearly half a billion times and has emerged as one of the biggest anthems of the past several years. It enjoyed a multi-week stint at No. 1 on the rock radio charts, landing in the top spot on the Mediabase Active Rock Chart, Billboard's Hot Hard Rock Chart, and the Nielsen Rock Chart, and marked the first No.1 single of the band's career. It followed the gold certification of the band's 2011-released debut album The Drug in Me Is You and a sold-out anniversary tour. During the shutdown that was a result of the COVID-19 pandemic, Radke quickly established himself as one of the most popular musicians streaming on the Twitch platform. In Winter 2022, the band returned to the road and embarked on the sold-out "Live From the Unknown" tour, further cementing its status as one of the top live draws in the genre. Falling In Reverse has continued to catch the eye of the press, with their career arc being spotlighted by top-tier, tastemaking publications such as Forbes, Billboard, New York Times, Pitchfork, and beyond.