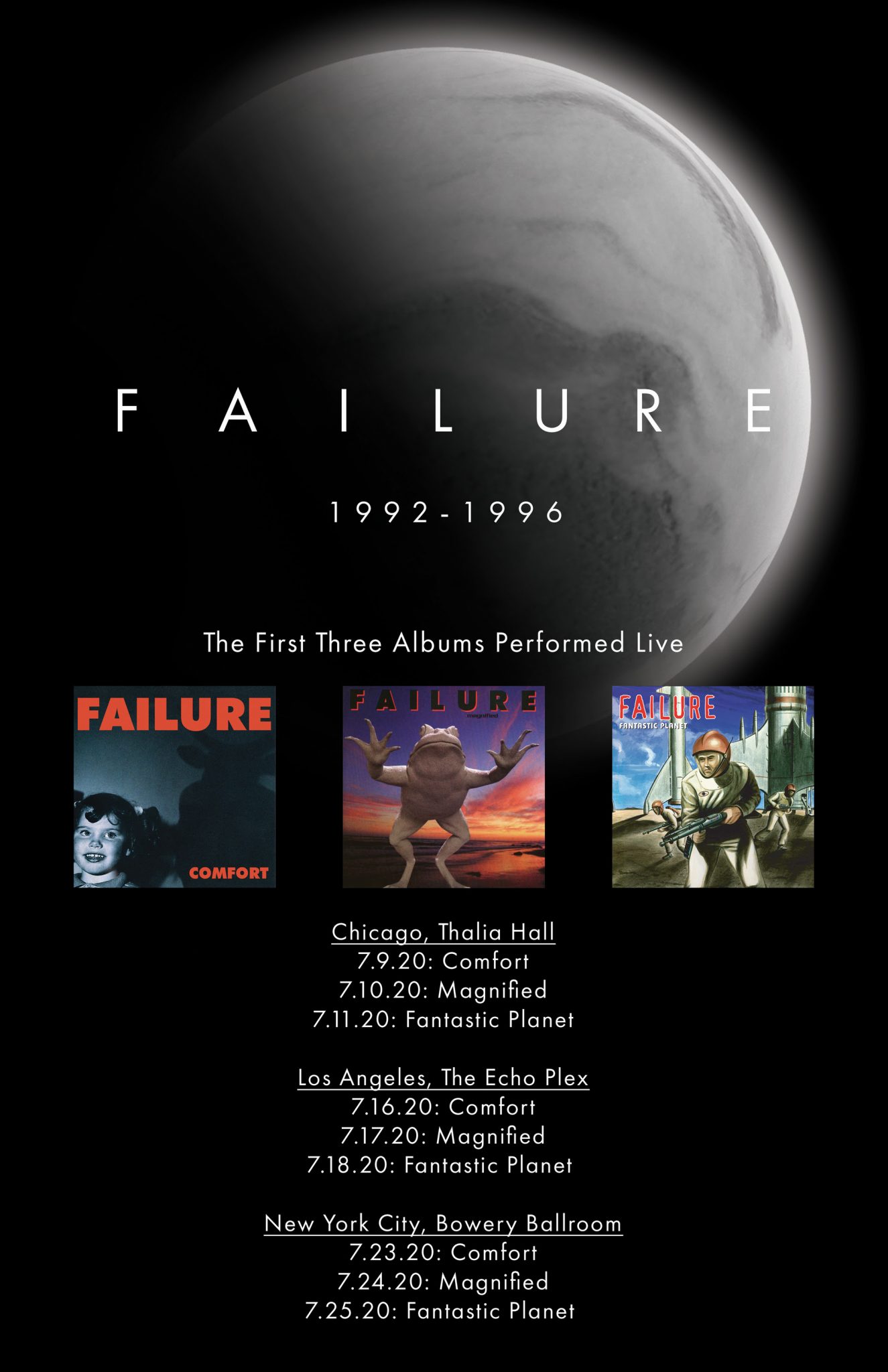 THE PERFORMANCES, SLATED FOR CHICAGO, LOS ANGELES & NYC, COINCIDE WITH APRIL 7 RELEASE OF VINYL BOX SET: FAILURE 1992 – 1996
Dec. 16, 2019, LOS ANGELES – Failure perform their first three albums, Comfort, Magnified and Fantastic Planet, in their entirety in a trio of July residencies: July 9 to 11 at Chicago's Thalia Hall, July 16 to 18 at The Echoplex in Los Angeles and July 23 to 25 at New York City's Bowery Ballroom.

The band, who will be playing Comfort and Magnified front-to-back for the first time ever in a live setting, have simultaneously announced the April 7 release of FAILURE 1992-1996, a four-piece vinyl box set featuring the three '90s-era albums. With the original masters finally being unearthed, Comfort, Magnified and Fantastic Planet have been meticulously restored, remixed, and remastered by Ken Andrews to a new level of sonic fidelity that eclipses all previous iterations of the band's early work.

"Almost everything people have heard from these albums has been sourced from 16bit digital files made in the '90s, which was state of the art at the time," explains Andrews. "But when we found out we were getting our hands on the original analog master tapes, and with all the confusion and lack of quality control on several of the previous iterations, we set out to create the definitive versions of Comfort, Magnified and Fantastic Planet. Everything has been sourced directly from first generation multitrack and stereo master tapes. This is us finally getting to present our early work the way we've always wanted to."

In addition to all the originally released songs from the three albums, the band has discovered several unreleased songs which have also been restored and will be included in the box set. "Listening to the b-sides and outtakes from that first year of being a band takes me right back to playing the tiny stage at Jabberjaw in Los Angeles," adds bassist/guitarist Greg Edwards. "It's always surprising to me how much of the expansiveness and atmosphere of the later records exist in embryonic form on those earliest stripped-down recordings."

"These new versions have all the magic from the originals, but now, instead of looking through a hazy pane of glass, the window has been completely opened and you can hear all the elements in their full glory," explains drummer Kellii Scott.

FAILURE: 1992 to 1996 is available exclusively via Failure.hellomerch.com with pre-orders available now. Bundled packages, featuring the box set and various VIP or ticketing packages, are available via Failure.soundrink.com.
FAILURE: 1992 – 1996 cover
FAILURE: 1992 – 1996 tracklist:

Comfort

Submission
Macaque
Something
Screen Man
Swallow
Muffled Snaps
Kindred
Pro-Catastrophe
Princess
Salt Wound

Magnified

Let It Drip
Moth
Frogs
Bernie
Magnified
Wonderful Life
Undone
Wet Gravity
Empty Friend
Small Crimes

Fantastic Planet

Saturday Saviour
Sergeant Politeness
Segue 1
Smoking Umbrellas
Pillowhead
Blank
Segue 2
Dirty Blue Balloons
Solaris
Pitiful
Leo
Segue 3
The Nurse Who Loved Me
Another Space Song
Stuck On You
Heliotropic
Daylight

Outtakes (not listed in sequence):

Petting the Carpet

You're Too Much *

Gone

Lunch *

Pennies *

Rat Sack *

Wake Up

Count My Eyes *

Comfort *

Solaris 2014

* – Previously unreleased

Failure tour dates:

July 9 Chicago, IL Comfort at Thalia Hall

July 10 Chicago, IL Magnified at Thalia Hall

July 11 Chicago, IL Fantastic Planet at Thalia Hall

July 16 Los Angeles, CA Comfort at The Echoplex

July 17 Los Angeles, CA Magnified at The Echoplex

July 18 Los Angeles, CA Fantastic Planet at The Echoplex

July 23 New York, NY Comfort at Bowery Ballroom

July 24 New York, NY Magnified at Bowery Ballroom

July 25 New York, NY Fantastic Planet at Bowery Ballroom

Tickets for all shows are available this Friday, Dec. 20, at 10 am local time with VIP packages available via Failureband.com.

# # #

Instagram.com/failurebandig​​​​​​​